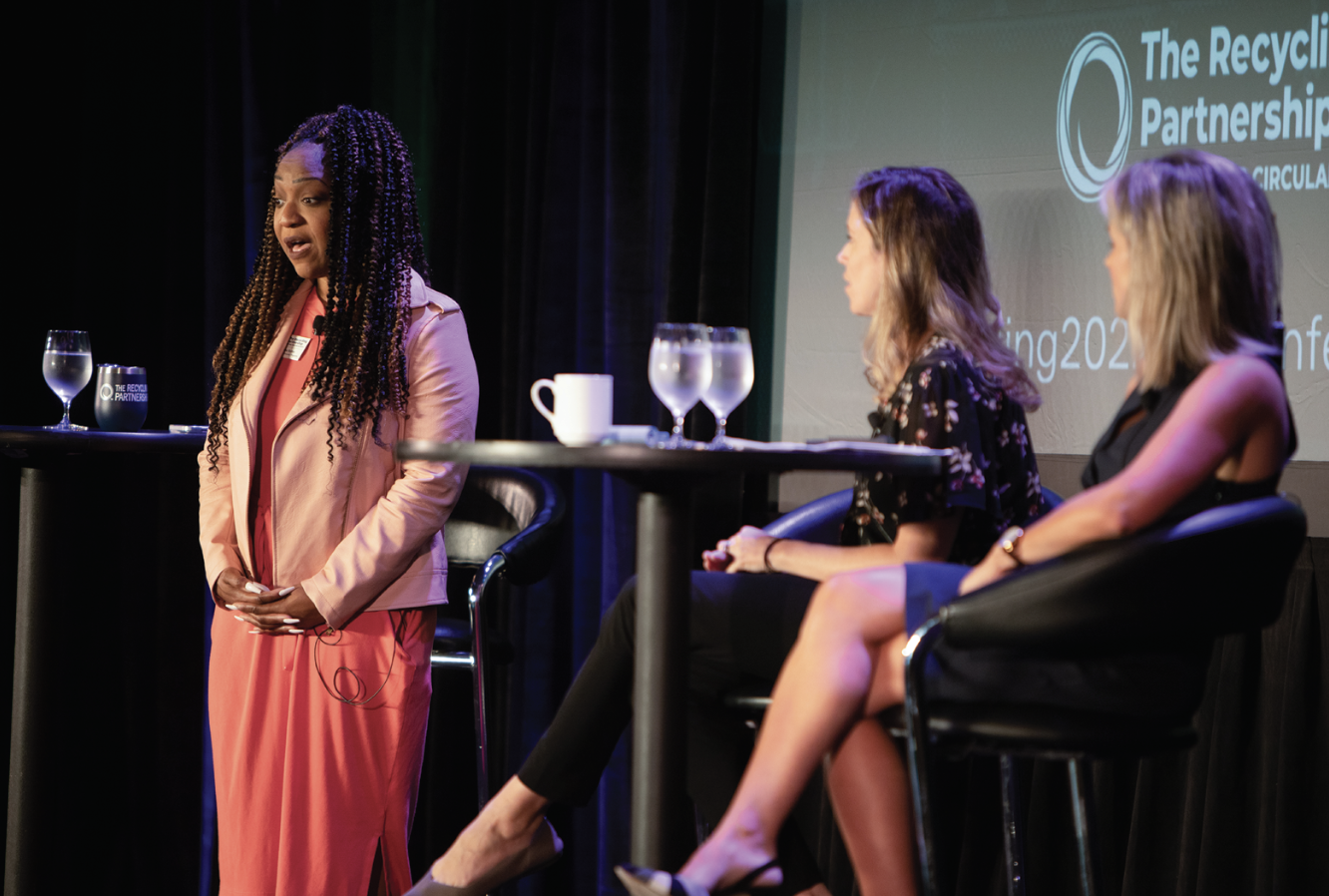 This article appeared in the August 2023 issue of Resource Recycling. Subscribe today for access to all print content.
Over the past five months, I've been deep in planning mode, doing my best to pull together a compelling agenda for the Resource Recycling Conference, taking place this month in Orlando, Fla.
The challenge is to wrap my head around all the chatter, activity and unknowns shaping municipal recycling and transform it into a cohesive series of presentations and discussions on stage.
It's a process full of starts and stops, where I talk with dozens of industry experts, have initial ideas fall apart, pick up new ones along the way, receive endless support from the team around me and hope it all gets done on time (with minimal complaints from those I am trying to serve).
In fact, it's probably a lot like running a municipal recycling program.
Lucky for me, I've hit that sweet spot where the agenda is set, and I can actually reflect a bit on what the various trends set for discussion say about the industry.
Here are my musings as I emerge from the depths of session development.
Equity is complicated
One of the marquee discussions we'll be having in Orlando will focus on the critical yet complex goal of bringing a greater sense of social and racial equity to community recycling programs.
How can cities and counties best understand the needs of traditionally marginalized populations when it comes to materials management? What level of attention should recycling receive when issues like education and public health also need to be addressed? Why should residents who have been discriminated against in the past trust institutions now?
Those are all hard questions and answers will vary by municipality. But they are topics that desperately need to be explored, and our panel featuring leaders from the city of Baltimore, the city of Orlando and The Recycling Partnership will be diving in headfirst.
We're also seeing equity emerge as a priority in some forward-thinking recycling policy proposals, and that landscape will be explored in one of our Eunomia Policy Talks conversations.
Recycling, like the country as a whole, has over the past three years been opening up to some of the uncomfortable realities around race and opportunity, and we have collectively done good work to start conversations within the industry.
The challenge now is to keep dialogue clear and open – and also to thoughtfully engage to put words into action in communities across the country.
Contracts are conflict
When I started the process of sketching out the lineup for this year's agenda, I checked in with a variety of industry folks located in Florida to try to get the lay of the land in our host state.
It's always helpful to pull in local conversations and use them as a lens through which to understand some trends playing out nationally.
It didn't take long before I could sense some deep-seated feelings of acrimony between haulers and communities in the Sunshine State. The public and private sectors are typically at economic odds one way or another in this industry, but it's safe to say that in Florida the situation has been particularly tense.
This isn't exactly shocking when you consider the state has limited open space for landfills and a historically pro-business government but also communities built around tourism and outdoor recreation where residents and officials want high levels of waste and recycling services.
Those factors and many others have all led to high processing fees for recycling, struggles to move forward on new MRFs in some areas, and general bitterness between stakeholders. (It's important to point out there have been examples of materials recovery success in Florida as well.)
Hearing some of the stories from the negotiation trenches helped me realize that we can certainly talk a lot about best practices in partnerships between cities and service providers – in fact, we're having two sessions at the conference dedicated to this topic.
But it's also important to recognize that conflict is embedded in the system we have in place.
The waste and recycling industry is built on mixing the public and private sectors in such a way that material is collected, processed and marketed in as efficient a manner as possible. There are inevitably going to be disparate viewpoints on who is best suited to do what and how services need to be priced, especially when the values of the commodities being sorted are in constant flux.
One of the goals of policy initiatives such as extended producer responsibility is to remove some of the contracting struggle from the plate of municipalities – producers will fund the system in one way or another, leaving cities free to handle other tasks.
But as EPR rolls out in North America, it's clear that negotiation will still be a central component of municipal recycling. Producer responsibility organizations are going to be looking for the most efficient partners in the jurisdictions where they are required to manage materials recovery. In many ways, the contracting process (and conflicts) will simply move to a different point in the value chain.
I don't think this is an inherently bad thing. It just means stakeholders need to be sure to continue to hone communication skills and also keep a close watch on markets and other trends shaping the sector.
The more you know about the priorities and concerns of the party on the other side of the negotiating table, the better equipped you'll be to have a mutually beneficial dialogue, even if it feels like a fight every step of the way.
The torch is passing
As I have worked with different companies and groups to set up sessions, I've noticed a lot of new voices being suggested for the stage. And often they are individuals representing a new generation of recycling.
This isn't a trend limited to recycling. As we're all well aware, the pandemic sparked change in management ranks throughout the business world, and the effects of the Great Resignation continue to be felt.
In our industry, younger leaders carry with them priorities that are in line with recycling's evolution as a whole – an emphasis on data and digital communication, energy around reuse, openness to new and aggressive forms of policy, and fresh approaches to issues such as rural collection that have long dogged the sector.
Of course, in Orlando we'll also be featuring the perspectives of individuals with decades of experience in recycling – folks who have seen markets go up and down and watched as some ideas have flourished while others have failed.
Ultimately, that mix of voices creates strength, stability and the chance for real progress through open interaction.
I know what's set for the stage, and I know the conversations will be breaking new and important ground.
What I don't know is how these ideas will be integrated into programs across North America. That's the job I leave for you. Let me know what reflections you have along the way.
Dan Leif is the editorial director of Resource Recycling and can be contacted at [email protected].
This article appeared in the August 2023 issue of Resource Recycling. Subscribe today for access to all print content.