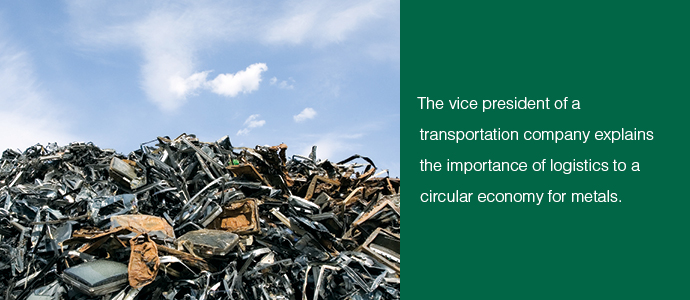 This article appeared in the March 2023 issue of Resource Recycling. Subscribe today for access to all print content.
Sustainability has gained exceptional traction from many businesses over the years. It's an initiative with dedicated teams and resources – not to mention funding – behind it, propelled by the force of public and private initiatives. It's reshaping the way companies do business and transforming nearly every industry. The logistics industry is no exception.
The U.S. recycles an astounding 150 million metric tons of scrap metal each year. There are few points of reference for such a large amount of weight, which is roughly equivalent to 20 million elephants or 185 Golden Gate Bridges.
Let's shed some light on the scale of this operation. To get closer to the reality this figure represents, we must first understand the process of how any metal is recycled, to say nothing of 150 million metric tons.
This means taking a look at the work that happens behind the scenes. Like any process worth undertaking, going green takes a team, and vital members of this team are third-party logistics (3PL) providers, the people who make metal recycling possible by moving materials around mills and across the country.
Getting scrap metal to mills
While a variety of metals and raw materials are recycled, none are recycled more than steel, thanks in part to its infinite recyclability without losing strength. The beginning of the steel recycling journey involves getting scrap steel to steel mills.
Scrap steel is sourced from a variety of places. Manufacturers sell scrap to diversify revenue, junk yards buy scrap from consumers and sell to mills, and steel mills themselves produce scrap steel in their production processes.
One of the most common sources of recycled steel is automobiles, with the vehicle recycling industry in the U.S. and Canada producing enough steel to build 13 million new vehicles every year. When vehicles are recycled, they are dismantled to group like materials together, and then the steel is shredded in industrial shredders before being transported to mills for recycling.
Moving metal within a mill
Once scrap metal arrives at a mill, the steel recycling process begins in earnest. With high volumes of material coming in each day, the movement and storage of incoming scrap steel at mills requires precise coordination.
With many mills operating 24 hours a day, 365 days a year, managing logistics requires expertise, careful planning and high freight, storage and fulfillment capacities. Because of the complexities involved in these non-stop operations, many mills turn to 3PLs for help.
While some mills use 3PLs simply to transport finished materials to consumers, others opt for fully managed solutions in which a 3PL provider is a true partner of the mill and takes care of intralogistics, storage, inventory levels and transportation. In this case, 3PLs will have staff on site at all times, managing all logistics operations and making sure that material is moving quickly, allowing the plant to keep running safely and smoothly.
Given the size and weight of steel products, mills require specialized 3PL partners capable of moving and storing odd-sized and overweight products. For most mills, making new products out of recycled steel is the easy part; keeping it moving through the plant is the real challenge.
Transporting newly recycled steel from mills to consumers
To allow for continuous production, mills must be able to load and ship steel as quickly asthey produce it. With loads of sheet steel consistently weighing around 45,000 pounds and requiring stretch trailers 65 to 70 feet in length, a 3PL managing a mill must have a large teamof staff on site and must partner with numerous specialized carriers to keep up with thevolume that comes with steel recycling.
Mills can create recycled steel endlessly, but it's not worth anything if it doesn't get to customers. Visibility throughout the transportation process is a key priority for many mills, ensuring they have peace of mind knowing where their products are at any time. To ensure this level of visibility and security, mills must partner with 3PLs that use innovative transportation management software (TMS) to allow for up-to-date tracking.
In addition to looking for a 3PL with high capacity and advanced visibility, mills need a 3PL partner with the flexibility of multi-modal capabilities so that they can handle a variety of shipping needs. From truckload to less than truckload (LTL) to last mile, the right 3PL provider will be able to adapt to a mill's shipping needs without needing to recruit another company when unique needs arise.
Driving a greener future
Each year, more steel is recycled than paper, plastic, aluminum and glass combined. In fact, steel is the most recycled material in the world, and U.S. steel has a recycling rate of 69 percent. Through all of this steel recycling, enough electricity to power 18 million homes is saved every year.
That kind of cost savings doesn't happen by accident. It's the result of the coordinated efforts of public and private groups to save energy, create jobs and move toward a circular economy. 3PLs across the country are key players in this team effort, ensuring that mills are operating at full capacity, that they are able to focus on customer service and that consumers are receiving their recycled steel products.
Perhaps in the future, the present era will be defined by metal, just like the Bronze and Iron Ages, but this will be known as the Recycled Metal Age – one that ushered in a new age of sustainability.
Brady Thames is vice president of sales and marketing for TA Services. For over 25 years he has been building businesses and delivering proven operational value for customers and for notable brands including PS Logistics, CRST Logistics and Ryder Integrated Logistics.
This article appeared in the March 2023 issue of Resource Recycling. Subscribe today for access to all print content.