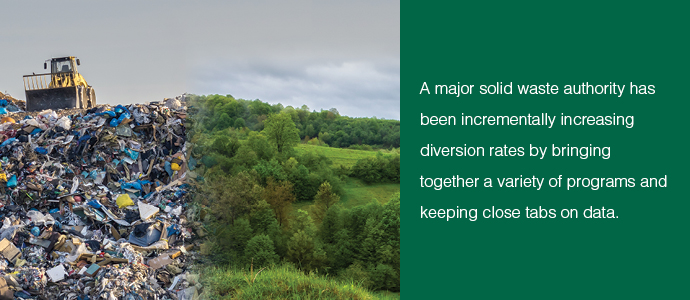 This article appeared in the December 2022 issue of Resource Recycling. Subscribe today for access to all print content.
Over the past few years, the Solid Waste Authority of Central Ohio boosted its landfill diversion rate from 34% to 51%, and is aiming to hit 75% diversion by 2032.
How will the authority move toward that mark? In part by putting a greater focus on organics. SWACO owns and operates the Franklin County Landfill in Columbus, Ohio, which takes in more than 1 million pounds of food waste per day, along with other material. So leaders there know well the potential for progress.
But the authority is also putting a continued focus on education and outreach, collaboration with nearby end users of material, and innovative efforts such as solar panels on a former landfill site.
SWACO Executive Director Joe Lombardi and Communications Manager Hanna Greer-Brown spoke with Resource Recycling about their multi-pronged diversion strategy.
The interview has been edited for clarity and brevity.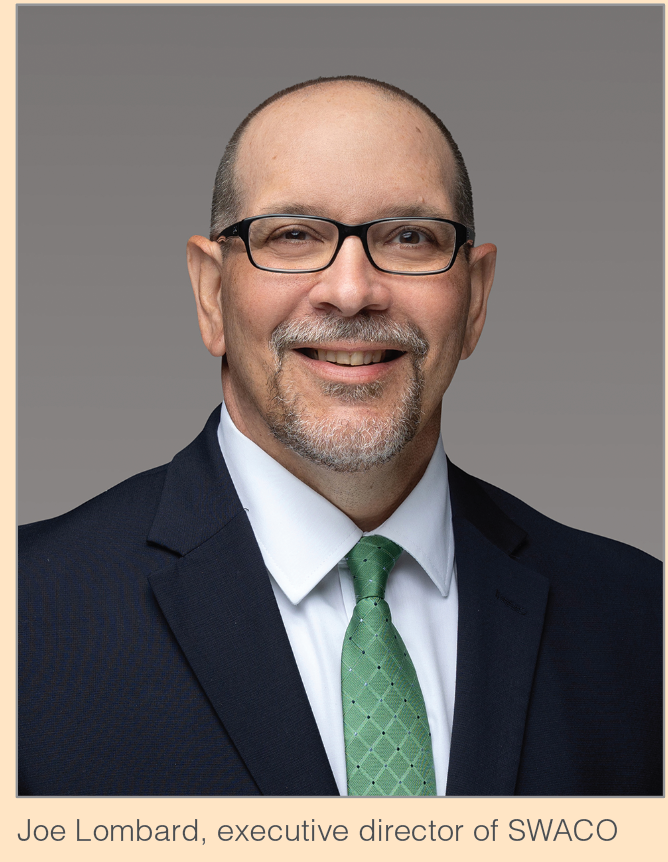 Resource Recycling: Where did you start on your journey to boosting diversion rates?
Lombardi: Our progress here is really a direct result of a lot of public and private partners trying to work together to create a safer and healthier community. In 2019, SWACO put out a waste characterization study. It allowed us to focus where our efforts should be. Some of the information that came out of that study was that, first of all, 76% of the waste that comes into our landfill can be redirected, whether it be recycled or reused or composted. Forty percent of that waste was coming from our residential homes and 60% was from our commercial sector. Over a million pounds of food waste arrives daily at our landfill.
What programs did you start based on that study?
Lombardi: We are trying to partner with some of our local communities to expand our food waste drop-off program, in addition to our education and our outreach by our staff. We are really dedicated, with personnel to educate our region on recycling and food waste. Some of the programs that we've implemented because of that characterization study are Recycle Right, where we provide information on what can be recycled and how you should recycle, the Save More Than Food program, which really talks not only about how food can be turned into compost, but we actually put dollar figures on the food waste – as you throw it out, this is what you're wasting in your own dollars.
I'm a very aggressive education and outreach person and I think that really is where we can get the biggest bang for our buck, working with our communities to try to assist them in any way we can. Currently, because of those efforts we are at an over 50% diversion rate which, I believe, if I'm not mistaken, is the best in the Midwest. Our goal is to have a 75% diversion rate by 2032.
How do you plan to reach that 75% goal?
Lombardi: I think our goals will evolve over time as we start to look at where we're making the biggest impact and where we can move the needle. Food waste will definitely be one of those items that we continue to push on. Really, we need to get our businesses and restaurants to join in. We are working with them currently to try to find what's the easiest way for us to provide education and programs for them.
Obviously coming out of COVID, the restaurant business was really hit hard, so we're trying to give them some breathing room as they start to make a comeback. They're still trying to get through the lack of staff. But we are going to continue to work with grants that we have to help communities provide a bigger program within their community. Some are just pilots right now.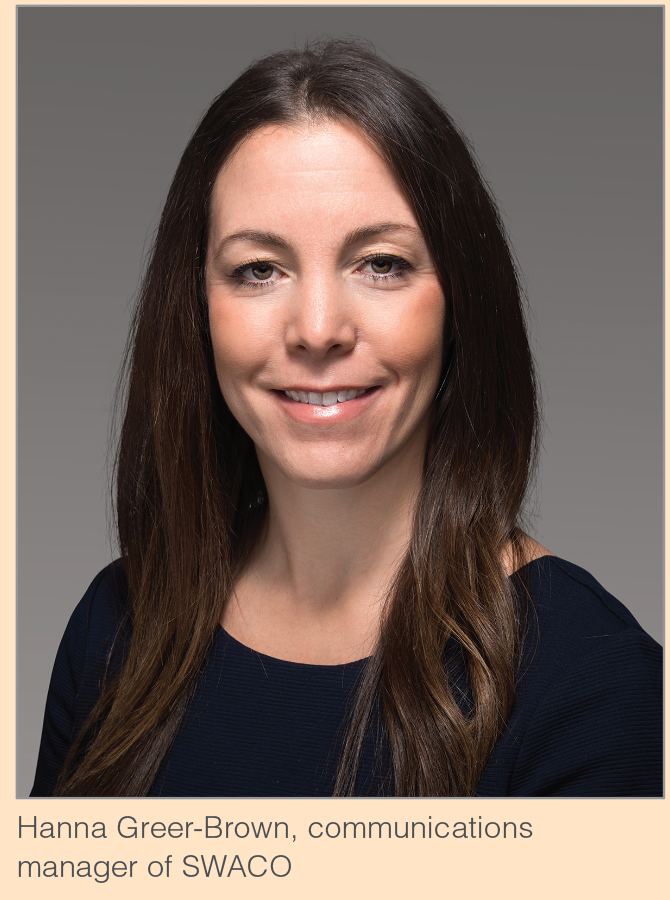 Greer-Brown: Some other examples of programs that we're currently looking into exploring are: hard-to-recycle materials like our mattresses, expanding or improving hours and access to our household hazardous waste disposal, and certainly textiles, like clothing and fabric. Central Ohio is kind of known for not only being a textile market, but having a lot of major brands located here. We're one of the top – believe it or not – fashion capitals in the United States, so we're working with our hometown brands to look at ways to recycle those textiles.
How does this tie in with the idea of a circular economy?
Lombardi: The more that we can continue to talk about that as a circular economy, the better we think we can create programs. For example, we are doing a six-part series called Circular Ohio. What we want to show people is that your bottle that goes into your recycling bin actually goes to a recycling center, which then sends it off as feedstock for a bottle again. Because there's still this thought in a lot of our residents that even though they're separating it that it's still coming to the landfill.
Our economic impact study showed that we have nearly 400 companies that rely on recycling in central Ohio. We have locally in our own backyard, in one of our suburbs, a company called ADS, Advanced Drainage Systems. They are the largest user of recycled plastic to make pipes and they can't get enough of it. Those 400 companies employ over 5,000 employees. They have a revenue of about $1.3 billion and $235 million of payroll. So we have a great opportunity here in Central Ohio to help those companies by providing them their feedstock.
How do you decide what programs to try?
Lombardi: It's a little different in the Midwest than it would be on the West Coast or East Coast. But I think our 41 communities are pretty progressive, and I think if we take a regional approach to this we can make a difference. I am not opposed to pilot projects. As I always tell people, let's just move the runners. We don't always have to hit a home run. Let's just move the runners and see how that works and we'll reevaluate that program and how we make it better.
Greer-Brown: SWACO is one of 52 solid waste districts in the state of Ohio, but we are the only one that owns and operates a landfill. That gives us a really holistic look at the waste stream. The director has referenced a couple of different studies that we've done – the waste characterization study, the economic impact study. We also survey our residents every four to five years to understand what their recycling behaviors are but also to learn their perceived barriers to being able to recycle. And we use all of that, coupling that with what we see coming to the landfill, to make decisions about where we place our time and resources to develop or pilot new programs.
Are there any programs you're piloting right now?
Lombardi: One of the biggest things we're working on right now is a pilot program with the city of Columbus, which is our largest community, in some of what they call opportunity neighborhoods. These are neighborhoods that are typically low income and the recycling efforts are not what we want them to be or what the city of Columbus wants them to be, so we're helping them with some education and some programs that might help them increase the recycling rates in those communities.
Were there any programs you tried that didn't work?
Lombardi: I don't think we've tried anything that didn't work. I think we may have bitten off more than we can chew, but I don't think there's a program that we've implemented that did not work. I think one of our biggest programs is that we're working with the Ohio State University to be zero waste at their athletic facilities. Ohio State is one of largest universities in the United States – it's about 65,000 students – and they have worked with us to do a food waste program at their athletic facilities, which has been pretty successful. That was a kind of a leap off the cliff so to speak, something that large. But I can't think of anything we've tried that has not worked.
Greer-Brown: We have several long-standing programs that are evolving because the current format no longer works. We have a booming population here in Central Ohio. We also have made great strides in terms of bringing curbside recycling to residents. One-hundred percent of our cities here in Central Ohio have access to curbside programs, so programs like our drop-off recycling programs are evolving because they require less of us or need to operate in a different way, but I agree with Joe: Nothing hasn't worked that we've tried, but we are in the process of evolving a number of our programs to make them more efficient and better serve the public.
What are some lessons you would give to other communities that are looking at your diversion rates and feeling inspired?
Lombardi: The first thing you need to do is survey your audience, survey your residents or your communities and try to find the data that shows how it currently is. What's your baseline right now? And set your goal based on the data you're being provided through that survey. I think the other thing you want to do is be patient and be strategic with it. Try to use that data to determine which programs would work immediately that can begin to bring the momentum to your community and try to start with communities that are ready to go, they just need some help. I can't emphasize enough that education and outreach are so important because a lot of folks want to do it – they want waste reduction and they want to recycle – but there's still some confusion on what can and cannot be recycled, and it depends on where you're at.
Are there projects you're working on that aren't strictly about diversion of materials?
Lombardi: There's two really cool projects that we do. First of all, right here on our campus, we capture the methane gas from our landfill through a series of pipelines underneath the landfill. That then is sent to a company that's right here on our land. They built a building right here. It was just recently bought out by BP – it was Archaea Energy. They clean that methane and then put it back into the natural gas line to be used to heat homes and buildings.
The second is we have an old landfill just north of us here that was closed down. It was initially a golf course and then just from a maintenance standpoint and upkeep we couldn't do it any longer. Instead of just having this old landfill sit and be, quite frankly, an eyesore as you're coming up 71 North here into town, we are going to build a solar park, enough to provide power to around 5,000 homes. We should be starting on that probably sometime in the first quarter of next year, with completion hopefully around this time next year, 2023 or maybe early 2024. As you come up from some of our cities in the south like Cincinnati and you're coming north into Columbus, the first thing you're going to see as you approach the main area of Columbus is this nice solar park and then you'll have the skyline of downtown right in front of you.
Anything else you'd like to add?
Lombardi: Recycling and food waste composting and all those great programs really are more than just environmentally safe and sustainable types of programs. They also expand the life of landfills around the country and that's really important to note because they just don't build land anymore and landfills are not the easiest thing to do. So to be able to own and operate the landfill gives us a completely different perspective, as a public entity. We look at that as a public asset and we are not different from water or sewer or electricity. We are a public asset to try to help our community stay safe and clean.
Marissa Heffernan is the staff reporter for Resource Recycling and can be contacted at [email protected]
This article appeared in the December 2022 issue of Resource Recycling. Subscribe today for access to all print content.