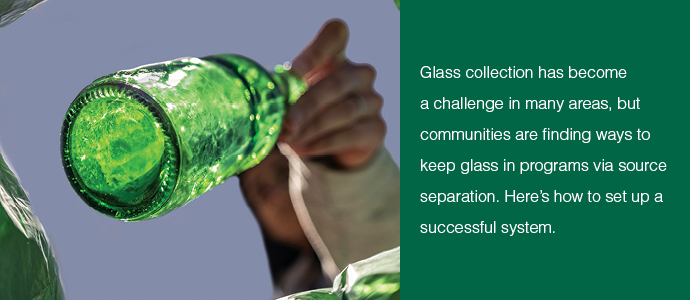 This article appeared in the November 2022 issue of Resource Recycling. Subscribe today for access to all print content.
"Skeptical" is the word that comes to mind when describing how many people feel about starting a municipal glass recycling program. This is a natural reaction. In recent years, glass has been removed from some curbside programs due to end-market closures as well as concerns about broken glass contaminating other materials at a time when bale quality standards were rising.
However, using that sense of uncertainty as a starting point can actually benefit how a new or revamped glass program is structured and implemented. In addition, by developing well-designed source-separated drop-off systems for glass, communities can overcome some of the cost and logistics hurdles that have set back glass collection in certain regions.
This article lays out some of the questions you should be asking and steps you should take to develop and implement a source-separated glass recycling program.
Objectives and markets
First, it's critical to identify the community's motivation for recycling glass containers. Is the goal to save money by avoiding disposal costs? Are residents requesting it? Is there interest in increasing the services provided to residents?
By first answering those types of questions, a program coordinator can set goals and develop a course of action to effectively meet them.
Next, it's important to clearly determine the preferred end use for the collected glass. Does the community want their glass to be used in the manufacture of new glass products (for example, in glass containers, fiberglass, pozzolan or glass foam aggregate)? An alternative would be to use the glass locally, perhaps as processed glass aggregate for paving sidewalks and parking lots, or to be used as fill.
In determining the end use, the community will need to determine whether it's concerned about shipping glass outside of the region. Shipping longer distances can open the door to more end-use outlets, but it also means higher transportation costs.
If program leaders do in fact want to have the glass be manufactured into new products, another level of decision-making is required. Identify which companies in and around your geographic area accept source-separated post-consumer glass containers. This search would include glass beneficiators (the companies that process the glass for manufacturers) as well as MRFs that accept clean glass, companies that accept and transport bottle bill glass, glass manufacturing companies that directly accept glass from residential programs and companies or organizations that manage clean glass programs.
Contact all of the identified companies to inquire about the post-consumer glass they accept. Some questions to be asked include:
Are crushed, broken or whole bottles accepted?
Do the containers need to be separated by color?
Are corks and caps acceptable or considered contamination?
Is food residue in a container acceptable?
What level of contamination is acceptable?
Can the stored glass get wet?
Who is responsible for transporting the glass to the company?
Who pays the transportation costs?
How much glass is needed to make up one load?
What happens if a load is rejected once it arrives at the company?
Does the company pay the community for the clean glass?
On the other hand, if a community is interested in the glass being used locally for PGA or fill, important questions to ask include the following:
Are there contractors already committed to using post-consumer glass for paving projects?
Besides glass containers, what other types of glass are acceptable for PGA?
What level of contamination is acceptable?
What are the contractors' glass size requirements?
How will the glass get crushed to the right size for the contractors?
Is it possible to crush the glass at the recycling center?
Does this require a roofed area or other structural needs?
What are the health concerns surrounding crushing glass on-site?
Who is responsible for transporting the crushed glass to the contractors?
Collection implementation
Once the basic strategy for end markets is worked out, you'll want to move on to charting out how the glass recycling program will be implemented.
It's critical to assign a staff member who will serve as the point person for the initiative. This person, with help from the wider team, determines where the glass collection bins will be located and where the glass is stored until the amount required for one load has been collected.
Signage is another important aspect of collection success. What messaging will be used to communicate with residents about acceptable glass? See the image above for an example of how Maine communities are communicating about proper glass recycling.
Other important questions to ask about the logistics of collection include: How will staff monitor the quality of the glass received? Will additional staff be required or can the tasks of existing staff be amended to accommodate this need? What outreach strategies will be used to encourage residents to bring their glass containers to the recycling center?
The next order of business is identifying and addressing the safety issues associated with glass recycling for residents. It is important to create a collection system at the recycling center that minimizes residents' exposure to broken glass.
A big part of this equation is simply making it easy for residents to identify the proper location to drop off their glass containers to minimize the time spent handling the glass. Make sure the path to the glass collection bin is unobstructed and easy to access for people of all abilities.
Further, ask residents to place glass containers in the collection bin. Do not encourage or allow anyone to throw containers into the bins. Broken shards may fly out and injure residents and/or staff. Broken glass on the ground or floor also poses a threat to anyone at the site.
If glass inadvertently gets broken, it is imperative that it be cleaned up immediately by sweeping or raking it into a dustpan and disposing of it as trash.
Keep it safe
If collecting whole bottles, all staff handling glass should use personal protection equipment (PPE). This includes cut-proof gloves, safety goggles and the use of a grabber to handle or pick up unwanted items in the glass collection bin. A safety poster should also be visible to all staff.
Additionally, a forklift should be used to move full containers to the storage area. If barrels are used for the glass collection bins, staff should refrain from rolling the full bins to avoid back injuries.
If crushing glass on-site, all staff handling glass and/or operating a glass crusher should use PPE. This includes cut-proof gloves, safety goggles, face masks or face shields, and hearing protection.
Site operators will also want to install an exhaust fan in the room housing the crusher to remove airborne dust from the crushing process.
The cost component
A final and clearly critical step is laying out the costs of operating the glass program. Key questions here include: Will additional staff be required? How much glass-specific PPE needs to be purchased? Do additional collection bins need to be purchased? Will a glass crusher be purchased? (Factor in the costs of an exhaust fan and other electrical needs to run the crusher.) Will you need to build a covered bunker on a cement pad to store the collected glass?
As all the areas above demonstrate, there is much to consider when bringing a drop-off glass program into any community. But as more municipalities are finding, proper planning can make for glass collection that is economically sustainable, providing a key recycling benefit to residents.
Mary Ann Remolador is the assistant director of the Northeast Recycling Council and can be contacted at [email protected].
This article appeared in the November 2022 issue of Resource Recycling. Subscribe today for access to all print content.