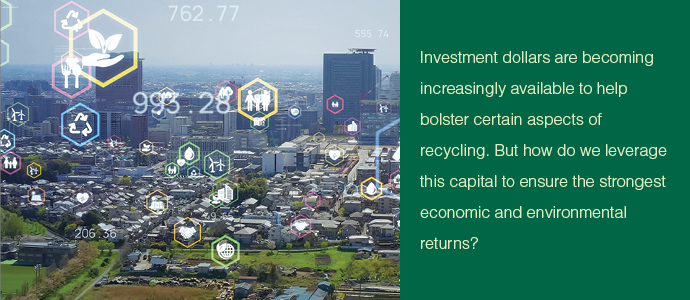 This article appeared in the July 2022 issue of Resource Recycling. Subscribe today for access to all print content.
As companies make their circular economy pledges, many are looking to the investment sector to spur much-needed change. While it's true that the optimum mix of capital can unlock billions in economic value, the right type of dollars and the best way to deploy them has yet to be clearly defined.
For companies and investors to attain the benefits of circularity, the entire system must operate fluidly. This is because every stage of the process depends on the viability, scale and pace of other steps along the cyclical journey.
With years of sound, targeted financial investments under our belt, including recently surpassing $240 million in environmental and economic value creation, we at The Recycling Partnership have developed four best practices to help guide the industry as it strives to combine action for circularity with investment for growth.
Invest in the first mile to reap the benefits of the last
Recent investment in recycling processing (primarily materials recovery facilities) and end markets is a promising sign for the circular economy, but these stages of recycling constitute only the last few miles of the process. Residential collection is where the journey begins.
New MRFs will require an abundant supply of recycled material – material that comes from the collection process. Today, the incremental cost of capturing curbside recycling (beyond trash) is not breakeven, which erases incentives to continue, much less increase, recycling collection. This is because most U.S. recycling programs rely on limited public funding. With recycling often more expensive than landfilling (particularly when markets are down), improved and expanded collection will continue to stall, putting new investment at risk.
What if the recycling process were bolstered by targeted grant dollars to grow collection? These dollars could help communities break beyond recycling rates that have hovered at 30% for years. In 2020, The Recycling Partnership provided the city of Omaha, Neb. with $825,000 in grant money to improve its recycling collection. That grant, combined with $7 million from the city, resulted in a 68% increase in recycling collection within the first year.
Ample grant dollars that shore up the first mile of the recycling journey prime the system for further investment. Without a healthy collection process, investment performance will fall short and companies will fail to meet their environmental, social and government (ESG) commitments.
Invest in innovation to support the whole system
The past two decades have seen tremendous innovation in packaging, and many design breakthroughs have made packaging more sustainable. Yet the recycling process struggles to keep up with this evolution.
Why is there such a gap between the pace of innovation in packaging and the pace of materials recovery modernization? Again, there is little incentive to explore novel approaches to recycling when the process relies largely on limited public funding.
Now imagine the solutions that might be developed if grants were established to catalyze recycling innovations. New approaches could improve the collection process, elevate consumer education and support novel end-market approaches.
One example of this innovation-focused investment can be seen in a mobile app The Recycling Partnership has developed to gather data about distinct recycling behaviors, enabling tailored outreach. Working with the Michigan Department of Environment, Great Lakes and Energy, The Recycling Partnership used the app in Grand Rapids, Mich. to educate households on ways to improve recycling habits and remove carts that were continually contaminated.
The initiative resulted in a 37% contamination reduction and 1,000 new clean tons per year coming into the program.
The key is to support innovation in areas that need it most. Grant dollars earmarked for recycling modernization will ultimately benefit companies and financial partners as they become more invested in the interconnected circular system.
Invest in human behavior and education to unlock benefits
Beyond the collection process, another way to increase the supply of recyclable material is by educating people about what and how to recycle.
Research indicates that without guidance and behavioral intervention, households put only about half of what is recyclable in the proper bin while contaminating otherwise recyclable material with non-recyclable items. Perhaps because it is less tangible than a new truck or collection carts, consumer education is among the most under-funded aspects of recycling, with communities typically spending far less than the $1 per household per year that many industry experts recommend as a minimum (our experience and data-backed best practices indicate that $10 per household is needed annually to fully support recycling success). Millions of tons of valuable recyclable materials end up in landfills because of the resulting behavior gaps.
Behavioral programs also improve the system economics of collection: Trucks are already picking up material from residents so there is no added cost to get the material that is now in the proper bin. And MRFs of course benefit from new tonnage. This is a prime example of how investment at the start of the chain has a positive ripple effect throughout.
Furthermore, there is a quantifiable return on the behavior change investment. In a statewide partnership with the Ohio Environmental Protection Agency, The Recycling Partnership provided a grant and technical assistance to Akron, Ohio in 2019 for improving recycling behavior. Through education and outreach, the city was able to reduce contamination by 28% in just three months, freeing an estimated 550 tons of recyclables that would otherwise have been landfilled.
Because it increases the quantity of good recyclable material, consumer education is key to unlocking sustainable supply for companies and shoring up investment performance for financial partners.
Invest for the long term
Once collected, recyclable materials are transferred to MRFs, where they are sorted by material type and cleaned for further downstream processing. The infrastructure that supports this journey can require impact investment at certain junctures. For example, not all materials that travel through MRFs have sustainable end markets, which means that MRFs incur a net cost to sort these materials. (This is often the case for films and flexibles, as well as PET thermoforms.)
What if there was specific financing designated to help MRFs process these hard-to-sort materials and to grow critical end markets at the same time? The Recycling Partnership's Polypropylene Recycling Coalition created a national movement that grew polypropylene packaging access by 6% nationally in one year. Seed grants incentivized MRFs to capture more polypropylene, allowing MRFs and communities to access profitable end markets.
When we pinpoint areas of the circular system that cannot rely on market forces alone and fortify them with grant-style capital, the long-term benefit to the entire recycling value chain is clear and quantifiable.
System-wide thinking
The circular economy is achievable, but there is no silver bullet. For companies to meet their sustainability commitments and reap the benefits of a well-functioning circular economy, a combination of financial solutions will need to be implemented.
Loans and investment funds are well-suited to some parts of the recycling infrastructure, but the return on these investments will depend on the health of the entire system. There are crucial aspects of the circular process that are not intrinsically profitable and therefore cannot rely on public funding and market forces alone. Without adequate support for these areas, all recycling investment is at risk.
Companies and investors should ask themselves if they are ready to bolster these areas with large-scale grant funding that will help unlock the billions in economic opportunity tied to more effective recycling. The promise of the circular economy can only be achieved when all major stages of the system are fully supported.
Jeff Meyers is chief strategy officer at The Recycling Partnership and can be contacted at [email protected] To see the organization's recently released "Impact Report," go to tinyurl.com/2022ImpactReport.
This article appeared in the July 2022 issue of Resource Recycling. Subscribe today for access to all print content.