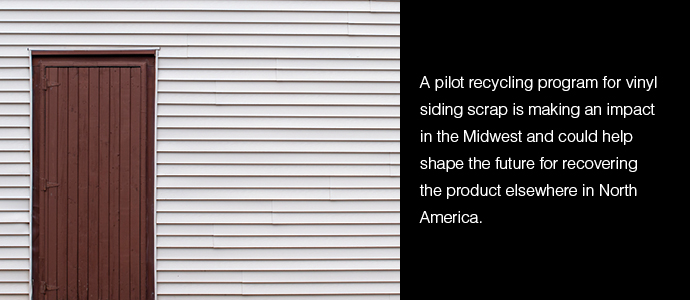 This article appeared in the January 2022 issue of Resource Recycling. Subscribe today for access to all print content.
In jurisdictions across the country, more emphasis has been placed in recent years on materials management strategies for the building materials used in homes and other structures.
One important element of sustainability in the built environment is successful collection and recycling of vinyl siding, which was used for cladding in 26% of single-family homes constructed in 2018, according to federal statistics. Recovering this material can clearly have large repercussions on the waste stream.
A pilot project now underway in one area of Ohio is helping to develop best practices in coordinating stakeholders to recycle more vinyl siding efficiently.
Suited for circularity
Most people might not realize it, but building products such as piping, decking and flooring may be made of material that was previously vinyl siding. Recycling vinyl siding brings the material back into the manufacturing process, where it's ground down and reused to create new products and even more vinyl siding.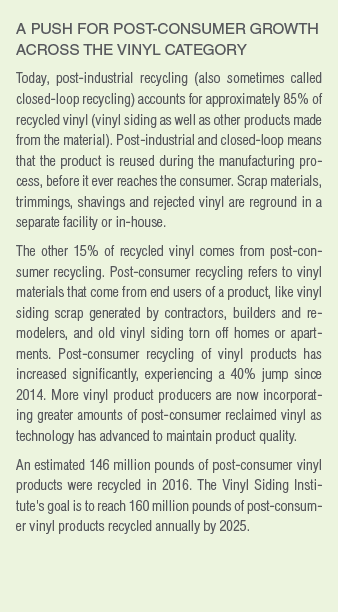 Vinyl siding on the market today typically falls into one of three categories – vinyl siding, polypropylene siding and insulated vinyl siding – and all can be successfully recovered and reprocessed.
"Many people think vinyl siding can't be recycled; however, this is false," said Kate Offringa, president and CEO of the Vinyl Siding Institute (VSI). "Vinyl siding lends itself to recycling because it is made from PVC. PVC is a thermoplastic that can be ground up repeatedly, re-melted and formed into a variety of new products even after the useful life of the product."
In fact, vinyl siding manufacturers are pioneers in the field of recycling.
Vinyl siding was first introduced to the market in the late 1950s and 1960s and innovation through the use of a co-extrusion process took place in the late 1970s and early 1980s. Co-extrusion helped introduce the concept of "closed-loop" post-industrial recycling – or at least the start of landfill diversion at manufacturing sites. In co-extrusion of vinyl siding, 99% of the in-house scrap can be returned to the same manufacturing process to make more products.
Over the years, continuous improvements to the finished products have made polymeric siding a sustainable cladding choice, due to its durability, energy efficiency performance and limited impact on global warming (life cycle analyses have indicated vinyl siding has a lower overall carbon footprint than other cladding products such as fiber cement and brick).
To help further understand and continue to reduce the impact on the environment, the industry is now focused on post-consumer recycling solutions.
With this in mind, VSI and industry-leading recyclers and manufacturers have set out on a fact-finding mission to develop a recycling program model that could eventually be replicated throughout North America, Offringa said. This includes learning from sustainability and materials diversion work already undertaken by certain manufacturers and distributors.
For instance, North Carolina-based vinyl siding manufacturer Cornerstone Building Brands has pushed forward efforts around materials reuse in manufacturing through technology and numerous supply chain innovations.
Meanwhile, another manufacturer, Kaycan, in the summer of 2020 launched the GreenSENSE R3V (reclaim, regrind and reprocess) program in response to a tornadic hailstorm that damaged thousands of homes in Alberta, Canada, where the company has one manufacturing plant and three distribution centers. Kaycan's program has worked to pick up damaged siding from the impacted homes and use the recovered material in new production.
Finally, manufacturer AZEK Exteriors launched its Full-Circle PVC Recycling Program through Ashland, Ohio-based polymer recycler Return Polymers. Through this initiative, PVC scraps are collected from construction sites as well as original equipment manufacturers and fabricators. The material is reprocessed to make new decking, siding, cladding and trim.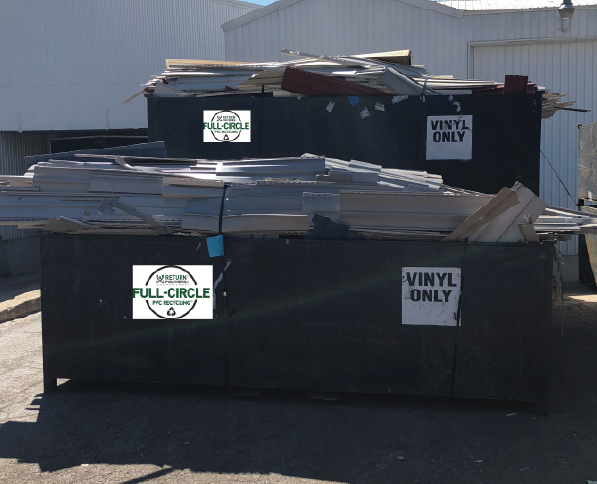 A coalition forms
Some of those same vinyl siding stakeholders and others have now come together in the geographic heart of the industry to form a meaningful alliance that aims to make a powerful impact on vinyl siding's recycling program development.
The Northeast Ohio Vinyl Siding Recycling Coalition is a proactive industry-wide initiative serving Ohio's Cuyahoga County and surrounding areas in Metro Cleveland. The coalition's objective is to set recycling standards and coordinate consumers, contractors, distributors, waste collectors, transportation groups, cleaners/recyclers, manufacturers and other relevant stakeholders to increase the amount of post-consumer recycling in the area.
The coalition has committed to creating an on-the-ground solution in Northeast Ohio that works directly with dealers, contractors and mill shops to collect, return and recycle scrap PVC from fabrication shops, construction sites and remodeling projects.
"We want to learn from this pilot program in Northeast Ohio, work through the kinks and possibly make this a viable program for many other communities across North America," VSI's Offringa said.
According to David Foell, president and CEO of coalition member Return Polymers, the industry partners have recycled over 40,000 pounds of vinyl siding since they started organizing in late-August 2021. Return Polymers is one of several recyclers in the coalition.
Foell attributes this early success to the establishment of seven collection sites spread out in Northeast Ohio (see map below). This service area has its center in Cuyahoga County and then extends out in different directions to spots including Youngstown and Toledo that are within reasonable driving distance.
The coalition has also been boosted by marketing outreach. Efforts have included social media toolkits that coalition members can use and share with their networks as well as printed flyers, press releases, e-newsletters, website content, blog posts, case studies and more.
This work is having an impact.
"People are dropping off vinyl siding to be recycled," Foell explained. "And we're fielding lots of calls from other members, which is highly encouraging. We've been sharing a lot of education and best practices, and we're united in helping customers achieve landfill reduction goals by 'minimizing their pain.' We're also getting calls from local government leaders wanting to participate."
On the local government front, the Cuyahoga County Waste Management District is already involved.
While the coalition has gained significant traction in its first several months, Foell describes industry efforts so far as a "soft opening." He looks forward to seeing more developments, especially when it comes to innovations and technologies that other recyclers add to the coalition's efforts.
Pathways to more PVC recycling
Foell also notes he is excited the coalition is bringing the broader polymer industry closer together, a step that has the potential to jumpstart other forms of PVC recycling. For the vinyl siding industry, these collaborative efforts will provide valuable data for VSI to achieve its ultimate goal: developing a vinyl siding recycling standard and program model that other geographic regions could use.
VSI's vice president, Matt Dobson, added that the recycling pilot program is a prime example of something that VSI hopes to scale to provide a much greater impact in the future.
"Our intent with the Northeast Ohio Recycling Coalition is to test the approach over the next year," said Dobson, " and determine how much impact it can make in that region. We will then consider expanding it by broadening our efforts, creating a closed-loop system in which our members' product waste does not get landfilled and can become new products time and time again."
Lisa Dunn is director of communications at VSI, and Don Browne is a VSI blogger. They can be contacted at [email protected].
This article appeared in the January 2022 issue of Resource Recycling. Subscribe today for access to all print content.