Recycling apps are an interactive mobile or online tool increasingly used by communities and haulers to communicate with residents. These apps allow residents to search for specific packaging and material types to learn the appropriate ways to recycle or discard them. Additionally, they can provide customized information on pick-up schedules, holiday breaks and other details pertaining to local materials recovery.
RRS conducted research on 3,277 local recycling programs in the U.S. and 282 recycling programs in Canada over the course of 2020-2021. The Canadian programs were much more likely to use search tools and apps – 28% of the programs surveyed used one of the apps, a group which represented 70% of the population in the survey. In contrast, U.S. programs were relatively unlikely to take advantage of these tools, with only 9% of programs, representing 17% of the population surveyed, using a search app or tool.
These apps have the potential to reduce costs and improve safe, sustainable material handling from several angles.
First, the tools can help cut down on "wishcycling" (when residents think an object should be recyclable even though it is not an accepted material/item) by providing clarifying information and additional instructions for various materials. This can reduce contamination, a problem that can increase MRF downtime as well as disposal costs.
Further, apps can help bolster safety for collectors and processors by providing instructions to properly dispose of materials like oils, medicines, paints and batteries – including lithium-ion batteries, which have been documented to cause fires at the MRF.
Recycling apps can also serve as an extension of a customer service department to provide answers to frequently asked questions about pick-up schedules, operating hours for drop-off facilities, and other key pieces of information.
Each community should strive to understand how its residents seek out information and then customize outreach and education efforts. Mobile apps can be used in conjunction with traditional outreach methods such as mailers, emails, community events and other program collateral that help to convey the right way to recycle.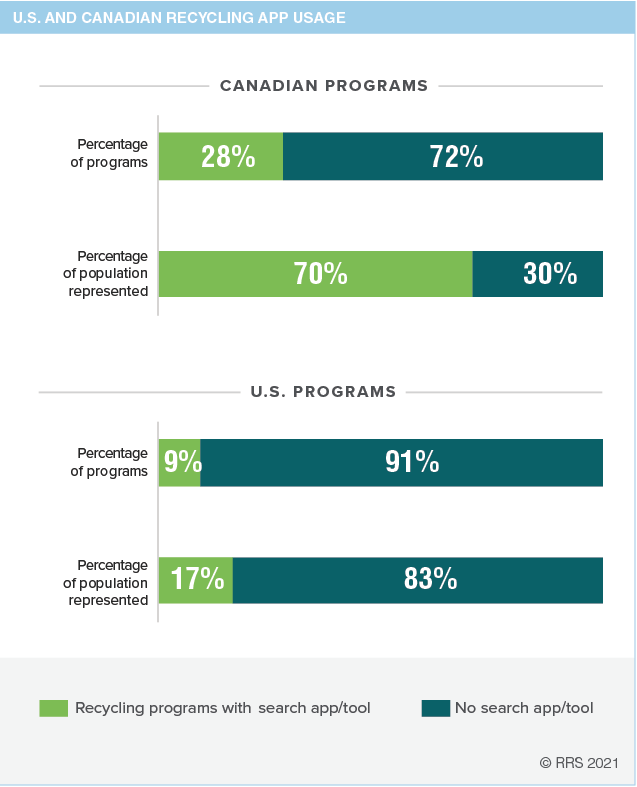 This month's Data Corner was produced by RRS. Learn more at recycle.com.
This article appeared in the September 2021 issue of Resource Recycling. Subscribe today for access to all print content.