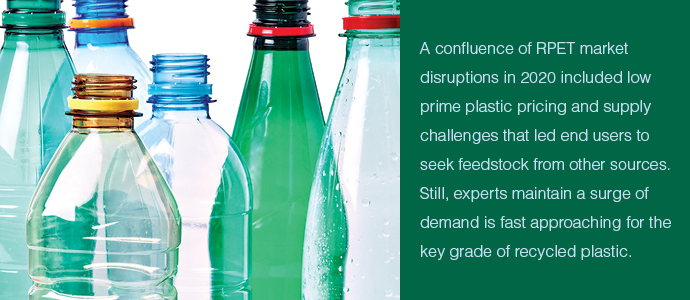 This article appeared in the February 2021 issue of Resource Recycling. Subscribe today for access to all print content.
In many ways, PET plastic is emblematic of so much that is swirling around in today's recycling industry conversations.
The material is key to global brand owners that are trying to hit recycled content pledges and fend off criticisms over pollution and plastics mismanagement. At the same time, PET has established domestic markets, but processors struggle with collection and contamination issues as they try to maximize existing capacity and boost output.
And then there is the fact of ever-present volatility in markets as a whole.
In 2020, for instance, plastic processors in the Midwest and Northeast U.S. saw less RPET demand as depressed virgin pricing led end users to shift away from recycled resin. In California, local reclamation capacity and recycled-content mandates created a different dynamic.
But despite recent turbulence, experts see a strong market for the recycled resin in the years to come.
"2020 was an anomaly, but the RPET demand is coming," said Steve Lyons, director of strategic environmental analysis and business development for consulting firm SBAcci.
Here's an in-depth look at the forces that have impacted market realities for recycled PET of late. For local recycling leaders, understanding the dynamics influencing the plastic resin will be helpful in charting a course forward for recycling decision-making for the curbside stream in general.
Material piles up after COVID disruption
A Midwestern processor who wished to remain anonymous said the global pandemic starting last spring created major challenges for moving recovered PET.
Material from container deposit programs slowed significantly as states suspended redemption requirements amid COVID-19 lockdowns. The reduced inbound volume forced reclaimers to seek other supply lines for recovered PET.
"The bottom line is, since the pandemic hit, the PET market has changed drastically," the processor said.
Reclaimers made deals to source PET from lower-quality sources, such as bottles recovered by materials recovery facilities (MRF), the Midwest processor said. MRFs saw notable upticks in inbound PET as deposit streams slowed. For instance, Shakopee, Minn.-based MRF operator Dem-Con Companies saw a 150% increase in the material during the pandemic.
"It's very challenging to move," Bill Keegan, president of Dem-Con Companies, said of PET in an interview last fall. "And we're actually not moving all of it right now."
Green PET has been hit particularly hard. Always a more challenging portion of the RPET stream to market due to limited end-use applications, the material has begun to stack up at the unnamed Midwest processor's facility, and the company has considered exporting the material for the first time.
"We're sitting on literally millions of green that has no home," the Midwest processor said.
Meanwhile, Keegan of Dem-Con said PET buyers were being very picky last fall. For the first time, Dem-Con started getting pushback from buyers wanting less green PET, lower percentages of thermoforms and lower contamination overall, he told Resource Recycling.

Switching to virgin material
At the same time, some resin users have seen a financial incentive to switch away from recycled plastic.
"In many cases, I think people have abandoned post-consumer for cheaper forms of feedstock. In many cases it's cheap, available virgin," said Paul Zordan, vice president and general manager of New York-based processor UltrePET. "That's had a major impact."
Falling oil prices last spring as travel plummeted led to cheaper virgin resin, putting greater price pressure on recycled resin.
"You've got companies that are competing with very small margins, and if their competitors are taking advantage of lower-cost feedstock – i.e., virgin – these guys either follow suit or they accept lower margins, or sometimes no margins at all," Zordan explained.
According to data from RecyclingMarkets.net, the national average price of PET beverage bottles and jars moved up 16% from mid-December to mid-January, reaching 7.58 cents per pound.
But one year ago, the price was 9.28 cents per pound.
The lower price compared with the start of 2020 illustrates how the recycling market is left relatively unprotected when virgin pricing goes low. Resin end users can shift their feedstock composition as pricing shifts, because in the U.S., only California has a minimum-recycled-content mandate for PET beverage containers. And even that law was just passed last year.
"Most of these [brand owners] are very committed to recycling. They have strong goals but they're still operating in a voluntary stance," Lyons of SBAcci explained. "They're not always mandated to specific content levels."
The ability to easily shift to virgin feedstock may change, however, as companies feel pressure to reach their sustainability goals in the next few years.
Demand growth will shift dynamic
Numerous major brands have announced recycled plastic inclusion targets in recent years. The targets vary, but one theme is consistent: Most companies have a long way to go to hit their aspirations.
In November, the Ellen MacArthur Foundation released its second annual report covering brand owners' recycled plastic use. The results show significant gaps between current recycled material use and goals, many of which have a 2025 target date. The Coca-Cola Co., for example, reported 9.7% PCR content in 2019, and the company has a target of 25% by 2025; PepsiCo used 4% PCR and also has a 25% target in 2025.
The figures suggest the RPET market could shift dramatically in the next few years.
"There's a strong demand surge coming for recycled PET content," Lyons said.
According to SBAcci figures, there are about 1.9 billion pounds of RPET available each year. The company projects a shortage of well over 1 billion pounds to meet brand owners' 2025 targets.
This expected gap led to one estimate that the PET bottle recycling rate will need to double to generate sufficient supply.
Given the disruptive nature of the pandemic, experts have questioned whether brand owners may suspend their sustainability measures or push out target dates. So far, Lyons said, he has seen little evidence suggesting that will happen.
"I haven't seen anything that would indicate recycling commitments have been deprioritized, or that RPET content has been deselected," Lyons said.
The demand growth could help to offset pressure from low virgin plastic pricing. The price spread between virgin and recycled PET may narrow slightly, analysts point out, but it's unlikely recycled resin prices can drop enough to meet prime pricing.
Instead, the pricing dynamic may simply move into the background as the supply pressure takes center stage.
"The real issue isn't the price of virgin PET or recycled pricing. It's how does this industry work together to get enough material collected so that it feeds these content goals," Lyons said.
One state highlights demand importance
While parts of the country have struggled with RPET this year, California shows the power of strong demand to improve the market.
"Here in California, we're finding it fairly consistent," said Sally Houghton, deputy executive director of Plastic Recycling Corporation of California (PRCC), which brokers bales of recycled PET bottles for suppliers across California. "We have the six reclaimers here, and everyone is still buying material on a regular, standard basis."
The state's RPET market has experienced its share of pressures over the past year, she noted. Reclaimers saw an influx of competition from Mexican reclaimers looking for material. COVID-19 restrictions slowed the flow of PET collection through the informal sector in Mexico, leading to a shortage and pressure on nearby California's PET supply.
Meanwhile, like it is elsewhere in the country, the market for green RPET in California is "pretty much dead," Houghton said. But green material makes up less than 5% of a standard PET bale in California, lessening the impact of the market strife.
Overall, Houghton said, the local reclamation capacity has kept the RPET market strong. And with the state's new minimum-recycled-plastic requirement for beverage containers, which requires 15% in 2022 and steps up to 50% in 2030, the state's reclaimers are currently expanding in preparation for the demand growth.
"Because of mandated content and increased capacity, I think we are going to see a stable market," Houghton said.
Colin Staub is the senior reporter at Resource Recycling and can be contacted at [email protected].