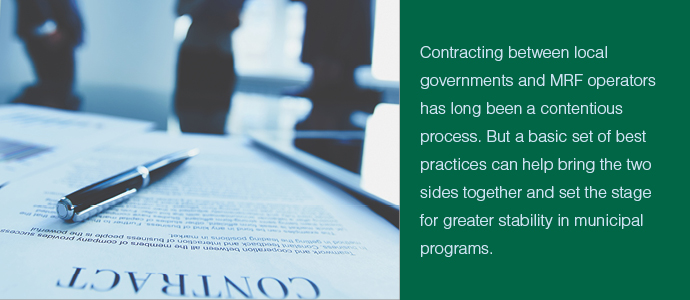 This article appeared in the August 2020 issue of Resource Recycling. Subscribe today for access to all print content.
Few legal documents in the U.S. curbside recycling system are as important as the processing-services contract between a community recycling program and a private materials recovery facility (MRF). Such contracts have only gained more importance in the wake of challenging market conditions and concerns over material quality.
The U.S. MRF infrastructure is highly privatized, with about four of every five MRFs in the country being privately owned. By contrast, most curbside collection services are established through the auspices of public agencies. This picture is not expected to change soon, and so the public-private MRF contract will remain a system staple.
Finding profitability and predictability
While processing-service contracts embody the symbiotic relationship between a community and its MRF, there is no denying that these agreements have been a significant source of contention in recent years. However, that does not need to be the case, especially if both parties approach contracting with a sense of transparency, fairness and acknowledgement of each other's interest.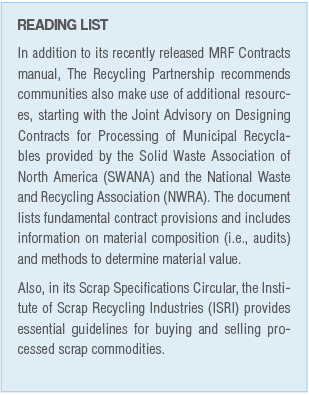 This is not an idealistic view; it is highly achievable through the application of 11 common elements in MRF contracts, as laid out in The Recycling Partnership's new Guide to Community Material Recovery Facility Contracts.
But let's start with reality – there have been too many examples of poor practices and unfortunate stories in the history of MRF contracting, with each side responsible for avoidable shortfalls. In sometimes taking advantage of a strong market position, MRFs can dictate unilateral conditions and changes to processing contracts, putting unanticipated financial burdens and sudden program adjustments on their local clients. In some cases, these changes have been so onerous that they forced the elimination of curbside programs.
Communities, meanwhile, have also sometimes failed to come up to speed on fundamental market conditions that justify processing charges. Additionally, in some cases, community program leaders have not effectively signaled to their elected officials the reasons for these charges, failing to hold up their end of the bargain in being an "informed consumer" of MRF services. By not doing their homework or not adequately networking with peers, communities lose opportunities to empower themselves and understand all their contracting options.
The best MRF contracts recognize the individual needs of each party while also grounding the agreement in their common needs. Individually, private MRFs need profitability – that is why they are in the business. Communities need predictability – they are operating an expensive public service with little tolerance for disruption.
A good MRF contract can accommodate both individual and mutual interests. Each party benefits from stability – the MRF to guarantee a return on expensive capital, the community to keep services going. Each side also gains from a sense of trust, a shared vision of their relationship, a strong platform of communication, and a coordinated commitment to material quality.
The contracting process
So let's get down to business, starting with process. Government procurement procedures can be tedious and complicated, but a well-run contract experience will deliver sound results for all parties.
Communities have a choice of familiar instruments to solicit proposals from MRF service providers, including a request for interest (RFI), request for qualifications (RFQ), request for bids (RFB) and request for proposals (RFP). Some of these approaches can be used in combination – for example, an RFI or RFQ can be used to explore who might respond to an RFP and flag some potential adjustments to the RFP before it is released. In the end, an RFP allows the most flexibility to both proposers and the community around critical information and flexibility in making contract decisions.
Like all local procurement practices, RFPs benefit greatly from two preliminary exercises: 1) taking time to reflect on local goals and objectives, and 2) involving critical internal stakeholders in crafting the process, including budget, purchasing, legal, and even elected official input. A strong discussion around goals and objectives helps set the stage for both the structure and content of the RFP and also presages the decision-making criteria that will be used for the final contract decision.
Among the critical decisions in the RFP process is determining what role the community should play. Communities always have the option of owning the land, building and/or equipment related to a facility, or instead to make those components the responsibility of private service providers. As detailed in the The Recycling Partnership contract document, there are pros and cons around these questions that should be thoroughly explored before starting any procurement process. Of course, communities also have the option to own and operate their own MRF and also to procure MRF processing services with other regional partners, an approach The Recycling Partnership highly recommends.
Determining the length of the contract is vital to the RFP process. Local purchasing offices often have a standing preference for shorter contracts (three years or less) in part to regularly test the market for best value. But this approach runs counter to the capitalization realities of MRF companies, which will make large investments in expensive equipment that must show a return. On balance, MRF contracts should be longer (seven to 10 years), aligning with the amortization schedules that supports the deployment of best-in-class sorting capital. MRF contracts should also include renewal clauses that give communities the option to sustain a good working relationship in lieu of another RFP process.

The 11 essential elements
Like all local purchasing exercises, MRF RFPs will naturally include components that reflect the standard rules of local purchasing. These are unique to each community and underscore the need for early involvement of purchasing staff in the process.
But there are some elements of MRF contracts that The Recycling Partnership views as universal to all communities and that address the most critical details of the business relationship. They include:
Processing Charges – Commodity pricing reflected in the "blended value" of sold materials no longer financially supports the full cost of MRF operations. Consequently, processing charges can be expected in MRF contracts and should be called out directly and specifically in an RFP.
Revenue Sharing – Many contracts are being structured to have processing charges cover MRF costs, including, in many cases, a base level of profit. All MRF RFPs and contracts should address if and to what degree revenue sharing is being applied to the business relationship, separate from processing charges.
Material Value Determination – If a community wants revenue sharing to be part of its MRF contract, the contract should point explicitly to mutually acceptable and transparent sources for determining market value.
Acceptable Material Mix – Every MRF should have a high degree of clarity around acceptable materials, and, just as importantly, detail procedures and conditions under which the material mix might change.
Material Audits – The best MRF contracts establish regular procedures for assessing inbound and outbound material using transparent protocols to provide information critical to determining contamination rates, revenue sharing and MRF performance.
Contamination and Material Quality – Mutually agreed upon contamination standards in a MRF contract set the stage for community action on inbound material quality.
MRF Performance – A MRF contract should convey clear and specific standards around the processing and marketing of delivered commodities.
Rejected Loads and Residue Disposal – Both parties benefit when a contract includes explicit parameters on what constitutes unacceptable loads as well as how the loads are handled and how MRF residues are managed.
Education and Outreach Support – MRF contracts are an increasingly important funding source for consistent community educational activities that in turn drive high material tonnage and quality.
Contingencies – MRF services can be disrupted by a range of weather events or other conditions, and good contracts spell out plans for managing materials during these scenarios.
Reporting and Communications – The processing business relationship is on the firmest possible foundation if there is regular sharing of information between the contracting parties. The contract should detail the specific mechanisms the parties will use to make communication consistent and robust.
An opportune time
The U.S. curbside recycling system is structured around public collection and private material processing, and the connecting point between those two pieces is the MRF processing-services contract.
Although such contracts have been in play for many years, market conditions since 2018 have created what appears to be a "new normal" in MRF/community relationships, with implications for both the ability of MRFs to remain viable and for community programs to be sustained. This presents a unique opportunity to get things right through the universal application of essential MRF contract elements. The Recycling Partnership calls on stakeholders to adopt these elements into a common platform for all MRF contracts.
The Guide to Community Material Recovery Facility Contracts is available at recyclingpartnership.org/MRF-Contracts.
Scott Mouw is senior director of strategy and research at The Recycling Partnership and can be reached at [email protected].