MRFs in Florida have historically landfilled about one-quarter of the weight that comes in the door, according to a study commissioned by the Florida Recycling Partnership Foundation.
The study, which was conducted by researchers at the University of Florida (UF) and released publicly in June, found that on a historic average weight basis, the state's contamination rate is 25%. It is 27% for single-stream MRFs and 18% for dual-stream MRFs.
The study noted that MRFs calculate their contamination rates differently. For the purposes of the study, the contamination rates were based on the weight of MRF residues sent to landfill. As a result, in addition to typical curbside contaminants such as garden hoses, plastic bags and dirty diapers, the "contamination rate" calculation in the study also includes traditionally recyclable materials, such as glass, that were landfilled because markets weren't available during periods of time. It also includes otherwise recyclable materials that were lost to residue in the sorting process.
The report noted contamination rates rose between 2007 and 2019, as shown in the chart below.
UF's Department of Environmental Engineering Sciences reached out to all 26 MRFs operating in the Sunshine State. Eight single-stream MRFs and two dual-stream MRF provided data. Half were publicly owned and half privately owned, and all handled both residential and commercial material.
The study was the first that's been funded by the Florida Recycling Partnership Foundation.
"Our goal, as a Foundation, is to increase participation in recycling the right things and reducing the use of recycling bins for things that belong in a garbage can," said Kim Brunson, facility services business relationship manager for Publix Super Markets and chair of the Florida Recycling Partnership Foundation. "The UF study has developed a baseline of how much non-recyclable materials are going to the MRFs. Hopefully with education and positive messaging, we can change consumer habits so that only proper recyclables are placed in recycle bins in order to reduce the amount of contamination going to MRFs."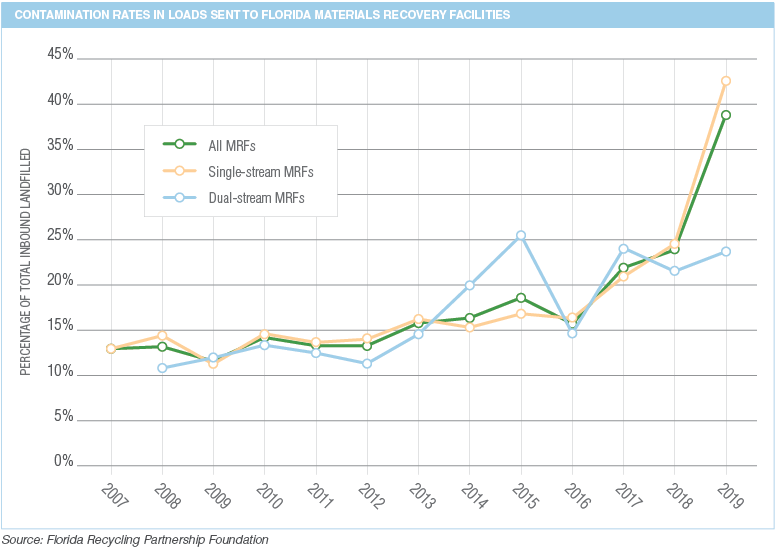 This article appeared in the August 2020 issue of Resource Recycling. Subscribe today for access to all print content.