In the greater Green Bay, Wis. metropolitan area, Brown County and its neighboring communities came together to collectively improve their recycling programs. They currently operate a regional MRF and collaborate on area-wide messaging.
Brown County has a population of about 265,000 residents and includes the city of Green Bay.
Wisconsin has had recycling-related legislation since 1993, when the state enacted a landfill ban on key recyclables, including certain fiber products, some plastics and glass containers. The legislation doesn't dictate how those materials must be handled, just that they are banned from landfill disposal.
For years, Brown, Outagamie and Winnebago counties operated their own independent MRFs.
In 2009, the entire tri-county area switched to single-stream recycling programs, and as part of that change they closed all three MRFs and opened a new facility in Appleton, Wis. Now, the counties are joined together in a tri-county recycling partnership that covers a population of more than 500,000 people.
The regional MRF processes an average of 100,000 to 105,000 tons per year of material. It brings in material from 65 communities in the three counties, which use private contractors to handle material collection. The facility also accepts recyclables from other communities throughout northeast Wisconsin and northern Michigan.
Because waste is handled regionally, figures get fuzzy when it comes to tracking diversion by each community. But Brown County calculates that 22.8% of the solid waste its department handled in 2019 was recycled, said Mark Walter, business development manager for Brown County Port & Resource Recovery, which manages that county's recycling program.
Outreach initiatives reflect regional partnership
The tri-county partnership has the benefit of allowing consistent messaging throughout the region.
"We do everything cooperatively," Walter said. "One message for the three counties, and it goes out to as many households as we can."
That helps to reduce confusion among the public, but it adds some challenges. With all communities using the same messaging, it means a much more intensive effort is required to alter those messages in response to market changes.
"If we change our messaging, it's a three-year process," Walter said.
For Brown County, like many municipalities, one material stream rises high above the others when it comes to contamination problems.
"Glass is pretty easy, paper is pretty easy, metals are pretty easy – it's always plastics that have confounded everybody," Walter said.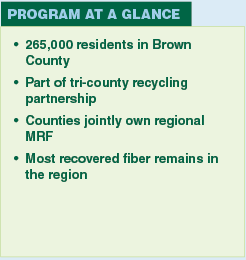 Brown County is working with a contractor to develop an app that would allow residents to use their phone and scan plastic products to determine their recyclability. Eventually, Walter noted, the goal is to roll out that type of outreach tool to the entire region.
Located near fiber end markets
Brown County is in the enviable position of having numerous paper mills in its vicinity. Midwest Paper, Sustana Fiber, Sonoco and Green Bay Packaging all have paper mills in the vicinity, and Walter said the county has good partnerships with end users throughout the area.
"What it means is we get paid premium rates for paper products, because the hauling cost is essentially negligible compared to going somewhere else," Walter said. Paper collected in the county rarely needs to travel more than 20 miles to get to an end market.
Many of the Green Bay-area mills produce tissue products, which meant a surge in demand for local recycled fiber as the COVID-19 pandemic took hold this spring and tissue sales skyrocketed.
The tri-county MRF installed carton-sorting capabilities and supplies cartons to Sustana's Fox River Fiber mill, although it's a very small portion of the fiber stream, Walter noted. That portion has gotten even smaller as schools, which are major carton generators, have been closed during the pandemic.
On the plastics side, the MRF has fewer options for its material. Plastics Nos. 3-7 are no longer prioritized in the sorting process, Walter explained, as the MRF's mixed plastics buyers have diminished in the wake of global recycling market shifts.
"It was driven by China without a doubt," Walter said. There was a delay before the China impact hit Brown County, he added: The effects took eight to 12 months from the time China banned plastic imports.
These days, for the low-value mixed plastics, when a market is not available the MRF will hold onto those materials for a number of months. If no market materializes, the material may go to disposal.
Markets for the higher-value PET and HDPE plastics have remained more stable, Walter said.
Pandemic alters stream
Brown County operates two transfer stations: one for recycling and one for garbage. Material is transported from those transfer stations to the Appleton MRF to be aggregated with the other counties' material.
Walter noted the MRF made a few changes to adjust to safety protocols in light of COVID-19, but fewer than the county anticipated. There were a few COVID-19 infections among the MRF staff in the early months of the pandemic, but no major outbreaks. The MRF installed more physical barriers, adjusted lunch and break schedules, added new safety equipment requirements, and more.
That's not to say the recycling program is unaffected by the pandemic.
"There's been a fairly significant change in commercial and residential," Walter said. The Brown County transfer station has seen its material makeup change from 60% residential and 40% commercial to 70% residential and 30% commercial.
Notably, that shift has come without major changes in overall tonnage, Walter noted.
"Our tonnages on recycling have been pretty constant through the pandemic," he said. "I thought they would drop."
On the organics side, a drop-off food waste recycling program was suspended for a month as a result of COVID-19. The temporary lapse in availability spurred nearly 30 emails on the first day, Walter said.
"That showed me how successful it was," he said.
Additionally, even though curbside recycling services have continued as normal, the county has seen a surge in residents utilizing drop-off recycling options at the local transfer station. Prior to the pandemic, between 30 and 50 people might come through the drop-off station in a day. During COVID-19, more than 100 people have been dropping off recyclables each day.
Almost all that material is excess OCC, Walter noted, likely driven by the increase in e-commerce during the pandemic.
"The mountains of cardboard are pretty significant," he said.
This article appeared in the August 2020 issue of Resource Recycling. Subscribe today for access to all print content.