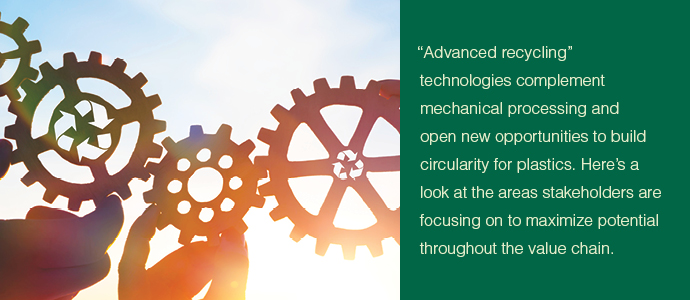 This article appeared in the July 2020 issue of Resource Recycling. Subscribe today for access to all print content.
It's no secret that plastic recycling is undergoing some major growing pains: multiple resins, different shapes and sizes, and a continuously evolving packaging stream that doesn't always align with recovery infrastructure or the demand from recycling end markets. Yet this is all coming alongside surging interest in creating more circular systems for how we use – and reuse – valuable plastic materials.
Moving toward a circular economy for plastics will require a multi-pronged approach. Put simply, there is no silver bullet solution. Designing for circularity, encouraging reusable packaging models, and optimizing our existing recovery infrastructure all play a role in creating more circular systems for plastics.
Parallel to those efforts, we see opportunities to scale complementary advanced or chemical recycling technologies – technologies that break down used plastics into their chemical building blocks to be repurposed into new products and packaging. Though we often talk about mechanical and advanced systems separately, the challenges and opportunities ahead of them are strikingly similar.
Understanding and addressing those challenges was front and center for the 300-plus attendees at a sold-out workshop at the Plastics Recycling Conference and Trade Show this February. Closed Loop Partners, the American Chemistry Council and the Association of Plastic Recyclers partnered to co-host a workshop that featured industry experts who explored how advanced recycling technology providers are working to:
Tap the ample supply of used plastics compatible with today's advanced recycling technologies.
Form strong, long-term business relationships and partnerships.
Produce feedstock and products that allow post-use plastics to stay in circulation.
Unlock markets through effective communications to all stakeholders, including brands, plastics recyclers, resin producers, investors, policymakers, NGOs and consumers.
Like plastic, advanced recycling is not one thing. It is diverse, representing multiple types of technology processes that produce many products, including "virgin-like" polymers, chemical intermediaries, naphtha and more. Building an understanding of advanced recycling among all stakeholders remains critical if we are going to realize the sector's full market potential.
The biggest opportunity in advanced recycling is to build circular supply chains that ensure that the outputs from these technologies loop back into product and plastic manufacturing. Moving closer to circularity for plastics is within reach, but it requires the entire plastics value chain to collaborate to create a new vision for the industry's future.
Post-use plastics: Creating reliable feedstocks for advanced recycling
Just like mechanical recycling, advanced recycling facilities require a dependable flow of materials (feedstock) that fit the technology process. For some companies, that means working with materials recovery facilities (MRFs) to obtain post-use plastics that may lack consistent and profitable end markets, including the hardest-to-recycle plastics like flexible and multi-laminate packaging. Many advanced recycling companies also recycle post-commercial plastic scrap or capture feedstock streams that typically aren't collected at curbside, such as carpeting and textiles.
The New York-based investment firm Closed Loop Partners has invested millions of dollars in companies on the forefront of building the circular economy, from materials recovery facilities to advanced recycling technologies to new delivery models for products. The firm has determined the potential market for the products of advanced recycling is significant – $120 billion dollars in Canada and the United States alone. In an effort to drive investment to advanced recycling technologies that are safe and circular, Closed Loop Partners is currently analyzing the North American market to understand how these technologies can be integrated into existing infrastructure to establish economically viable and safe circular supply chains.
The American Chemistry Council (ACC) has helped incubate multiple programs to optimize the collection of post-use plastics to create dependable feedstocks, for both mechanical and advanced plastics recycling. ACC has collaborated with Closed Loop Partners and supported organizations such as The Recycling Partnership, which works to systematically optimize and expand collection in large communities. It has also supported collection programs, including Materials Recovery for the Future (MRFF), the Wrap Recycling Action Program (WRAP) and Hefty EnergyBag.
Like mechanical recycling, collection systems for advanced recycling likely will be based on a collaboration between haulers, sorters, municipalities (or businesses), and recyclers – and these collaborations will differ from community to community. Regardless, everyone at the workshop in February emphasized that solidifying the collection-feedstock process is critical to the success of advanced recycling.
Partnerships: Creating solid Supply chains and driving circularity to market
Advanced recycling, like mechanical recycling, benefits from supplier/customer relationships that go beyond one-off transactions. To commercialize advanced recycling, long-term sustainable relationships are needed up and down the supply chain.
There are several examples of technology providers partnering with resin producers to bring recycled content to the market. For instance, Agilyx and Americas Stryenics have created a new operation, called Regenyx, which converts used polystyrene into styrene monomer using Agilyx's advanced recycling system. Americas Styrenics processes the recycled styrene monomer for use in multiple products, such as food-grade polystyrene packaging, creating a circular loop for the material.
Petrochemical industry leaders like SABIC are partnering with brands and advanced recycling technology companies to accelerate circular solutions and meet the demand for recycled content in the market. Using Plastic Energy's TACOIL, which is derived from mixed plastic, SABIC is producing certified circular polymers in its products and packaging for food, beverage, and home-care brands like Unilever and Vinventions.
Long-term contracts and partnerships also support commercialization and technical innovation. When L'Oreal purchased the full two-year capacity of PureCycle's Ohio feedstock-evaluation plant, it allowed the technology company to set its sights on expansion into Europe. Since then, PureCycle has also partnered with Milliken and Nestlé and will establish the first commercial facility to convert used polypropylene to virgin-like quality polypropylene. Milliken's additives will help enhance PureCycle's Ultra Pure Recycled Polypropylene (UPRP), which will be used to make new packaging materials for Nestlé.
Communication tools: Unlocking collaboration and markets
Given the nuances in this sector – from the technology processes to their outputs – developing a baseline understanding and basic vocabulary of the technology processes and the market opportunities and challenges is necessary.
Closed Loop Partners helped to establish common terms for understanding advanced recycling technologies in their report "Accelerating Circular Supply Chains for Plastics," which provides an overview of the potential market for these technologies as well as a useful summary of the technologies and their potential outputs. This type of information helps all stakeholders speak the same language, supporting collaboration across the value chain.
Tracking and certification of post-use plastic content is also critical to communicate the validity and environmental benefits to brands that purchase the recycled content and consumers who buy products. U.S. resin manufacturers recently released their principles for tracking and certification and endorsed a mass balance approach. Mass balance measures the amount of post-use plastics that enter advanced recycling processes and helps to trace and certify the outputs of advanced recycling in new products.
What Else is Needed?
While reliable feedstock, partnerships and communication tools are fundamentals that must be mastered, to reach the circular economy for plastics, a few information gaps and barriers must be addressed.
Capital investment from corporate and private investors will need to demonstrate competitive returns for more investment to flow to this promising sector. The ACC found that in the last three years, based on public announcements aggregated by ACC's Economics & Statistics Department, companies have announced a total of $4.8 billion in investments around advanced and mechanical recycling technologies. That's a great start, but more is still needed to build circular supply chains.
While advanced recycling has caught the attention of several brands and investors, the environmental and social implications of scaling these technologies must be better understood. Closed Loop Partners – in partnership with a group of brands, retailers, petrochemical industry trade associations, resin producers, and environmental NGO experts – is working with advanced recycling technology companies to collect data and analyze the environmental and human health impacts of their processes. The findings will be made public at the conclusion of the project.
Like many early-stage sectors, public policy could be a real game-changer for advanced recycling. Current state and federal policies are not always aligned with these innovative technologies, sometimes stifling the sector's ability to scale. Advanced recycling challenges conventional understanding and legal definitions of recycling, but the ventures in the sector have the capacity to address plastic waste in ways currently untapped. It is critical to create a supportive policy environment that helps move these technologies forward and establishes the appropriate guardrails to support the creation of safe and circular plastic supply chains.
At the Plastics Recycling Conference workshop, the shared interests and objectives among stakeholders were clear.
Now, with the clock ticking on achieving sustainability goals, we are at an inflection point where the market and political willpower have an opportunity to align to create a circular system for plastics. How we learn from one another, partner and invest together will determine how far we can go to create a profitable, safe and circular system to close the loop on plastic waste.
Prapti Muhuri is manager of recycling and recovery for the American Chemistry Council's Plastics Division and can be contacted at [email protected]. Paula Luu is project director at Closed Loop Partner's Center for the Circular Economy and can be contacted at [email protected].