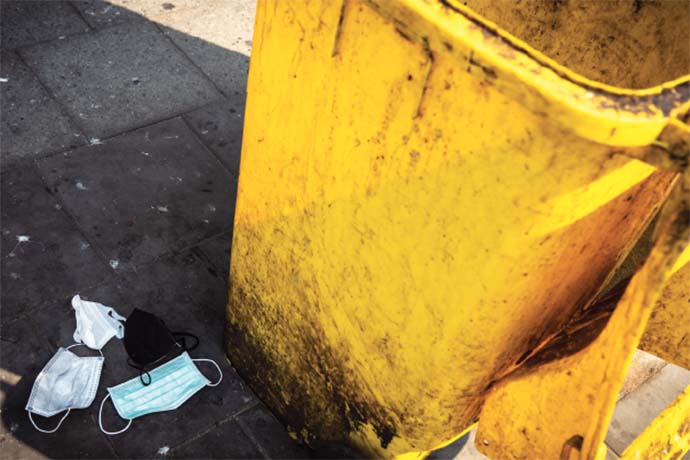 Welcome to the latest crisis, recycling industry.
Over the past two years, most program coordinators and processing executives have been dealing with the repercussions of a massively altered downstream market, with buyers in China and other Asian countries no longer consuming as they once were. That phenomenon had pronounced impacts on pricing and end-market viability for many recyclables. It was a seismic shift that knocked some operators out of the game.
But in recent weeks, the National Sword fallout, while continuing, has become something of an industry afterthought. Seemingly overnight, the novel coronavirus rolled in, bringing daily life to a standstill across North America and huge new challenges to recycling operations.
Lives on the line
With the Asian import actions, recycling programs had to worry about fluctuating material values and maybe altering accepted material lists. With the coronavirus (and the COVID-19 disease it brings to infected individuals) actual worker lives are on the line.
New York City emerged as the U.S. coronavirus epicenter last month, and the city's Department of Sanitation stated March 23 that 32 of its employees had tested positive for COVID-19. A number of those people were engaged in waste collection. Surely, New York is not the only municipality that will be dealing with infected workers on the front lines of waste.
What's more, for U.S. recycling programs, coronavirus preparation time was almost nonexistent. Because of the highly contagious nature of the virus and the fact that untold numbers of Americans have been carrying COVID-19 without showing symptoms, communities became hotspots before they knew much about what was in their midst. (There's plenty to be discussed about whether leaders on the national and regional levels should have been doing more over the first months of 2020 to prepare American society as whole, but that's a topic for another day.)
Just like decision-makers in virtually every other business sector in America, recycling leaders have had to scramble. Programs were altered, "essential business" letters were sent to elected officials, and managers of recycling facilities had to figure out ways to ensure workers brought social distancing to their tasks.
And all this was unfolding amid a thick haze of public fear and individual isolation. It's only natural that anyone running a program or plant would feel overwhelmed. Call it panic by way of pandemic.
But just as companies and communities have systemically and thoughtfully responded to National Sword, so too can they make smart decisions around COVID-19.
Safety first
Priority number one is creating a safe working environment for the individuals within your organization. This can seem daunting, but laying the groundwork is actually relatively straightforward.
On March 30, the National Waste & Recycling Association held a webinar that featured workplace health expert Dave Malter, head of Malter Associates and the former director of health, safety and transportation at Waste Management (he's also a former compliance officer at the U.S. Occupational Safety and Health Administration).
Malter noted that the U.S. Centers for Disease Control and the World Health Organization had not called for any special precautions when it comes to handling municipal waste. But because workers in the industry tend to have person-to-person interaction, safeguards need to be put in place immediately.
The use of gloves at all times is a critical practice (and those gloves should be either disposed of after use or sanitized at least daily). Further, plans need to be implemented for wiping and decontaminating surfaces such as steering wheels and control panels between use by different workers.
"COVID is not a very durable virus," Malter said. "Standard cleaning is very effective against that virus."
Managers can also institute "administrative control" procedures such as staggering start times, limiting the number of people in a break room and shifting communication to radios to keep physical contact at a minimum.
Surely, many operators have already taken such precautions. But as we all adapt to the new norm, it will be easy for employees to slip back into old habits. Thus, another critical task of management is to keep employees engaged and to keep a close eye on whether any staffers are showing symptoms.
Getting a handle on wider impacts
Of course, there's plenty to figure out beyond day-to-day operating procedures.
As a result of manufacturing slowdowns in China amid virus complications, fewer ships and containers have been arriving on U.S. shores, meaning fewer are available to make the return trip to Asia. The Wall Street Journal recently reported U.S. railroads and truckers serving ports are also being affected, with drivers struggling to pick up and drop off containers because of reduced gate capacity at ports.
That all could result in higher shipping costs in the coming months.
In addition, as the corporate world navigates the economic turmoil sewn by the coronavirus pandemic globally, we should expect cuts on investment and spending across many economic segments. Plastics pollution concerns, the effects of National Sword and more have brought a notable influx of outside money to materials recovery initiatives around the world over the past several years. Don't be shocked to see that investment activity start to cool down.
Along similar lines, corporate and government leaders will likely have a greater focus on pandemic response than anything else for the foreseeable future. Expect to see some stalling of the momentum around concepts like the circular economy, zero waste and others that have helped boost the business of recycling of late.
One step at a time
At a deeper level, the COVID-19 crisis is a not-so-gentle reminder that when it comes to trying to run a business or program (in recycling or any other sector), there's only so much planning an owner or manager can actually do. Inevitably, sweeping factors affecting the operation will come in fast and unannounced, in some cases changing the entire landscape in which we all operate.
We can tell ourselves to expect the unexpected, but the truth is that when the unexpected roars in, it's hard to know how to respond.
Perhaps the best thing an operator can do right now is to remember to make one decision at a time. Business challenges related to the wider market are likely to pop up again and again in the coming months. As a manager, all you can do is rely on your experience and take the time to make the choices you know are right for yourself and your company.
Strong leadership tends to emerge when business gets tough and the path forward is uncertain. Recycling is again in one of those times.
Dan Leif is the managing editor of Resource Recycling and can be contacted at [email protected]
This article appeared in the April 2020 issue of Resource Recycling. Subscribe today for access to all print content.