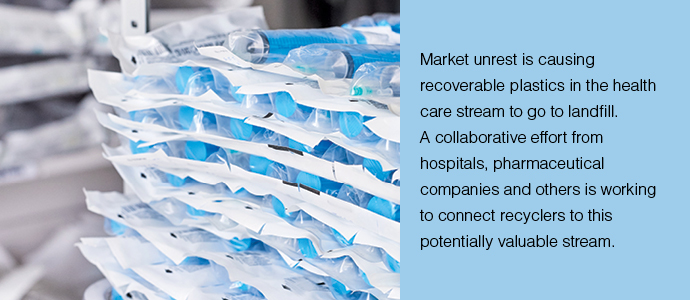 This article appeared in the January 2020 issue of Resource Recycling. Subscribe today for access to all print content.
The U.S. recycling market is currently facing a great deal of turmoil and change. The Chinese ban on plastic scrap exports and the Basel Convention agreement on restricted plastic waste trade have left domestic recycling in disarray as companies scramble to figure out their future.
Many hospitals that previously had comprehensive plastics recycling programs in place are now being forced to cut back on the size and scope of their initiatives because of the changes in the market.
As a result, many products and packaging materials used in the American health care system are now headed to landfill – this is disappointing, given the high value of these materials, which are subject to strict FDA regulations for purity and quality. Over 85% of the plastic waste generated by health care facilities is non-hazardous and non-infectious, and much of this plastic has never come into contact with a patient, according to a 2007 study from the International Federation of Hospital Engineering.
Overall there are an estimated 1 million tons of clean, non-infectious health care plastics generated annually, just in the United States, with equal amounts generated in Europe and Asia.
Meanwhile, consumer attitudes toward waste continue to evolve, and both patients and hospital staff are demanding increased transparency and higher recycling rates from health care facilities and medical device manufacturers. Circular economy thinking around plastics is also gaining serious momentum, creating opportunities in new business investment and innovation in domestic recycling infrastructure, though change can be slow and progress uncertain.
The Healthcare Plastics Recycling Council (HPRC) is working to organize stakeholders and develop sound strategy as the sector moves through today's complex ecosystem.
Better together
HPRC was founded in 2010 as a private technical consortium of industry peers aimed at improving the recyclability of plastic products and packaging. The organization's mission is to collaborate across the value chain to inspire and enable the health care community to implement viable, safe and cost-effective recycling solutions for plastics used in the delivery of health care.
The group's ultimate vision is to see all health care plastics safely and effectively recycled, and for the material to be widely accepted as a valuable resource.
To achieve these ambitious goals, HPRC engages in projects designed to help boost plastics recycling efforts in clinical settings. These projects are executed and led by member companies across the value chain, including BD, Baxter, Boston Scientific, Dupont, Eastman, Gore Medical, Johnson & Johnson, Medtronic, Nelipak, Ravago and Thermo Fisher.
These members are supported by an advisory board of hospitals and clinics that has representaiton from Aarhus University Hospital, Ascension Health, Advocate Aurora Health, Cleveland Clinic, Dartmouth-Hitchcock Medical Center, Hackensack Meridien Health, Kaiser Permanente and Lehigh Valley Health Network.
Something that HPRC learned early on with health care plastics is that there are significant barriers to recycling along the entire value chain. From design and manufacturing, to product use and disposal, roadblocks impede or restrict recycling at every stage, and these barriers are what HPRC has targeted with their recent and upcoming work products.
The real strength of HPRC is the open and collaborative environment that it provides companies that see one another as competitors in other contexts. By combining personal passions, company commitments and collective expertise, these stakeholders know they can do more together.
Breaking down barriers
HPRC's signature work product to date is the HospiCycle toolkit (hprc.org/hospicycle), a free, open-access compilation of guidance to help hospitals start, grow or improve their recycling programs.
HospiCycle was developed to help health care organizations successfully integrate recycling practices into a patient-care setting, and to better understand the economic, regulatory, resourcing and infrastructure nuances involved.
The toolkit is designed to meet the needs of each hospital, regardless of the maturity level of its current program, providing practical tools and resources.
HPRC also created a similar guidance document to help educate waste haulers, recyclers and processors about the common streams of plastic waste generated from clinical settings, since these entities don't always understand the opportunity in health care plastics.
The Guidance for Recyclers document (hprc.org/guidance-for-recyclers) lays out the common material streams, strategies for working with hospitals, and potential markets to help build the foundation for recycling across the health care industry, making it easier for recyclers to partner with hospitals and see the mutual benefits of health care plastics recycling.
Further, HPRC regularly hosts roundtables connecting hospitals, manufacturers and recyclers in order to facilitate real-time discussion and collaboration. These roundtables are often hosted in conjunction with other industry events, such as CleanMed, held by Practice Greenhealth.
By fostering open communication, HPRC is able to continue breaking down real (and perceived) barriers to recycling. For example, a recent event led to a productive discussion that helped to dispel myths and fears about contamination that recyclers often hold when accepting health care plastics.
Focusing on the future
In anticipation of the next evolution of recycling processes and technology, HPRC recently launched a project to address mixed flexible plastics in medical packaging.
While mixed flexible materials work well for the needs of manufacturers and end users, multi-material flexible plastic packaging is much more difficult to recycle at scale. In collaboration with the UMass Lowell Plastics Engineering Department, HPRC seeks to develop a better understanding of the material properties and end market uses by testing whether commercially available compatibilizers improve blend properties when compounded with multi-material flexible plastics.
This project represents a scaling up of a previous HPRC project conducted with Penn State University. While initial data points have been tabulated, a second round of testing is underway and a final report is expected in late 2019 or early 2020.
Another new initiative in the works is the establishment of a free, interactive recycling vendor directory that will allow hospitals to find recyclers and haulers in their region that will take their materials. Health care recycling is extremely localized, with lots of regulatory and vendor availability variation, so this resource has been much-needed to help connect hospitals with willing partners.
"There is such a desire at hospitals to do more, but the logistics of recycling are complex and it's difficult to find the right vendor for each of your various waste streams," noted Ilyssa Gordon, who is the medical director of the Office for a Healthy Environment at Cleveland Clinic and is leading the vendor directory effort. "This project will help connect the dots and create value for both hospitals and recyclers."
HPRC hopes that by addressing this barrier, new opportunities for collaboration will come to light, enhancing the economics and efficiencies of health care plastics recovery. At the same time, it may ultimately improve the quality and quantity of materials collected for recycling.
Fighting the good fight
While recycling as a whole – and health care plastic recycling in particular – is currently in a state of flux and instability, there are still reasons to be optimistic. When it comes to health care plastics, it's encouraging to know that so many passionate people and organizations are committed to making incremental progress toward big change.
Peylina Chu, PE, is the executive director of the Healthcare Plastics Recycling Council. She is also vice president with Antea Group, and she serves on the board for the Inogen Environmental Alliance. She can be contacted at [email protected].