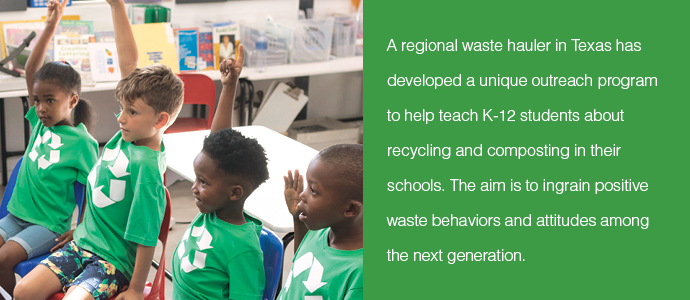 This article appeared in the September 2019 issue of Resource Recycling. Subscribe today for access to all print content.
Most municipal recycling professionals can attest to the fact that communities with stronger social norms around recycling are more likely to produce higher volumes of properly sorted material. Such scenarios cannot be built overnight, though.
One of the key components to developing long-lasting change to improve recycling is early education.
Since curbside collection and drop-off options for recycling are widely available in most areas, the industry has an opportunity to build education around this infrastructure and proactively educate students beginning as early as kindergarten. The future starts with today's students: If we can teach them about the impact their waste has on our planet at an early age, this will help build smart, green habits that will last a lifetime.
Class is in session
Enter Texas Disposal Systems' Eco Academy, a program designed to minimize waste in Central Texas schools and to educate the next generation of community members.
Schools and districts that participate in the Eco Academy program are provided with bilingual curriculum on recycling and composting options in their school, teaching them how to be good stewards of our planet. This educational framework is aligned with state government standards that dictate K-12 goals and requirements. Further, the curriculum can be tailored to an individual school's needs to facilitate real-world application and dovetail with existing lesson plans.
Since the program's inception in 2017, school diversion rates have increased significantly.
For example, the Austin Independent School District (AISD) increased its total waste diversion from 2,300 tons in 2017 to 2,800 tons in 2018 (that's an additional 1 million pounds of materials diverted from the landfill). This was due to the phasing in of composting throughout the district over the course of 2017, starting with elementary and middle schools, then high schools, and finally athletic facilities and support services.
In addition, some Austin schools were able to decrease their landfill pick-up schedules from five times a week down to three times a week. This not only shows the commitment to waste diversion but a successful use of data to decrease unnecessary truck traffic and subsequent emissions.
Texas Disposal Systems is a leading resource management company, and we do not take that designation lightly. We value our role as environmental stewards in order to sustain natural resources and our environment for future generations. That is why we are so passionate about implementing our Eco Academy program into as many schools as possible in the areas we serve.
The Eco Academy curriculum
According to a 2015 study from the city of Austin, roughly 80% of waste can actually be diverted from the landfill via composting and container/paper recycling programs.
The Eco Academy curriculum is geared toward leveraging that opportunity to keep more material out of the disposal stream, creating a better, greener environment for our communities and schools.
The curriculum is separated into six detailed units, each of which includes a short lesson and one or two project activities based on the subject matter of that specific lesson to keep students engaged. The curriculum also includes classroom collateral and educational videos. The lessons can be taught together or separately, and they are offered in both English and Spanish.
Ultimately, the aim is to help kids understand the journey of materials in the waste stream.
After students are finished with lunch in Eco Academy schools, they separate what's left on their tray into trash, recycling and compost bins. As an extension of this learning, one unit of the curriculum teaches students how long trash takes to decompose and offers a "Landfill in a Jar" lesson. With this activity, students will create a landfill in a jar with apple peels in one, and in another, an aluminum can covered with dirt.
"The students learn that it takes two to four weeks for an apple peel to decompose, whereas it takes 200 years for an aluminum can to decompose," said Leticia Mendoza, director of marketing and communications for Texas Disposal Systems. "By redirecting your waste to other streams like composting and recycling, you do the right thing by keeping it out of the landfill and completing a greener process for our environment."
The curriculum also gives students tips and tools for extending this classroom knowledge to their home environment.
Recycling coordinators know well how important communication is when it comes to steering the right behavior. Texas Disposal Systems provides participating schools and districts with bilingual, icon-based bin decals and posters for the cafeteria as well as classroom signage. These materials are helpful, turnkey tools for teachers and faculty, and they facilitate an ease of learning for the students.
Training and fundraising elements
Texas Disposal Systems is also proud to be able to offer on-site, in-person training for teachers, administration, kitchen and custodial staff so that they too can participate in the program and be supportive of the students' efforts.
These audiences play an integral part in this program, because they will be the ones to lead and encourage the students to participate and learn the importance of recycling and composting. To date, we have facilitated training, teaching diversion best practices to approximately 215 schools across six different school districts.
In addition to training, we offer diversion audits for participating schools, enabling staff to see the true results of their efforts. We also participate in school events throughout the year, such as convocations and Earth Day celebrations, to engage with students and faculty and encourage adoption of best practices.
Further, each participating school can track their success through reports found on the Eco Academy website. These reports show firsthand how school-level decisions can create a positive change in the community.
Another critical component of Eco Academy is a grant program that can be integrated into schools.
Participating schools are eligible for grants from Texas Disposal Systems to support environmental education and classroom engagement even further. Schools and districts can apply for two types of funding: the Eco Innovation Grant and the Eco Garden Grant.
The Eco Innovation Grant can provide up to $10,000 to help schools teach students about green practices, with hands-on projects or ideas that breathe new energy into an existing recycling program. It's a fun and engaging program for students that also offers valuable educational benefits.
The Eco Garden Grant, meanwhile, is presented by Garden-Ville, Texas Disposal Systems' organic gardening product brand (composts, mulches, soil amendments and more). The garden grant initiative provides up to $6,000 to create a garden at a school, giving kids a chance to learn while impacting their community. Plus, the gardens provide an ongoing way for students to engage with greener practices.
Additionally, we offer a mulch and compost fundraiser program that can be implemented at schools to help with general educational funding, an ongoing need in many districts. With the support of Garden-Ville, this program offers schools and nonprofit organizations the opportunity to raise money while improving lawns and gardens in their surrounding communities.
As an added bonus, the mulch and compost sold is organic and locally sourced from the Central Texas area, helping to teach students how they can play a part in the full-circle effect of composting in their local community.
The program collateral package includes a school letter, parent letter, student order form, mulch purchaser receipt forms, a school order summary form, flyer templates and sample ads. This fundraising opportunity also gives parents a chance to be involved in their students' efforts.
First step to lifelong habits
It is no secret our planet cannot sustain our current waste habits and it is alarming to note we have become a "throw-away society." However, at Texas Disposal Systems we have seen firsthand how early education shapes future patterns of behavior.
We are thrilled to have the opportunity to help pave the way for a brighter tomorrow for our students and our world. It is our hope that by educating students about recycling and composting at a young age, they will better understand the importance of minimizing waste and develop lifelong, eco-friendly habits.
Wendy Bradley is community relations manager for Texas Disposal Systems. She can be contacted at [email protected]. Learn more about TDS' Eco Academy and find out if your school is eligible to participate at ecoacademy.org.