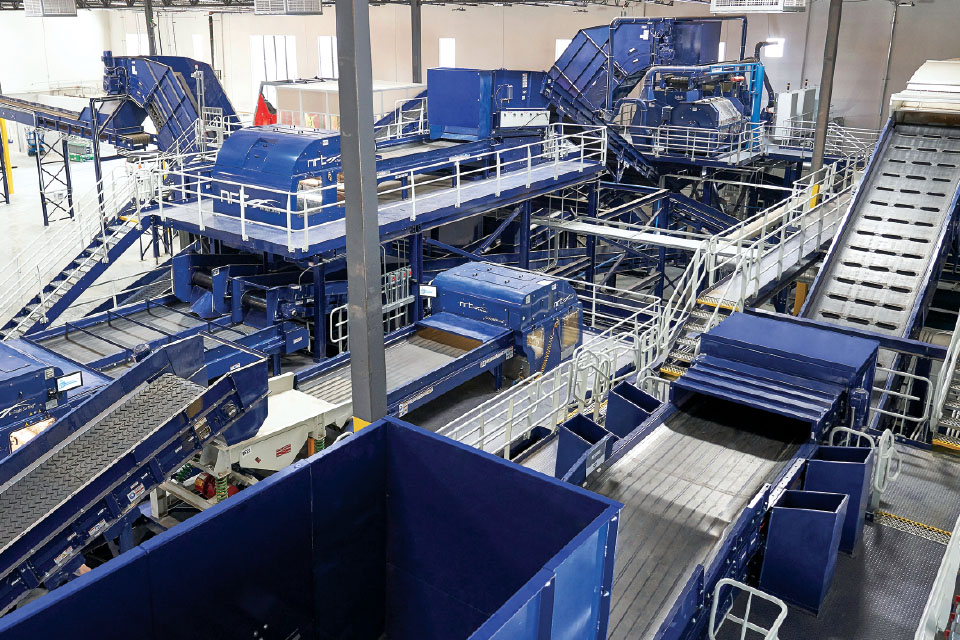 A California PET reclaimer that launched last year has grabbed plenty of attention for its $100 million price tag and the extensive capabilities of its processing and production line.
The 302,000-square-foot rPlanet Earth facility, sited in the Los Angeles area, brings in bales of post-consumer PET and sends out bottle preforms, sheet and thermoform packaging (it doesn't sell flake or pellets).
A new company, rPlanet Earth is an independent reclaimer, not the recycling arm of a larger packaging or product manufacturer. It sells in both the merchant and contract markets.
"We are the first completely vertically integrated manufacturer of multiple high RPET content packaging products," said Robert Daviduk, company co-CEO. "Our efficient manufacturing processes result in packaging with the lowest carbon footprint in the world."
Feedstock for the facility, which began operations in the fall of 2018, consists of bales of post-consumer plastic, including loads from the California container redemption program and Grade B bales from curbside programs.
To handle contamination from the curbside material, the plant needed a robust front-end sorting system. The system, provided by Eugene, Ore.-based Bulk Handling Systems (BHS), sorts more than 6 tons per hour and runs nearly 24 hours a day.
The sorting system includes BHS screen, Nihot air and National Recovery Technologies (NRT) optical sorting technologies (Nihot and NRT and BHS-owned companies).
As far as optical sorters are concerned, rPlanet Earth uses five, all with In-Flight Sorting technology. In-Flight Sorting means items are scanned and identified after they have left the end of the belt and are in mid-air. The approach avoids ejection errors that can occur when items shift position on the belt after they've been scanned but before the air jet has been triggered. The sorters remove metals, mixed plastics and colored PET.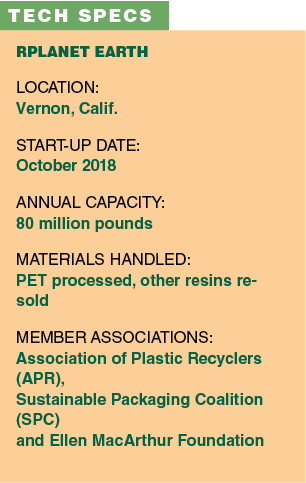 The plant is also an early robot adopter. It uses a Max-AI AQC-2 robotic unit from BHS. The machine type, which relies on material recognition software using artificial intelligence, has two robotic "arms" for removing contaminants from the PET stream.
Another component of the line is BHS's Total Intelligence Platform, which provides operators with detailed information from the controls system and motors, optical and Max-AI equipment, scales, baler and other sensors.
Into the production stage
After sorting, PET goes to an advanced processing system to produce rPlanet Earth's final products. The PET is first sent to a dry grinder to produce flake.
The flakes are sent to a wash tank, followed by a float-sink tank. Then they enter a MetaPure reactor provided by German company Krones, where they're heated to about 200 degrees Celsius under a vacuum. Solid state polymerization is used to boost the intrinsic viscosity of the plastic.
Next, without extruding the PET into pellets, rPlanet Earth moves the plastic into one of several processing systems to make the final products. Bolton, Ontario-headquartered Husky Injection Molding Systems provided two machines to produce bottle preforms, which are sold to outside companies for later blow molding.
For PET destined for other packaging applications, Graham Engineering of York, Pa. provided three Welex brand extrusion lines. They produce sheet up to 75 inches wide for use in rPlanet Earth's in-house thermoforming equipment or for sale to outside thermoformers. The lines use Graham's conical twin screw technology, which is more compact and streamlined than conventional twin-screw systems, according to Joseph Ross, rPlanet Earth co-CEO. Nordson Polymer Processing Systems, headquartered in Westlake, Ohio., supplied important components, including screen changers with in-line backflush capabilities.
The in-house thermoforming occurs on two Lyle brand machines, which can be used to produce drinking cups, clamshell containers and other packaging types.
The facility cost more than $100 million to outfit. "It's a huge investment. It's a huge commitment to increasing the supply of recycled content out in the marketplace – and high-quality recycled content," Daviduk said.
A number of different entities helped provide funding to the operation.
The company received $20.5 million in low-cost debt financing through the U.S. Treasury Department's New Market Tax Credit (NMTC) program. The California Department of Resources Recycling and Recovery (CalRecycle) provided a $2 million loan through the Recycling Markets Development Zone program, a $2 million loan through the Greenhouse Gas Reduction Revolving Loan Program, and a $3 million grant through the Recycled Fiber, Plastic and Glass Grant Program.
In addition, the California Alternative Energy and Advanced Transportation Financing Authority approved roughly $10 million in sales tax breaks for rPlanet Earth's equipment purchases. The Closed Loop Fund, a nonprofit investment fund supported by major companies, provided another $1.5 million loan.
The building was designed to accommodate a second phase capable of doubling throughput.
"We really are a technology company," Daviduk said. "We're going to bring technology to bear to improve the way that post-consumer PET is recycled. We'll have the lowest carbon footprint of any packaging out in the marketplace because of the way we're putting the plant together."
This article appeared in the July 2019 issue of Resource Recycling. Subscribe today for access to all print content.