Historically, companies have used post-consumer resin (PCR) because it was a lower cost feedstock than virgin. In recent years, however, pricing for virgin plastic (mostly "wide spec" resin) has fallen below that of PCR (mostly high quality PCR that is suitable for food contact).
Developing PCR that can compete with virgin resin, in terms of performance or consistency in specifications, requires significant cost in handling and processing. The breakdown of those recycling costs for two common types of recycled plastic – color and natural HDPE – are shown in the bar graph. The numbers are based on interviews with various plastic reclaimers.
It's important to remember resin costs generally do not account for the environmental benefits from the use of PCR or the impacts of using virgin. For PCR to become a more attractive option, drivers beyond price will need to be taken into account by resin purchasers.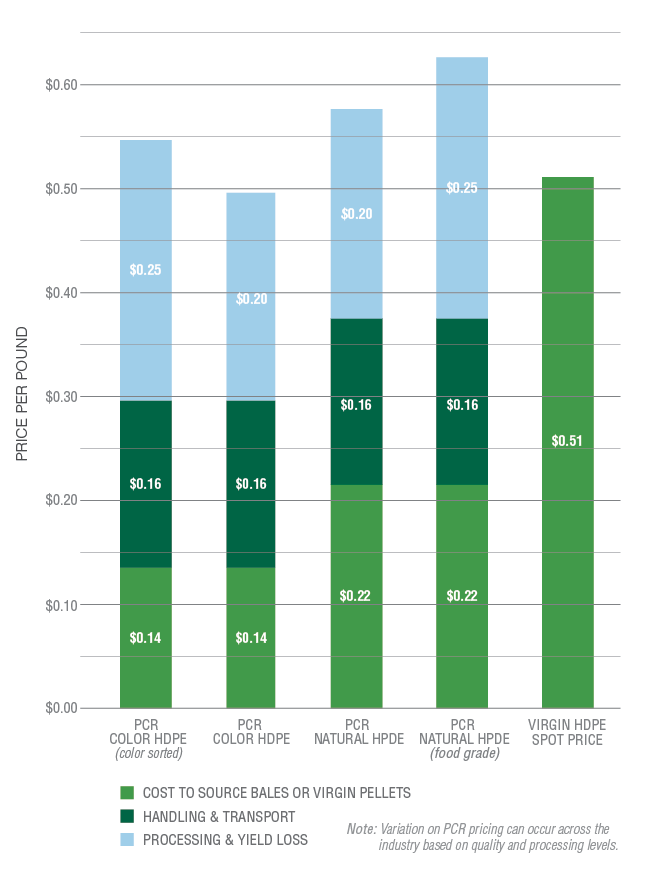 This month's Data Corner was produced by More Recycling.
This article appeared in the July 2019 issue of Resource Recycling. Subscribe today for access to all print content.