A dozen electronics recycling companies will cut checks totaling $517,000 to settle allegations they're partially responsible for abandoned cathode-ray tube materials in Ohio. Meanwhile, 15 other recycling companies appear set to duke it out with landowners in court.
The case is part of the fallout from the 2016 collapse of Closed Loop Refining and Recovery, which was paid to take cathode-ray tube (CRT) glass and amassed hundreds of millions of pounds in Arizona and Ohio. Used in bulky, old TVs, CRTs are made with several pounds of lead. The glass is a negative-value material that must be managed properly to avoid lead exposure to workers and the environment.
Three former Closed Loop sites in Columbus, Ohio currently hold an estimated 159 million pounds of abandoned CRT materials, and cleanup costs are estimated at over $18 million.
Property management company Garrison Southfield Park, which owns two of the warehouses, and Olymbec USA, which owns the third, filed lawsuits in federal district court in March against over 40 companies that shipped CRT materials to Closed Loop. The lawsuits claim the suppliers are responsible to help fund the cleanup under the federal Comprehensive Environmental Response, Compensation and Liability Act (CERCLA), the same law that governs Superfund sites.
Now, some of the largest suppliers have replied to the lawsuit, claiming they aren't responsible. Others, including a number of players who shipped smaller volumes of material, have signed settlement agreements with Garrison Southfield Park and Olymbec USA.
A tally by Resource Recycling shows that 15 companies have submitted defenses to the complaint, 12 companies have reached settlement agreements and 15 companies either haven't responded yet or have failed to respond to the lawsuit at all.
The following is an update on the case:
Details on the settlements
The defendants noted in the chart below have reached settlements with Garrison Southfield Park and Olymbec.
The agreements were submitted in court on July 14 and they were approved by a judge on July 16. They total over $517,000. The amounts come out to 14 cents per pound of CRTs shipped to Closed Loop.
(Story continues below chart)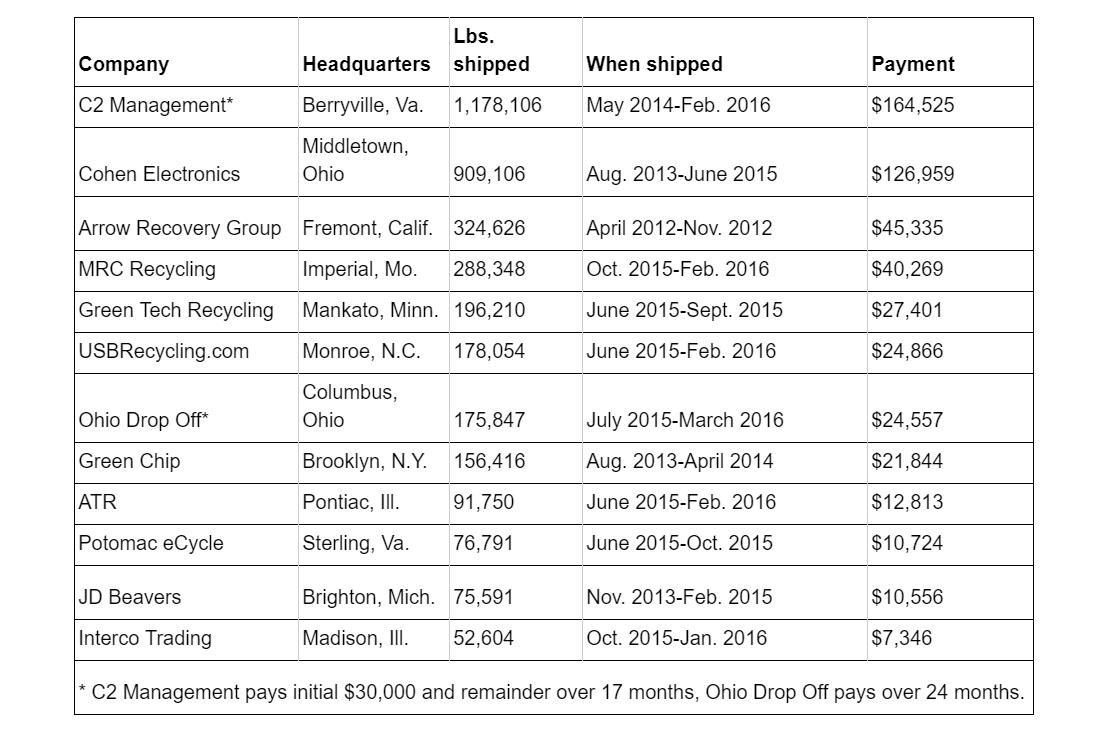 In addition to the above, court documents submitted by the parties indicate a settlement with eWorks Electronics Services is pending.
Money from the settlements will go into an escrow account. Under an escrow agreement between the landowners and Ohio EPA, the money will be spent on removal and remediation activities that the Ohio EPA determines are consistent with approved cleanup plans.
The settlements include a clause that cancels the deal if it's later learned through the case's fact-finding process that the defendant shipped considerably more material than currently thought. Specifically, that "reopener" clause kicks in if it's learned that a defendant contributed 20% – or at least 50,000 pounds – more CRT weight than currently spelled out in the settlement agreements.
When a defendant settles, Garrison Southfield Park and Olymbec USA will ask the Ohio Attorney General's Office not to pursue enforcement against those same defendants to force them to pay more for cleanup. Court exhibits show the Ohio Attorney General's Office is amenable to the arrangement.
The office provided a draft letter it will issue to settling defendants. The letter says Ohio authorities won't pursue enforcement action against the settling defendants provided four conditions are met: they fully cooperate with state investigations at the warehouses, the volumes they shipped don't turn out to be considerably higher than what is currently believed, they're not affiliated with a defendant that is still fighting in court, and the judge shields them from additional private party lawsuits related to the Closed Loop properties (the court's July 16  settlements approval already provided that protection from additional lawsuits).
Others continue to battle suit
A handful of the named companies previously defended themselves in public statements, but the recent court filings are the first official legal defenses to the lawsuits. The following companies submitted answers to the complaints defending themselves.
(Story continues below chart)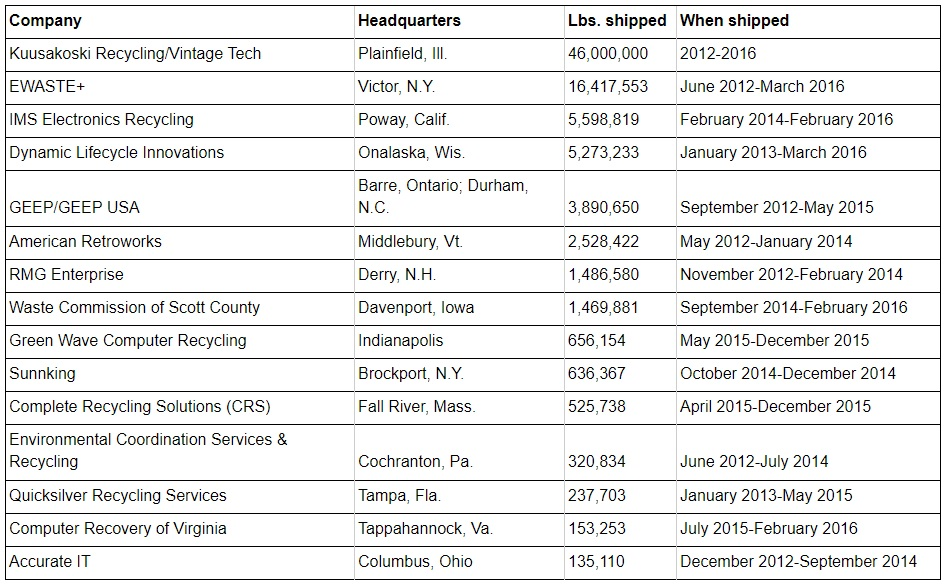 Many of their responses rely on similar or identical defenses. A number of them claim they're exempt from CERCLA liability because they're protected under the Superfund Recycling Equity Act (SREA).
Under SREA, suppliers that sent material for disposal are financially culpable for cleanup costs, but companies that shipped material for recycling are exempt, according to a write-up from the Institute of Scrap Recycling Industries (ISRI), which lobbied on behalf of the law in the 1990s (SREA became law in 1999).
But in order to avoid CERCLA liability, those companies must still demonstrate they shipped material for recycling, according to ISRI. To do that, they need to demonstrate that what they shipped meets the definition of "recyclable material," the transaction met the conditions for "arranging for recycling," and "reasonable care" was taken to determine the receiving facility's environmental compliance status.
In its June 28 legal response, Kuusakoski Recycling/Vintage Tech argued that the material they supplied was recyclable and was shipped to Closed Loop for recycling. Kuusakoski's shipments "were a transfer of a useful product, raw material and/or recyclable material and therefore were not an arrangement or transportation for disposal of a hazardous substance creating liability under CERCLA," the company wrote.
Among a number of other defenses, Kuusakoski said it "did not have an objectively reasonable basis to believe" the material wouldn't be recycled or that "that the recycling facility was not in compliance with substantive (as opposed to procedural or administrative) provisions of applicable environmental regulations."
Kuusakoski's response stated Closed Loop's facilities were R2 certified and "until April 2016 Ohio EPA had found that Closed Loop had demonstrated compliance with speculative accumulation rules and was engaged in legitimate recycling."
Additionally, some of the defendants argue that the material they sent to Closed Loop has not contributed to a release or threat of release of hazardous substances. Under CERCLA, to require cleanup contributions, there must be a "release" or "substantial threat of release" of a hazardous substance into the environment.
Meanwhile, EWASTE+ made the argument that because lead is naturally occurring, the plaintiffs have to show by a preponderance of the evidence that any trace levels of it in the environment came from CRTs: "Because lead and the other metals contained in CRT are naturally occurring, plaintiff's CERCLA claims are barred in whole because there is no evidence of a release or threatened release of hazardous substance(s) from a facility to the environment."
Kuusakoski also includes counterclaims against the landlords and crossclaims against Closed Loop in its response. Kuusakoski asks that if the court finds the CRT suppliers financially liable under CERCLA, the court also compels the landlords and Closed Loop to pay a portion of the cleanup costs. Kuusakoski stated that when Garrison Southfield Park purchased the properties, it knew hazardous substances were being stored there, and it claimed Olymbec USA chose to lease to Closed Loop without inspecting Closed Loop's other operations first. Kuusakoski also claims both landlords had access to the properties and allowed Closed Loop to stockpile CRTs and crushed glass.
In its response, Dynamic Lifecycle Innovations also filed crossclaims against all the other co-defendants, arguing that if it's found liable for the cleanup all of them should be, too.
A federal judge in South Carolina ruled in a separate CRT abandonment case involving CERCLA last fall. Although the facts of that case were different, the judge in that instance determined the CRT suppliers and warehouse owner shared responsibility for cleanup costs.
Still awaiting responses
Fifteen defendants have not yet responded to the lawsuits. Some of the companies on that list, outlined below, no longer exist; others are still working on settlements or answers to the complaint.

A version of this story appeared in E-Scrap News on July 18.
More stories about courts/lawsuits