Oregon was the first state in the U.S. to implement a beverage container deposit/refund system, rolling out its program in 1972. Since then, the system has shown it can keep on a path of continuous improvement.
For instance, in recent years, the program expanded its list of covered containers, boosted the redemption value and has seen impressive results (including 85 percent recovery in 2018 for a broad range of covered beverage containers).
A collaborative policy development process, coupled with implementation that incorporates the beverage sector, has been central to the Oregon evolution.
For instance, state legislation in 2007 included three key provisions:
Added bottled water to the program (joining carbonated beverages and beer).
Changed the rules for redemption to "like kind" so that retailers had to accept any container for a type of beverage they sold, not just the brands they distributed (this is also referred to as universal redemption).
Created a task force to look at other ways to expand and modernize the program.
The change from an individual distributor-based redemption system to the like-kind redemption set the stage for the creation of the Oregon Beverage Recycling Cooperative (OBRC), which has been crucial in providing the beverage companies, distributors and retailers the opportunity to contain costs through collaboration while also expanding access and innovating new services.
The work of the task force ultimately yielded new legislation, passed in 2011, that modernized the program by:
Expanding the list of items covered in the program to include all beverages except wine, liquor, milk and milk substitutes, starting in 2018.
Allowing for the development of the OBRC's BottleDrop redemption centers, which are standalone and staffed storefronts that incorporate reverse vending machine technologies.
Creating a trigger to increase the deposit to 10 cents if the program's redemption rate failed to hit 80 percent for two years (this sparked a deposit increase starting in 2018).
"We are recycling more container types and recycling them at a higher volume than at any other time in the nearly 50-year history of Oregon's bottle bill," stated Joel Schoening, OBRC community relations manager.
In addition, OBRC has helped develop a plastics reclaimer called
ORPET that is now recovering 13 million pounds of PET in the state each year. And the cooperative has developed BottleDrop Refill, a refillable glass bottle redemption and washing system used by craft beverage makers with distribution in the state.
The end result is an expansive container refund program, a growing network of convenient BottleDrop redemption centers, and a deposit level of 10 cents per container that drives participation. It's a clear recipe for success for other industry stakeholders looking to boost the supply of materials from recovered beverage containers.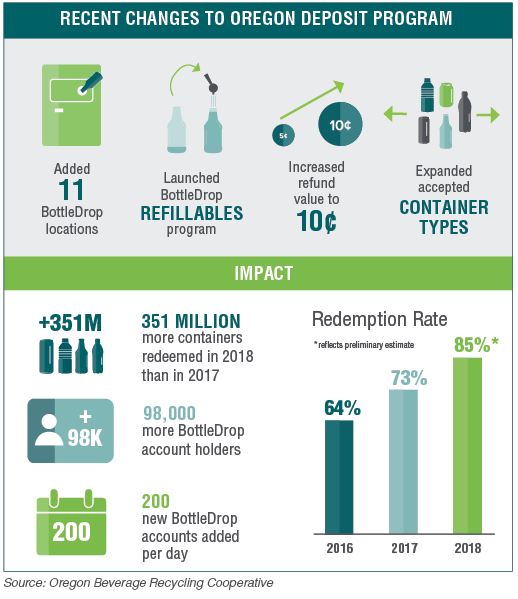 This month's edition of Data Corner provided by recycling consultancy RRS.
This article appeared in the June 2019 issue of Resource Recycling. Subscribe today for access to all print content.