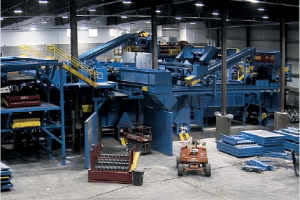 The project to build a mixed-waste processing facility in Rochester, Mass. has experienced a number of setbacks, including tough market conditions and a 2016 fire in the building set to house it.
But after years in the making, the mixed-waste facility came on-line in May. Located about 50 miles south of Boston, the 103,000-square-foot plant is owned by New Bedford Waste Services. The company runs an existing C&D debris sorting facility and is a sister company to ABC Disposal, which provides Massachusetts and Rhode Island communities with garbage and recycling services.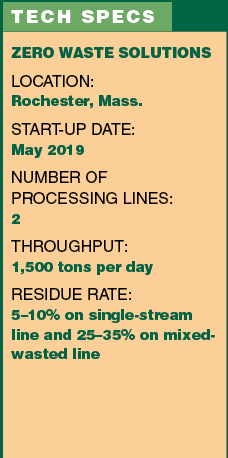 The cost to develop the Zero Waste Solution facility was roughly $40 million, including land and building costs.
The facility has two lines: One will sort single-stream, commingled and source-separated recyclables, and the other will sort residential and dry commercial waste. It is equipped to process 1,500 tons per day of fiber and containers. Equipment in the facility was provided by San Diego-based CP Group and the company's optical sorter sister company, MSS of Nashville, Tenn.
The facility is permitted to handle a wide variety of materials, including MSW, C&D debris, single-stream recyclables and source-separated OCC, paper, electronic scrap and white goods. It will take in material collected by ABC Disposal.
The operation will sort materials from roughly 100,000 households and 10,000 businesses. Among the technology leveraged will be a CP auger screen, a CP anti-wrap screen, and five MSS optical sorters (three PlasticMax models and two from the FiberMax line).
A portion of the electricity running the plant will come from rooftop solar panels.
Zero Waste Solutions employs 50 people working one shift Monday through Friday.
This article appeared in the May 2019 issue of Resource Recycling. Subscribe today for access to all print content.