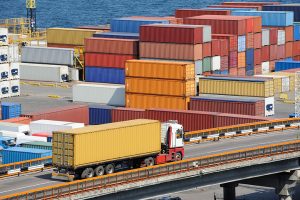 U.S. exports of scrap paper and plastic continued to drop in February, marking the fourth straight month of declining shipments for both commodities.
The U.S. Department of Commerce released February 2019 export statistics last week. The numbers show U.S. exporters shipped 1.5 million short tons of recovered fiber in the second month of the year, down slightly from the 1.6 million short tons exported in January.
The February 2019 recovered fiber figure is lower than February totals over the past few years, but not significantly so.
China accounted for most of the decline in recent months: Shipments by U.S. exporters to all countries combined dropped by nearly 90,000 short tons from January, with China decreasing imports from the U.S. by more than 70,000 short tons.
All told, China imported its lowest monthly volume of U.S. recovered fiber since July 2003, according to data analysis by Resource Recycling.
Mixed paper shipments to China remain virtually nonexistent, in line China's ban on imports of the material. Meanwhile, U.S. OCC shipments to China in February, totaling 337,000 short tons, were the lowest they've been in a single month since December 2008.
Exports of OCC out of the U.S. to all countries were also down. The last several months of 2018 saw record high monthly export numbers for OCC, but totals fell in January and then again in February. U.S. exporters sent a total of 1.0 million short tons of OCC in the first month of 2019, and then 879,000 short tons in February.
On the mixed paper front, U.S. exporters shipped 249,000 short tons of the materials in February, which is within 3% of the 2018 monthly average export volume for that fiber grade.
By country, the largest recovered fiber importers were China (459,000 short tons), India (251,000 short tons), Mexico (170,000 short tons), Indonesia (157,000 short tons), Taiwan (97,000 short tons), South Korea (88,000 short tons), Canada (88,000 short tons), Vietnam (57,000 short tons) and Thailand (43,000 short tons).
(Story continues below chart. Click chart to view at full size in new browser window.)
Lowest monthly plastics number since 2003
Scrap plastic exports out of the U.S. declined from 122 million pounds in January to 120 million pounds in February. That February volume was the lowest single month of plastic exports since December 2003.
In addition, February was the lowest month for scrap plastic exports to China since at least 2002, the first year for which figures are available.
By resin, PE made up 45% of scrap plastic exports. "Other" plastics, the code that's typically used for mixed plastic bales, e-plastics and other assorted resins, made up 36% of scrap plastic exports. Scrap PET exports made up 10%. The remainder was small quantities of PVC and PS.
Top export markets for U.S. scrap plastic were India (27 million pounds), Canada (26 million pounds), Hong Kong (11 million pounds), Malaysia (9 million pounds), Mexico (7 million pounds), South Korea (7 million pounds), Thailand (5 million pounds), Taiwan (4 million pounds) and Indonesia (3 million pounds).
(Click chart to view at full size in new browser window.)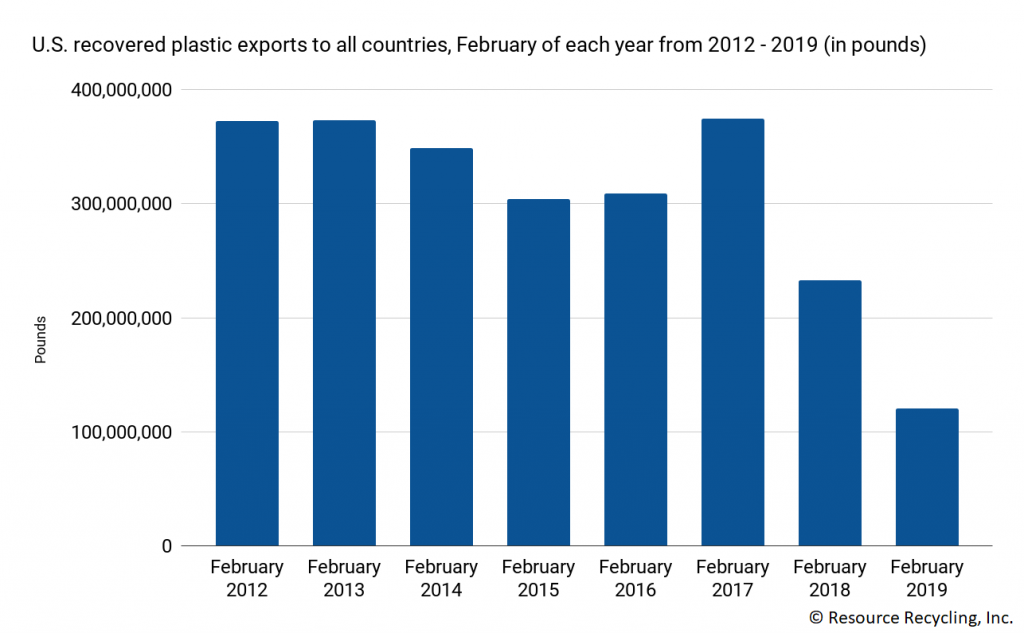 Photo credit: s_oleg/Shutterstock
More stories about exports