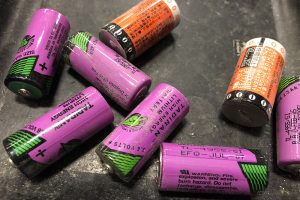 Two government initiatives looking to energize the lithium-ion battery recycling sector have officially launched, offering prize money to recycling entrepreneurs and a dedicated laboratory to house research projects.
The U.S. Department of Energy last month announced plans to award $5.5 million to companies advancing lithium-ion battery recycling technology. The department also said it would dedicate $15 million to developing a research center focused on the material.
Both efforts launched on Feb. 15, according to an Energy Department announcement.
The funds for entrepreneurs are being issued through the Lithium-Ion Battery Recycling Prize, which is looking to support "innovative solutions to collecting, storing and transporting discarded lithium-ion batteries for recycling," according to the release.
The prize is aimed at a broad range of stakeholders, including battery companies, logistics firms, entrepreneurs, waste and recycling planners, recycling facilities and others. Entrants can apply to tackle one or more of several identified "barriers" to increased lithium-ion battery recycling: collection, separation and sorting, reverse logistics, and storage and transportation. Projects can also tackle unidentified additional challenges.
The prize consists of three phases, according to an outline on the project website. The first, "concept development and incubation," asks contestants to submit a business model and technology plan. Up to 25 winners will be awarded at least $40,000 each. This phase will last six months.
Then, the prize moves into a "prototype and partnering" phase in which contestants will develop a proof-of-concept solution for various battery applications, including consumer technology, electric vehicles and more. This phase lasts one year and will award up to 10 winners with at least $250,000 each.
Finally, the prize enters a "pilot validation" stage in which contestants move their prototype ideas into a pilot project form. Up to four companies will be awarded with at least $500,000 each in this phase, which will span 15 months.
Winners at each stage will be evaluated by expert reviewers, a federal consensus panel and a selection official.
The $15 million Battery Recycling Center, housed at Argonne National Laboratory outside Chicago, is focused on developing "innovative technologies that recover and use recycled materials," said Daniel Simmons, assistant secretary for energy efficiency and renewable energy, in the announcement. It is particularly focused on recovering lithium and cobalt. Cobalt has become a key material driving interest in increased battery recovery.
Photo courtesy of Rafael Reveles, Converge Engineering.
More stories about research