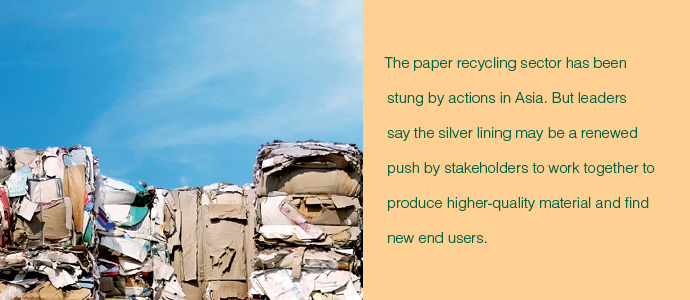 This article originally appeared in the December 2018 issue of Resource Recycling. Subscribe today for access to all print content.
As import policies in Asia have undergone their stunning transformation over the past year, the paper recycling sector in the U.S. has been hit hard.
In the first three quarters of 2018, U.S. exporters sent 6.11 million short tons of recovered fiber to China, according to the U.S. Census Bureau. That's 37 percent less than the 9.76 million tons the U.S. sent China during the same period in 2017.
And the 2017 figures were already a decrease from the 10.77 million tons China imported in the first three quarters of 2016.
Pricing has dropped accordingly as recycling markets have been thrown into turmoil. Mixed paper collapsed from $75 per ton in August 2017 to its current value of between $3 and $4 per ton, according to RecyclingMarkets.net. And OCC fell from a near record high of $180 per ton in August 2017 down to $71 per ton in November 2018.
However, it's becoming increasingly clear that fiber recovery stakeholders are focused on moving forward, not lamenting days gone by.
"One thing I think as an industry we're very clear on is China is committed to the environmental policies they've put in place," said DJ VanDeusen, senior vice president of recycling at WestRock, a paper manufacturer that also runs recycling plants. "And so now, the industry and the rest of the world are adapting to what they are looking for."
VanDeusen's comments came during a highly attended paper recycling session at the 2018 Resource Recycling Conference, held in St. Louis in October. Speakers on the paper recycling panel noted recent changes in the market include more MRF material staying in the U.S. and high-quality commercial OCC being shipped to China. Chinese investment in the U.S. has been another noteworthy trend.
But VanDeusen, who moderated the session, said that cooperation between different industry sectors has been another key shift, and one that might be an indication of how recycling entities will overcome current challenges.
"The spirit of cooperation that we're starting to see now is really refreshing, and I think it's the critical piece of making this work," he said.
Mixed paper problem boils over
Even before China banned mixed paper from import this year, analysts viewed the mixed paper market as bordering on oversupply.
One speaker on the Resource Recycling Conference panel, consultant Bill Moore, described efforts and discussions related to increasing domestic usage of mixed paper that have gone on for more than 15 years.
But the landscape has changed dramatically due to China's ban. After shipping 1.79 million short tons of mixed paper to China during the first three quarters in 2016 and 1.77 million tons in 2017, U.S. exports sent just 83,000 tons of the material during that period this year.
In the U.S., investment has focused mostly on experimenting with small amounts of increased mixed paper use at existing paperboard mills. Several new mills have also been announced and are planning to accept mixed paper, such as a Pratt Industries mill in Indiana and a Green Bay Packaging mill in Wisconsin.
A smaller trend is companies looking into production of recycled paper pulp, which could potentially be shipped to China.
In another noteworthy development, paper companies are opening facilities in Cambodia, Laos and other countries not traditionally known as paper manufacturing locations, Moore said. Much of that investment has been driven by Chinese companies, with the aim of processing North American-sourced mixed paper.
But despite the investment, mixed paper recovery remains a difficult business.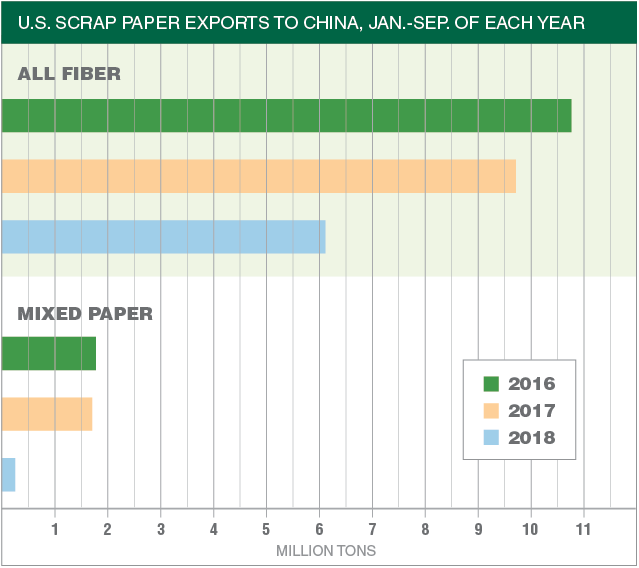 China's imports of mixed paper are virtually zero. Southeast Asian countries have ramped up imports, Moore noted, with some up 200 percent year-over-year. But these countries have smaller mills and process lower volumes. Many countries in the region have also responded to the influx of recyclables by implementing restrictions on imports.
U.S. mixed-paper exports have fallen off by 40 percent this year, Moore said, and without anywhere to send that material, MRFs and local programs are having to make difficult decisions.
"Our latest projection is that we're going to landfill 500,000 tons of mixed paper that was collected for recycling," Moore said.
Despite that glut of U.S. material looking for a home, domestic mill consumption of mixed paper is only up 1.2 percent this year, even with significantly lower mixed paper prices.
That's a "huge cost advantage," Moore said, and it "shows how difficult it is to use the mixed paper that's being produced in the market."
The key barrier to using more is the non-paper contaminants that show up in mixed paper bales, Moore said. But the quality is steadily increasing.
Industry giant adapts
As the nation's largest hauler and materials processor, Waste Management has been in a prime position to observe recycling industry changes over the past year.
The China ban and contamination policy "really put a lot of the recyclers and processors in a unique situation," said Brent Bell, Waste Management's vice president of recycling operations and another paper panel speaker. Companies hurried to find alternative markets for mixed paper. On the contamination side, China's higher quality demands have quickly been replicated around the globe, whether it's a buyer in India or Atlanta.
"All those customers require higher standards now," Bell said. "That's just the new norm, that we're going to have to make sure that our equipment and our people can process as we go through this."
This emphasis has made its way into Waste Management's operations in several forms, including equipment and other infrastructure upgrades at its MRFs. That has allowed the company to continue moving material, which is particularly important because many of Waste Management's MRFs are small facilities without a great deal of storage space, Bell said.
But the quality improvements haven't translated into higher prices. Waste Management is now making the cleanest product it has ever produced, Bell said, and the company is receiving half the price it used to.
Part of that revenue struggle can be attributed to what Bell described as the "big three" costly materials for the company (mixed paper, glass and residue). Each of those materials was either a zero- or negative-value commodity at some point during 2018.
"That adds up to nearly 65 percent of the material we collect at a given period of time in 2018 had a zero or negative value for the recycling stream," Bell said.
As the company has stressed in the past, Waste Management views cleaning up the stream as a key part of solving the current challenges.
"We've seen it come back from our customers, saying we need cleaner material," he said. "And now we're doing the same at Waste Management back to our customers, saying we absolutely have to have cleaner materials coming into these facilities."
Growing market sector
Amid the depressed mixed-paper market, lower OCC prices and slow U.S. recovered fiber processing capacity, it's easy to be dismal about the prospects for paper recycling.
But for aseptic and gable-top cartons, end markets are opening, access to recycling is growing, and recovery is up, according to Scott Byrne, who is circular economy expert at carton producer at Tetra Pak. He was the final speaker on the panel. Cartons are made primarily from virgin bleached fiber, which Byrne described as "some of the best fiber in the stream."
Besides paperboard, cartons include layers of PE. Aseptic cartons add a layer of aluminum as an oxygen, light and odor barrier allowing transportation without refrigeration. There's no wax used in either product, Byrne said.
Carton recycling has "never looked better in the U.S.," Byrne said, with 62.9 percent of households having access to carton recycling. There are over 140 mills taking cartons worldwide, according to the Carton Council, the industry group Byrne is a part of that works to advance carton recovery.
Byrne said there's an opportunity for fiber from cartons to replace other high-quality fiber that's in decline, such as office paper.
Current domestic end markets include Great Lakes Tissue in Michigan, the Sustana Fox River mill in Wisconsin and the Continuus Material Recovery ReWall facility in Des Moines, Iowa. Byrne also pointed to a second ReWall facility in Colorado that is under construction and the in-development Ecomelida facility in South Carolina.
There are also two mills in Mexico accepting cartons collected from most of the U.S., Byrne added.
Carton end markets are diverse, with some companies separating the materials from the cartons, and others, such as ReWall, using the whole carton.
"These end markets are growing, and these end markets are for a specific grade of commodity," Byrne said.
Boosting demand a shared goal
Besides universal agreement that the material stream needs to be cleaner, one key point of consensus among the fiber panel speakers was that building up demand for recycled commodities is key.
"We have 40,000 tons of material that comes in every day, and we've got to have an end market for that material, or else it just backs up," Bell said.
Bell noted he's not in favor of the idea of government subsidies for the pricing of recycled commodities, but that government could certainly play a role in spurring demand. Minimum recycled content requirements for manufacturers, for example, could drive up recycled material demand significantly.
VanDeusen of WestRock agreed that demand can be increased and that minimum content requirements could be a vehicle to kickstart that growth.
"Generating viable economic markets for the pull of material is where there's an opportunity, and then being able to mandate what is potentially there as recycled content is a way to kind of bridge the gap between the two," VanDeusen said.
But for that demand to sustain itself into long-term growth, it has to become a natural and self-sustaining system, he added, in which demand organically pulls material through to the end market.
Building demand – and exploring vehicles to boost that process – is a prime example of cooperation between brand owners, haulers, MRF operators, paper mills and other stakeholders.
"The industry is coming together because of the realization that just to stand in my silo and say, 'I have a recycling facility, this is what ye shall deliver to me,' or 'I'm a hauler and this is what I shall pick up,' or 'I'm a mill and this is what I will accept,' it doesn't work," VanDeusen said.
Colin Staub is Resource Recycling's staff writer. He can be reached at [email protected]