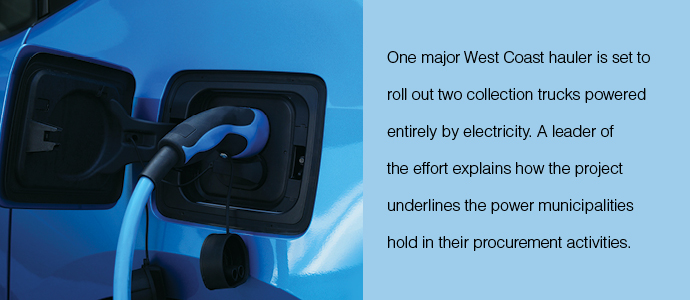 This article originally appeared in the November 2018 issue of Resource Recycling. Subscribe today for access to all print content.
When the city of Seattle recently put out an RFP for a 10-year hauling contract, it included a noteworthy request: primary fleets that leverage energy-saving fuel sources.
The Seattle contract, which covers collection of waste, recycling and organics, was awarded to the city's two incumbent haulers: Waste Management and Recology.
The terms of the deal go into effect next April.
While WM will continue to use collection trucks powered by compressed natural gas, Recology is leaning on multiple strategies. Most of the company's Seattle fleet, which includes about 80 collection trucks, will run on diesel from animal fats and vegetable oils. But the San Francisco-based company is also rolling out two trucks in Seattle that are entirely electric.
Those vehicles, developed by Chinese battery manufacturer BYD and featuring bodies from Iowa-based New Way, represent Recology's first foray into the realm of 100 percent electric collection trucks. In fact, few other haulers in North America have such technology out on the road.
To learn more about the move, Resource Recycling talked with Derek Ruckman, Recology's vice president and group manager in the Pacific Northwest.
Resource Recycling: Tell me a little bit about how this contract with Seattle came together.
Derek Ruckman: We originally proposed four different types of hybrid vehicles to the city of Seattle. However, after sitting down with key members of their team, it was clear that they wanted an electric vehicle. This decision aligns with Seattle's master policy action plan called "A Clean and Green Fleet." This plan details their electrification priorities going forward, and it is predominantly focused on buses and the police department, the two departments with the largest fleets. Seattle recently added a few fully electric buses, and I think they have four of them now, and it was apparent they really wanted to continue the push in that direction.
Consequently, we scoured the market looking for viable options for electric refuse collection vehicles.
Has the company tried out electric trucks elsewhere?
Recology has experimented with other types of electric equipment, including an all-electric excavator at our recycling facility in Seattle and hybrid technology in San Mateo, Calif., but this is our first step into 100 percent electric collection for the company. We're extremely excited that these trucks will be some of the first Class 8 all-electric trucks deployed in the United States.
What are the benefits of electric collection vehicles beyond the environmental upsides that come from transitioning away from traditional fuel?
Still in the early stages of wide-scale implementation, electric collection vehicles have a higher base infrastructure cost than collection vehicles that run on alternative or traditional diesel. However, electric vehicles enjoy lower charging costs, especially in the Pacific Northwest where much of our electricity comes from renewable hydropower, and have approximately 60 percent fewer moving parts than traditional collection vehicles, which equates to less wear and tear on the vehicle.
How did you find BYD, the battery company?
We were actually browsing YouTube, looking at videos of electric garbage trucks, and that's when we first came across BYD. They had an electric truck picking up cans in South San Francisco, not be confused with San Francisco. We service much of that area, but don't have daily city collection in South San Francisco. Another company was piloting this smaller, all electric side-load truck, using BYD technology.
Will these electric trucks give you all the capabilities of a diesel model, or will you have to sacrifice anything in terms of power or payload?
The electric trucks are brand new, pilot technology, and the idea is to work together to move this technology forward. The payload on this truck is about the same as a diesel engine. The battery is 295 kilowatt hours, which gives us a top speed of 65 mph and 430 horsepower. The gross vehicle weight is 66,000 pounds. Right now we're looking at 200 pick-ups and a 40-mile range. Because of the size and weight of the truck, the range in not what you'd expect of something like a Chevy Bolt or any kind of passenger vehicle.
So this clearly is not a drop-in replacement for what you have on routes right now.
The electric trucks are rear-loaders, and we'll be using them downtown, where we're not far from our facility. If we can get one load, great. If we can get a load-and-a-half, great. I think it will be a learning process for our operations team as well as our drivers. If there are a lot of hills or a lot of stopping one day, we'll see how the battery capacity changes based on the conditions and adapt based on how the vehicle performs.
Just to clarify: When you reference the vehicle being able to handle a load-and-a-half, you mean it can do one full load and then half of another before the battery has to recharge?
Yes. A full recharge for the truck will take about eight hours. There may be an option for a faster recharge in the future, but it will still be about an hour-and-a-half, so I don't think these trucks will run a traditional route just yet.
Obviously, an all-electric engine is going to be very different than a diesel system. Is that going to create challenges for your staff?
The number one area we need to plan for around this kind of technology is maintenance. Drivers are very adaptable when it comes to new equipment. The mechanics, though, might experience more challenges because of the major difference between electric and diesel engines. On electric, the diagnostics are totally changed. These two electric trucks will be a soft introduction for our maintenance teams to understand the kind and quantity of support these vehicles require. Their feedback will provide lessons that will inevitably help move this technology forward.
Are there any specific steps you are planning to get your mechanics the skills and knowledge they need?
BYD is based out of Shenzhen, China and operates a massive facility. It may work out that we actually send folks to BYD to train with the creators of this technology. We will partner with BYD and our body manufacturer, New Way, to develop a robust training program for our technicians during the implementation process.
The purchase of the electric trucks has been described as a mutual investment between Recology and Seattle. Can you offer any more details on that?
When we originally proposed hybrid vehicles to the city, we envisioned these trucks completing an entire route and didn't consider any investment on the part of the city. But when it became clear that 100 percent electric was the top priority, and since that is such a new area for the industry, we came to terms on sharing in that investment. Additionally, the state of Washington provides a subsidy for this type of technology, so our out-of-pocket expense on this investment will likely be about half the cost of a standard collection truck.
What do you think needs to happen to push the industry to invest in more innovative, environmentally focused hauling technology?
If you're a city of Seattle's size, you have the ability to leverage your purchasing power to move the market in a certain way. I applaud Seattle for being bold and looking for vendors who are willing to innovate and push the boundaries of what it means to provide effective service. If this had been a price-only procurement, you would have seen the typical things – the most competitive cost structure, the most competitive equipment, and not much movement in terms of innovative options or alternatives. In this case, Seattle had 10 evaluation criteria. Price was just one of those criteria. The procurement process stressed social and environmental impact as well as economic. The more cities move toward a holistic, triple-bottom line approach, the more the industry will respond with innovative and environmentally focused technology.
That sounds like a pretty detailed RFP from Seattle. Is it ever difficult to respond to those types of demands?
I wouldn't say the RFP was simple, but we definitely don't shy away from opportunities just because they're complicated. Recology sees itself as an innovative company. We're headquartered in San Francisco, surrounded by some of the most innovative companies in the country. An appetite for innovative thinking is very much woven into our culture and our DNA. When we see opportunities like this, we run to them. Other parts of our industry are probably not as excited. I have experience with other larger companies in this industry, and an RFP like Seattle's breaks from the standard collection arrangement that many have become accustomed to. But the conversation circles back to the fact that municipalities have the power and the opportunity to outline what's most important to them, and they then force the market to move accordingly.
Dan Leif is the managing editor of Resource Recycling and can be reached at [email protected].