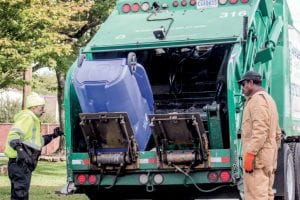 In the greater Greenville, S.C. area, transitioning from bins to rollcarts was about more than capturing higher volumes of recyclables. The change ushered in a more efficient collection system while reducing litter and generating higher quality material in some cases.
Greater Greenville Sanitation (GGS), a solid waste special purpose district established by the South Carolina legislature 50 years ago, provides recycling service in the area around the city of Greenville, S.C. The city has its own recycling program, so GGS services many unincorporated parts of the surrounding county.
It currently serves nearly 60,000 residential and commercial customers with waste and recycling collection. In its most recent program year, Greater Greenville Sanitation collected 3,700 tons of recyclables, an 800 ton increase over the prior year. The program reported more customer participation in the recent year as well.
With additional organics and C&D materials, the sanitation district recovered just over 8,000 tons of material during the year.
The district covers a number of communities that used to be home to textile mills, which have largely shut down since the 1980s. Many of the areas have faced economic downturns in the wake of those closures, and there has been a shift from high home ownership to high rental communities.
"That makes it, out of the gate, a unique challenge," said Chuck Lagrange, public information officer for GGS.
But it's not the only challenge the program has faced.
Bin beginnings
As a special purpose district, GGS is tax-based and is treated similar to a school district or public utility district. The agency dates back to 1968 for garbage collection. Its recycling service is more recent and is seeing a lot of changes.
In the beginning, the program used pickup trucks pulling specially crafted trailers. Drivers would go door-to-door through the district, dump residents' 18-gallon recycling bins into the trailer, and take the fully loaded trailers back to a recycling facility owned by the district.
Although it worked in the beginning, flaws inevitably started to appear.
"As your district grows, that slowly becomes an expensive, time-consuming process to the point where it hinders the program, and you almost can't expand the program," Lagrange said.
Besides becoming less efficient as the program grew, the system was seeing a lot of contamination because there were no lids on the bins. Rain would damage the paper inside the bins, and without a lid, the materials would get blown around by the wind, creating a litter problem.
"It was like, what are we going to do?" Lagrange said. "More people are coming into the district, but we can't continue to do things this way."
Around the beginning of 2016, the agency launched its "Roll Into Recycling" program, which ushered in a conversion to 95-gallon carts.
"What helped us out was we made people register with a one-time charge to cover part of the cost of the container," Lagrange explained. "They had to put a little skin in the game, if you will."
That also helped the agency figure out where exactly the containers were in the district. Under the previous system, collection trucks traveled down every street, every week, whether recycling bins were being used or not.
"It was more economical," Lagrange said, "and more efficient too."
Where it used to take eight trailers to cover collection, the agency was able to condense it down to two trucks, "going exactly where they need to and picking up a lot more material," Lagrange said. Collection moved from weekly to every other week, facilitated by the increased capacity of the rollcarts.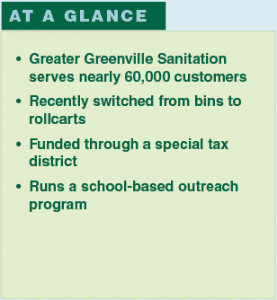 The program collects most common single-stream recyclables, with the exception of glass. It was formerly accepted in the recycling program, but there was only one entity in South Carolina that would process it. When that facility went out of business, it was no longer viable for the program to collect glass, Lagrange explained.
For processing, the program relies on two materials recovery facilities in the area – one is operated by Pratt Recycling and the other by Sonoco Recycling. After China began enacting import restrictions and importing significantly fewer recyclables than in previous years, the Greenville agency has seen changes in what the MRFs will accept.
"It has made an enormous impact on collection," Lagrange said, noting it has gotten a lot more difficult to move mixed plastics Nos. 3-7. He said even the more valuable commodities such as OCC are harder to handle.
"You can spend a whole day's work collecting cardboard, take it to the MRF and have it rejected," Lagrange said.
Outreach efforts
As the Greenville program has evolved, its staff has made a strong push for increased communication with the public.
When the sanitation agency began servicing schools, its staff knew it wanted to make an impact on the school recycling rates. Every school receives a dumpster for some type of recycling collection, whether just cardboard or for commingled material.
"The biggest thing is to make sure they use them," said Brandon Hunter, GGS associate of public affairs.
So with that goal in mind, GGS is beginning a substantial education program through its schools. Staff members will bring an interactive mobile exhibit called the "Waste Lab" around to elementary schools in the district, teaching with games about recycling, compost, litter and pollution. (The Waste Lab was featured in the October 2016 edition of Resource Recycling.)
For higher grades, the education program uses more hands-on exercises and project-based learning.
"What we have is a very unique program that has made a tremendous impact on these numbers," Hunter said.
Beyond building recycling success inside the schools, the student education programs have a ripple effect in the wider community. Hunter noted that students take their recycling knowledge home and share it with their families. That forms part of a multi-pronged education approach the sanitation agency has taken toward reducing contamination.
After recently receiving grant money through a state program, Hunter and Lagrange are working to develop a set of educational materials highlighting the need for a clean recycling stream.
"In the past, we focused on, 'Recycle, recycle, recycle, this is what you should recycle,'" Hunter said. "Now, we're focusing on what you shouldn't recycle."
The Greenville team is also making a point to talk about recycling markets with the public, detailing how the process works and why it is currently challenged.
This article originally appeared in the November 2018 issue of Resource Recycling. Subscribe today for access to all print content.
Think your local program should be featured in this space? Send a note to [email protected].