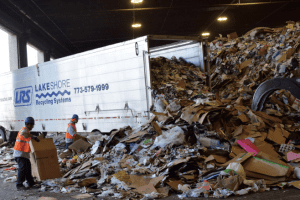 The Heartland Recycling Center's neighbors include a major canal used for shipping goods, numerous rail lines and a busy expressway. And the Heartland MRF itself is moving fast, especially when it comes to adapting to market shifts.
In recent years, the 48,000-square-foot building has been upgraded to improve facility efficiency and overall operations. The newest installations include an optical sorter and a sorting robot that uses artificial intelligence. The sorting equipment retrofits have been part of an effort to better manage evolving material and labor markets.
The Chicago-area facility is owned and operated by Lakeshore Recycling Systems, which serves Chicagoland with residential, commercial and construction and demolition (C&D) recycling services. The company handles 2.4 million tons of material each year, more than any other privately held company in the state (much of that weight is C&D debris). Lakeshore is a pure-play recycling company that does not own any landfills.
The Heartland MRF serves as Lakeshore's single-stream recyclables sorting facility, handling 110,000 tons of residential and commercial material per year (the facility also sorts C&D debris). The single-stream line first opened in spring 2016. It was a $8.5 million project that was designed, engineered, built and installed by Quebec recycling equipment company Machinex.
Helping Lakeshore finance the project was the Closed Loop Fund, which provided a $1.5 million low-interest loan.
Residential and commercial recyclables are delivered to the MRF, which is located southwest of Chicago, by Lakeshore trucks and third-party haulers. About 65 percent of the MRF's stream is fiber, 23 percent is containers and 12 percent is residue.
Material is collected through Chicago's Blue Cart Residential Recycling Program and curbside programs in a number of municipalities. Lakeshore's service area is also growing quickly, with Lakeshore picking up contracts for nearly 50,000 households this year. Some of them came with its acquisition of West Chicago-based DuPage Disposal. Also, late last year, the company acquired DC Trash, an independent waste and recycling collection company.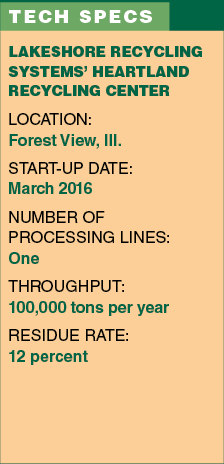 Heartland's single-stream system opened with multiple screens (including an OCC screen, paper screen and fines screen), an optical sorter for sorting PET, an eddy current separator, two cross-belt magnets, a glass system and a high-capacity baler.
In the fall of 2017, fiber prices fell sharply. In response, Lakeshore moved forward with installing an optical sorter on the fiber line in March 2018. The optical sorter removes small OCC from the mixed-paper stream, allowing the MRF to recharacterize and market that material into stronger markets.
Then, in May of this year, crews installed the Machinex SamurAI robot. Located immediately after an optical sorter picking PET, the robot goes after HDPE natural, aluminum foil, HDPE color and aseptic cartons, in that priority order.
SamurAI is the product of a partnership between Machinex and Denver-based software company AMP Robotics. The Heartland MRF was the first working facility to install a SamurAI unit in the nation. The robot's computer can recognize objects on the conveyor belt based on their visual appearance. Lakeshore plans to install two more SamurAI units at the single-stream recycling facility.
The additional equipment allows Lakeshore to reduce its reliance on manual labor, which in turn decreases the operation costs while improving productivity.
"In this market, where it is very difficult to find MRF workers at all, it's one less thing I have to worry about, not to mention workers' compensation, calling in sick and all of the other things that go on in that kind of labor pool," said Alan Handley, Lakeshore Recycling Systems' CEO.
The Heartland Recycling Center employs 50 people across two shifts running five to six days a week.
This article originally appeared in the October 2018 issue of Resource Recycling. Subscribe today for access to all print content.