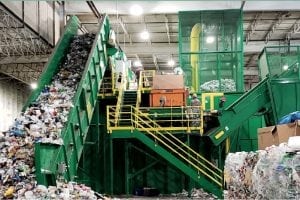 Firstar Fiber has an appropriate name.
Its Omaha facility was the first in Nebraska to install optical sorters, and it was the first MRF in the state to embrace robotic sorting technology.
Recently, it also became the first U.S. MRF to permanently partner in the Hefty EnergyBag program, which allows residents to separately bag difficult-to-recycle plastics for energy recovery.
Firstar's 180,000-square-foot MRF sorts single-stream residential recyclables and primarily dual-stream commercial material from the Omaha metropolitan area. That includes city-sponsored programs for Omaha, Bellevue and Ralston and subscription customers from the rest of the area.
The facility also takes in recyclables from the city of Lincoln's curbside subscription customers and its drop-off centers (Lincoln, where Firstar has a smaller baling plant, is a 45-minute drive from the MRF).
In terms of annual throughput, the facility processes about 40,000 tons per year of residential material and 35,000 tons per year of source-separated commercial grades.
The MRF has evolved in its sorting capabilities over the years. What started out as a paper packing plant in 2005 opened as a true MRF in January 2006. At that time, it still didn't include much in the way of sorting equipment. For example, most of the plastics were sorted by hand.
Since then, the company has made notable upgrades to both its fiber and container-sorting equipment. In fall 2016, it installed a recycling robot from Denver-based AMP Robotics, becoming only the second U.S. MRF to install a device from AMP (Alpine Waste and Recycling installed one in Denver earlier). The robot began on the old line doing primary sorting of clear HDPE. Firstar recently underwent a retrofit, and managers are still working to decide where to place the robot on the line.
In fall 2017, Firstar replaced a star screen with a ballistic separator to improve separation of two-dimensional materials from three-dimensional ones.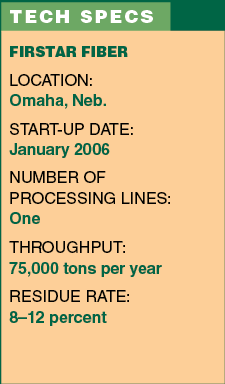 That meant less fiber making it onto the container line, said Dave Gubbels, company president and CEO. Then, this spring, Firstar made significant upgrades to its container sorting line, installing optical sorters to separate clear HDPE and PET. That project also involved installing conveyors to carry the plastics directly from bunker to baler.
The upgrades boosted the MRF's capacity from about 5 tons per hour to 12 tons per hour. Together, they cost an estimated $2.4 million, largely financed with a $2 million low-interest loan from the Closed Loop Fund.
Firstar got its equipment from different vendors. Eugene, Ore.-based Bulk Handling Systems (BHS) supplied the OCC and ONP screens. The ballistic separator is from German company BRT Hartner. The balers are from Netherland-based Bollegraaf Recycling Solutions and Minnesota-based Excel Manufacturing.
The container sorting line, including the optical sorters and a magnet, were provided by New Hampshire-based Green Machine. The eddy current separator is from Pennsylvania-based Eriez.
Firstar also became the first MRF to permanently partner in the EnergyBag program, through which households can place hard-to-recycle plastics (for example, multi-layer flexible packaging, plastic utensils and films used in food packaging) in orange bags and leave them at the curb. The bags are collected and taken to the Firstar MRF, where they are picked off the pre-sort line so they can be shipped for energy recovery.
Gubbels said the materials were ones the MRF was getting anyway, and the program seems to have reduced contamination in the recyclables stream, although a full-fledged study to quantify the impacts hasn't yet been conducted.
The Firstar Fiber MRF employs 115 people working three shifts five days a week.
This article originally appeared in the September 2018 issue of Resource Recycling. Subscribe today for access to all print content.