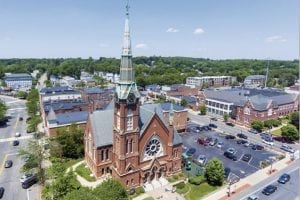 It's hard to argue with data, and in one Northeast community, the numbers don't lie: Natick, Mass. has increased diversion by 14 percentage points since implementing a system to add financial incentives to recycling.
Before launching its sliding scale payment system for trash disposal (called pay-as-you-throw), Natick's curbside garbage collection frequently resembled what is now a special bulky waste collection day.
"Natick used to be a town that had a lot of trash," said Jillian Wilson Martin, sustainability coordinator for the municipality. "Today, we have a much different picture."
Natick, which is located about 15 miles from Boston, has some 34,000 residents. The town's recycling program serves 11,000 households.
The town's Public Works Department provides every-other-week recycling collection service, using automated trucks to pick up 96-gallon carts. The town has three garbage trucks and three recycling collection trucks.
Today, Natick provides a number of collection options for a variety of materials: Food scraps are collected in curbside compost bins, and the town is currently running a pilot program with 500 households to add yard debris into the compost collection. Additionally, since 2017, the town has contracted with Simple Recycling to provide curbside collection of clothing and other household goods.
But the robust collection program didn't pop up overnight. Natick's recycling efforts have evolved significantly over time, in part due to recycling incentives.
"Our journey to get there has largely been influenced by pay-as-you-throw," Martin said.
Budget woes spur diversion move
The pay-as-you-throw (PAYT) program "has saved our town quite a bit of money, and it's reduced our trash volumes by about 40 percent and increased the amount of recycling we have in town by about 20 percent," Martin said.
The town began looking into PAYT and other options due to a decline in local aid from the state budget. In Massachusetts, local aid funding decreased substantially during the 1990s. Martin estimated the funding declined by 35 percent from 1994 to 2004. Solid waste program funding comes from property taxes, but the money wasn't enough.
"At the same time, our disposal costs were rising, tip fees had increased by about 30 percent in that same 10-year period, and we ultimately had a budget shortfall of $1.5 million," Martin said.
To avoid layoffs or other program cuts, local officials first initiated a $150-per-household yearly trash fee and began investigating PAYT for the future.
A government committee opted to implement PAYT in 2004, but it wasn't a smooth transition. Town residents who were unhappy with the program began protesting it. They collected signatures and were successful in getting PAYT onto a ballot in a special election.
"We had some pretty significant political backlash," Martin acknowledged.
However, despite the opposition, 72 percent of voters elected to keep the PAYT program, and it has been in place ever since. Martin noted community outreach was crucial in motivating residents to keep the program.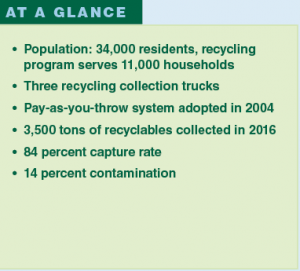 Garbage bags are sold in 15- and 33-gallon sizes, and they are available for purchase at local retail stores. Recycling is offered for free.
In the time since PAYT was implemented, Natick's garbage generation dropped substantially, from 9,800 tons the year before PAYT to 6,100 tons in 2016, the most recent year for which state data is available. At the same time, recycling has risen, from 23 percent diversion in 2003 to 37 percent in 2016.
Single-stream recycling launched two years after PAYT, and collection service was taken over by the town's Public Works Department several years after that. The single-stream recycling program collected about 3,500 tons of material in 2016.
After performing a recent waste audit, the program calculated preliminary figures showing it captures 84 percent of recyclable materials.
Contamination, which is often a concern when switching to a PAYT system because it can seem easy to pay less for garbage by throwing more materials into the recycling stream, sits at about 14 percent by weight.
Besides the materials diversion increase, Natick emphasizes the financial implications of PAYT in its outreach to residents. The town estimates the program has saved more than $4 million in disposal fees since it began.
Reflecting and looking ahead
Beyond resolving Natick's solid waste budget issues. moving into a PAYT system reduced waste disposal and therefore the amount paid for tipping fees. It also meant cutting costs on garbage collection service: Prior to PAYT, collection trucks went out every weekday, but since PAYT, the program has been able to cut collection to four days per week.
However, Martin emphasized that what works in one municipality might not be the best solution elsewhere.
"No one size fits all, every community is very different and it's important for people to think about that in their programs," she said.
For Natick, PAYT has allowed it to steadily increase its collection initiatives, and it has also given the town the opportunity to tackle additional streams such as yard waste through the in-progress pilot project.
Still, budget issues may not be completely in the rear-view mirror – like most smaller communities, competition for tax revenue is always a factor.
"It's to be determined what the future is for Natick," Martin said, noting that PAYT is "not a settled issue – but what ever is?"
This article originally appeared in the September 2018 issue of Resource Recycling. Subscribe today for access to all print content.
Think your local program should be featured in this space? Send a note to [email protected].