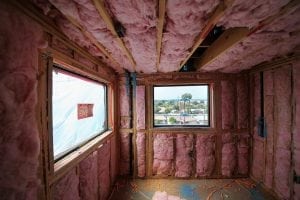 U.S. fiberglass insulation manufacturers continue to consume great amounts of post-consumer recovered glass.
The North American Insulation Manufacturers Association (NAIMA) issued a press release with results from a recent survey of its U.S. and Canadian members. Fiberglass insulation is the second largest market for post-consumer glass in the country, after bottle manufacturing. Some glass that can't go into new bottles because of contamination can be used by the fiberglass industry.
For the U.S., the survey showed 2.2 billion pounds of glass were consumed in the production of thermal and acoustical insulation products in 2017. That was up from 1.8 billion pounds in 2016 and 1.7 billion pounds in 2015.
For Canada, 346 million pounds were used to make insulation products last year, the same as in 2016 but down from the 373 million pounds used in 2015.
The manufacturers also used hundreds of millions of pounds of recycled blast furnace slag from steel mills in their mineral wool insulation products.
"Our industry is tremendously proud of the substantial use of recycled content in the production of energy saving insulation products," Curt Rich, president and CEO of NAIMA, stated in the release. "These products ultimately reduce building energy use and decrease our carbon footprint. Over the long term, the fiberglass and mineral wool insulation industry expects to continue using substantial amounts of recycled content in the production of insulation products."
Photo credit: Rachid Jalayanadeja/Shutterstock
More stories about glass