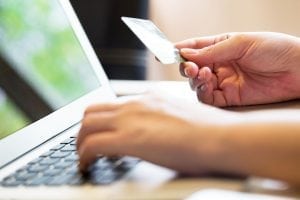 The online purchase of a new laptop may be convenient, but it could also be supporting a company skirting extended producer responsibility (EPR) laws. A recent report examines the growing global issue.
In the producer responsibility realm, companies that avoid their legal obligations are often referred to as free riders.
"Online sales are creating new freeriding opportunities as consumers are able to buy more easily from sellers in other countries," according to the report from the Organisation for Economic Co-operation and Development (OECD). "These sellers often have no physical, legal entity in the country where the consumer resides, and are not registered with national or local EPR schemes. The consequence is that they avoid producer and retailer/distributor obligations and costs."
In its June report, OECD explored the issue of online sales free riders violating laws in OECD member countries. Based in Paris, OECD is an intergovernmental organization representing 36 developed countries, including the U.S., Canada and most of Europe.
EPR laws require producers to meet certain obligations for managing their products at end-of-life. The laws have different requirements from state to state and country to country, but requirements often include registering with regulators, collecting scrap materials, paying to transport and recycle them, informing the public about the program and reporting results.
Most EPR programs around the globe are in OECD member countries. And the most common type of EPR laws across the OECD membership cover waste electrical and electronic equipment (WEEE). Programs within OECD countries account for more than one-third of the 400 EPR systems worldwide. Half of U.S. states have an electronics recycling law, as do all Canadian provinces and territories except Nunavut territory.
The OECD report stated governments often face three separate compliance issues when it comes to online retailers: Those sales outlets might not physically take back devices, they might not pay their share of WEEE management costs, or they might not accurately report the number of devices they sell into the market. The researchers hazarded an educated guess about how big of a problem online free riders are, estimating they represent 5-10 percent of the WEEE market in OECD countries.
Most of the time, free riding appears to be unintentional, the report notes. Yet it's not just limited to small or unsophisticated sellers.
"In some cases even the largest and best known online platforms are not registered in all territories where they are legally required to participate in EPR systems," according to the analysis.
The sheer complexity and variety of EPR regulations can confuse sellers, who may not be aware of the requirements in the first place. Likewise, enforcement is not well coordinated across borders, and EPR is not often at the top of the to-do list for authorities who enforce laws on counterfeiting, product standards and taxes.
The researchers developed a list of suggestions for possible fixes, after consulting with government regulators, producer responsibility organizations, online sales platforms and producers. They fall into three main buckets: raising awareness and simplifying transaction tracking, coordinating enforcement across jurisdictions, and harmonizing and refining regulations.
"The first group of responses, and potentially some of the second group, can be considered 'lower hanging fruit' and measures that can be addressed quickly to try and stem the tide of online free-riding. This could address a large proportion of the problem," the analysis states. "Changes in regulation will, of course, take far longer but may be necessary to effectively address online sales that are structured to deliberately avoid obligation and particularly those sales where the seller is not physically present within a territory."
Photo credit: tuthelens/Shutterstock

More stories about EPR/stewardship