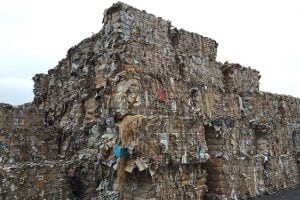 A Virginia newsprint mill will undergo a nearly $300 million conversion to produce recycled paperboard. The facility will use mostly OCC and some mixed paper as feedstock.
Quebec-based fiber giant Cascades announced last week it has acquired the idled White Birch newsprint mill in Bear Island, Va. and is planning a major plant conversion in the next few years. The newsprint machine will be converted to produce recycled lightweight linerboard and medium, used in containerboard manufacturing.
Although the primary feedstock will be OCC, company leaders during a conference call noted that mixed paper, which has been cheap and abundant since China stopped accepting the material, will play a role in the feedstock mixture. Other mill owners have also moved of late to take in more recovered fiber as disruptions in the Asian market take hold.
"The percentage, at this point, we are not going to disclose, but certainly this is one of our priorities when we will build this mill," said Charles Malo, chief operating officer of Cascades Containerboard Packaging.
The Bear Island plant is a newsprint mill built in 1979 with a capacity of 235,000 metric tons per year. After the conversion, which will cost between $275 million and $300 million and will take roughly three years, Cascades predicts the mill will have a capacity of 400,000 metric tons per year.
White Birch closed the facility in June 2017, citing declining newsprint demand and a high cost of production. The company put the facility up for sale. It also recently announced it would bring the mill back on-line to fill a temporary shortage of newsprint. Cascades announced on July 26 it has acquired the facility for $34.2 million.
Under the terms of the deal, White Birch will continue to operate the site as a newsprint mill for the next 27 months, as Cascades prepares for the conversion. The conversion will require an eight-month period once Cascades takes full operation of the site.
During the conference call, company officials stated that the mill will not produce pulp for sale, despite recent media reports that suggested it would.
The mill sits on roughly 250 acres of land, about 20 miles from Richmond, Va. During the investors call, company executives said the large footprint could allow for future expansions, possibly including a converting facility to use the mill output.
Photo credit: ETAJOE/Shutterstock
More stories about fiber