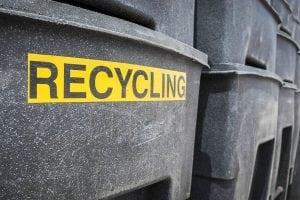 The country's recycling and composting rate remains stuck at just over 34 percent, according to the U.S. EPA.
The federal agency on July 30 announced the release of its recycling and composting estimates for the U.S. in 2015. According to the Facts and Figures Report, the country generated 262.4 million tons of municipal solid waste (MSW) in 2015. Of that amount, 67.8 million tons (25.8 percent) were recycled and 23.4 million tons (8.9 percent) were composted.
Taken together, the U.S. achieved a 34.7 percent recycling and composting rate in 2015. That was essentially flat compared to the 34.6 percent number that was tallied for 2014.
The U.S. recycling and composting rate has been between 34 percent and 35 percent since 2010. The 2015 rate was the same rate – 34.7 percent – achieved in 2011. Total MSW generation in the U.S. climbed roughly 1.5 percent from 2014 to 2015.
The 2015 report also estimated recycling rates by material type (the numbers below reflect materials in both durable and nondurable goods from residential, commercial and institutional sources):
Paper and paperboard: 66.6 percent (up from 64.7 percent in 2014)
Glass: 26.4 percent (up from 26.0 percent)
Steel: 33.3 percent (up from 33.0 percent)
Aluminum: 18.5 percent (down from 19.8 percent)
Other nonferrous metals: 67.6 percent (up from 66.7 percent)
Plastics: 9.1 percent (down from 9.5 percent)
Rubber and leather: 17.8 percent (up from 17.5 percent)
Textiles: 15.3 percent (down from 16.2 percent)
Wood: 16.3 percent (up from 15.9 percent)
Other materials: 27.7 percent (down from 29.1 percent)
Food scraps: 5.3 percent composting rate (up from 5.1 percent)
Yard trimmings: 61.3 percent (up from 61.1 percent)
The U.S. landfilled 52.5 percent of its MSW in 2015, down from 52.6 percent the year before. It burned 12.8 percent for energy recovery, flat year over year.
Recycling metrics will be explored in depth during a data-focused session at the upcoming Resource Recycling Conference. Ron Vance of the U.S. EPA will be among the experts discussing strategies for measuring industry progress.
Photo credit: Luis Abrantes/Shutterstock
More stories about data