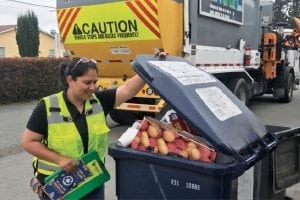 Although it's often called the strawberry capital of the world, Watsonville, Calif. has some recycling initiatives that set it apart as well.
The city of about 53,000 took action to reduce contamination as soon as the issue began popping up nearly two decades ago.
One key step was the creation of a new position within the solid waste department: a dedicated, full-time auditor to inspect recycling, organics and trash carts before pick-up.
Watsonville, an agricultural community located on California's central coast, launched its recycling program as a dual-stream system in the early 1990s. All aspects of collection and transportation are handled by the city's solid waste department. The program switched to single-stream in 1999, and it was one of the first programs in California to use automated collection trucks. That move brought in much more material, but it was also dirtier.
"We were noticing material coming in from certain routes that was really contaminated," said Nancy Lockwood, the city's retired solid waste division manager. She described hypodermic needles, animal waste and other trash getting thrown in with the recycling. "We wanted a direct way to address that and communicate with those customers."
The city's recycling auditor was directed to leave notes and offer educational assistance, steps the city hoped would lead to cleaner materials but also increase worker safety.
At first the position was temporary, filled just during the summer (Watsonville sees a spike in population during the summer months as people come to the area for agriculture work). The auditor position quickly made an impact.
"Everyone liked the part-time result," said Tony Banderas, supervisor for solid waste collection. So, the position was extended to become full-time and year-round. And now, there is talk of adding a second auditor in the future.
How it works
The auditing process actually starts with collection drivers. When those workers notice regularly contaminated loads from a certain area, they inform the department staff, who send out the auditor and educational team.
The current auditor, Coral Plascencia, has held the position for two years. She goes out early in the morning and begins looking in carts in a certain section of town. She opens a cart and uses special gloves to briefly search through the visible materials.
"You can tell right away when it's really garbage," she said. The smell alone is often enough, she added.
For mildly or moderately contaminated carts, she'll leave a yellow notice providing a warning that there were non-recyclable materials in the cart. It explains which materials were problematic. Plascencia often leaves brochures as well.
For heavily contaminated loads, she leaves a red notice, indicating the load must be collected as garbage.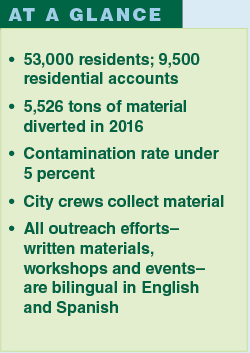 Audits are also extended to commercial properties. When a commercial customer has contaminated loads, Plascencia contacts the owner and explains the issue.
"We are able to see a behavior change and an improvement after we go in and work with them one-on-one," said Hilda Peralta, the city's recycling outreach coordinator. "And in the future it also helps strengthen that relationship."
And if a customer's cart is contaminated again and again, with no signs of improvement? There's an enforcement system in place, which can levy fines against that customer. But the city of Watsonville has found that component to be rarely necessary.
"We've been doing this close to 20 years, and I want to say maybe we've fined a handful of people," Banderas said. "It's very rare that we do go through with a fine."
Contamination is often linked to turnaround in tenancy, when new residents or a new business move into a property. The city has found it's usually because the customer doesn't know the rules, not that they don't care about them.
CalRecycle, the state's recycling agency, uses a diversion rate that factors in numerous activities outside of traditional tonnage-based recycling. The formula includes biosolids, industrial organics hauled directly to farms and other similar actions. It also takes into account a "per-person per-day" generation calculation. All told, Watsonville's CalRecycle-approved diversion rate was about 63 percent in 2016. By tonnage alone, the program has a 29 percent diversion rate.
Coordination throughout department
Lockwood identifies the organizational structure of Watsonville's recycling program as a key element to the auditing initiative's success. Because every aspect of collection and transportation is handled by the same agency, communication between different sectors is easy. The drivers can quickly communicate with the auditor, who can talk with the supervisor or outreach staff to determine what type of response is needed.
The audits are accompanied by educational materials, but outreach extends beyond the brochures and notes. Peralta, the recycling outreach coordinator, works with the department to focus on specific areas for targeted education.
Last year, the department worked to reduce contamination among multi-family buildings. Peralta described working with apartment managers and landlords to get in touch with residents directly, putting on special events at apartments to educate tenants, and more.
Another recent effort aimed to increase commercial recycling by laying out the fact businesses could reduce their garbage bills significantly by focusing more on materials diversion.
"That was a good help to get through the door," Peralta said.
This article originally appeared in the July 2018 issue of Resource Recycling. Subscribe today for access to all print content.
Think your local program should be featured in this space? Send a note to [email protected].