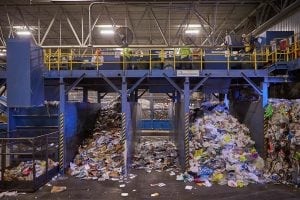 The recycling industry must make large-scale facility investments to adapt to the fast-changing world of materials recovery, according to a longtime MRF consultant.
Nathiel Egosi, president of RRT Design & Construction, offered his thoughts during "Past, Present and Future of MRF Equipment," a presentation hosted by the National Recycling Coalition (NRC) and Pennsylvania Recycling Markets Center.
The discussion of materials recovery facility (MRF) equipment and infrastructure comes amid a particularly daunting time for the recycling industry.
"Market liquidity in 2018 can only be described as awful," Egosi said. "I don't know any other way to say it politely."
He noted MRF operators bear responsibility for some of the current strife. For example, Egosi described the practice of dressing a bale – that is, making it look clean from the outside and hiding the contamination in the center.
"This technique, used over the last 10 years, is what's caused inspectors to be on-site now," he said.
During the webinar, Egosi described some of the difficulties MRFs face today, and he offered his take on the huge investments that need to be made in order to improve the situation.
U.S. MRF challenges
MRFs are positioned to feel the brunt of the impact from two of the biggest issues facing the industry today. Contamination pushes up against the MRF on the input end, and material markets push back when bales are sold.
"The MRF sits in the middle, feeling the pressure from both sides," said Egosi, whose company designs and builds processing facilities.
Changes in the material mix present significant challenges, as well. There's less fiber in the stream than in years past, largely because of the decline in newsprint. And the fiber that remains has changed: OCC makes up a larger portion of the fiber stream than ever before. But due to the increase in e-commerce, the boxes defining the OCC mix are substantially smaller, which has an impact on the equipment required to sort it.
Overall, Egosi said, recycling companies are handling a lighter and more complex ton of recyclables.
Many facilities require huge investments to keep up, but such expenditures need to come with sound ROI strategies. MRFs are also hampered by a lack of confidence in their operations from the decision-making bodies (city council or other governing committee) that oversee them, Egosi said.
Recycling companies frequently rely on revenues to offset MRF operation costs, Egosi noted, and "that confuses what should really be a fee-based structure for a MRF operation." Converting from a revenue-based to a fee-based structure is one of the top actions Egosi identified that would improve MRF economics.
Technology of tomorrow
Huge investments need to be made to advance the sortation industry, Egosi said, and there is a lot of room for advancement. He presented figures indicating 70 percent of discarded material in the U.S. goes straight to disposal, and that of the remainder that is processed for recycling, 50 percent of it is processed "poorly."
Equipment will be a major focus for those investments. Optical sorters will continue to play a valuable role in the MRFs of the future, particularly for sorting fiber and flexible packaging, Egosi said. Robots can be useful, and they'll be used more commonly in the next decade, but as a complement to optical sorters, according to Egosi. They work well as a quality control measure at the end of the line.
He expressed skepticism about the quality or utility of equipment claimed in advertisements. There are "lots of nice ads and interesting pieces of equipment that are very useful, but the justifications are weak to support some of this equipment."
Egosi noted the reliability of some newer equipment is often low and there are "lots of unsubstantiated claims" about the machinery.
For example, he pointed out that robotic machinery is unit-based, such as a robotic arm pulling certain materials off the sort line. That means it's performing a number of picks in a given time, not processing a specified weight. Converting a robot's processing capacity to weight depends on the density of the material being sorted. Despite that distinction, robotic technology has been marketed with tons-per-hour claims, he said, which is not necessarily an accurate measurement of robot capacity.
Still, robotic technology is a "game changer" for the MRF industry, Egosi said.
As for whether facilities using the latest equipment can produce a bale with 0.5 percent contamination, in line with China's new standards for many scrap material imports, Egosi said it depends.
"You can make one bale that gets there and the next one doesn't," he said. Getting near that level requires a "tremendous amount of investment," Egosi said, potentially including more workers as well as additional optical sorters and other machinery. He noted the addition of more optical sorters has the best potential to produce a fiber product closer to the 0.5 percent.
But although lots of facilities are taking these steps, "it's questionable whether anybody is really accomplishing the half a percent day in and day out, anywhere," Egosi said.
More stories about MRFs