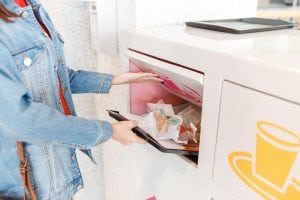 Georgia-Pacific, one of the world's largest paper-product manufacturers, is working to scale up a patented technology to recover material from food-soiled packaging.
Georgia-Pacific (GP) plans to launch a demonstration plant for its Juno technology at its Toledo, Ore. containerboard factory, near the city of Newport on the Oregon coast. The project and Juno technology were first announced in a May 31 email to local leaders and GP partners.
"This is a new, innovative process we've been working on for a while," Julie Turner Davis, director of public affairs and communications for GP Packaging and Cellulose, told Resource Recycling. "We are excited that we are making good progress on it."
The Juno technology isn't focused on bales of residential mixed paper, for which there are constrained end markets after China decided to halt imports. Instead, the technology is aimed at difficult fiber streams, such as paper food packaging from commercial sources, including airports, fast food restaurants, stadiums, amusement parks and others, Davis said. Paper products from those sources often include coatings, wet-strength chemicals and food residue, all of which inhibit recycling.
"What we're looking at is really a source that today, for all those reasons, is destined to go direct to the landfill," she said.
Davis said the project isn't fully funded yet, and the company is still working through the permitting process. But if successfully scaled up, GP would look to expand the technology to other sites across the country.
How Juno works
GP already uses substantial amounts of recovered fiber to make its products, which include tissue products, office paper, containerboard and corrugate, foodservice containers, fiber-based building products, cellulose products, and more.
GP Harmon Recycling, GP's buying and selling arm for recyclables, buys more than 6 million tons of recovered paper annually. About 2 million tons are fed to GP mills, and the rest is sold to other U.S. or global manufacturers.
The fiber recovered through the Juno process would supplement the millions of tons of recovered fiber GP already uses every year from other sources. Examples of items from which the technology can recover fiber include napkins, cups, plates and wrappers.
According to U.S. Patent and Trademark Office records, Georgia-Pacific Containerboard LLC first filed a patent for the technology in September 2015. Records show GP filed for a trademark for the name "JUNO" in March 2018.
The process involves putting the mix into a vessel, where it's exposed to heat and pressure. The mix is discharged and a screen is used to separate the stream into a substantially re-pulped paper fraction and a fraction of larger debris, including plastics and metals. The patent also covers the use of a water supply device to wash and dilute the paper fraction. The recovered fiber would then be mixed in with OCC pulp.
"Juno extracts the usable fiber from landfill waste and feeds it into our existing pulping process, while stripping away plastic coatings and food contamination that make many paper products unrecyclable," wrote C.J. Drake, public affairs manager for GP in Toledo, in the May 31 email to local leaders.
Davis also noted the technology sanitizes the material so it can be used in new food-contact applications.
Proving it at commercial scale
The company trialed Juno during a pilot project at a GP mill in Savannah, Ga. "Based on the work that we've done with our pilot, we believe that we can ultimately divert up to 90 percent from the landfill," Davis said.
In his email, Drake noted the Toledo containerboard plant was chosen to prove Juno on a commercial scale.
Davis said Toledo was selected based on its years of experience with using recovered fiber and its proximity to feedstock, as well as a general belief the Pacific Northwest would be particularly excited to trial the technology. GP is still working through permitting to get the demonstration plant up and running. Because the company is in an early stage with the project, Davis wasn't able to share a throughput estimate, she said.
As far as project timing is concerned, she estimated the company could begin ordering equipment later this year and have the system up and running in 2020, or possibly even late 2019. If successful, it could be expanded elsewhere.
"Our goal is to prove this technology and be able to implement it elsewhere so that we can capture the benefits more broadly," she said, "not only supplemental fiber supply but also the societal benefit of capturing a source that currently is going to landfill."
Photo credit: frantic00 / Shutterstock
More stories about fiber