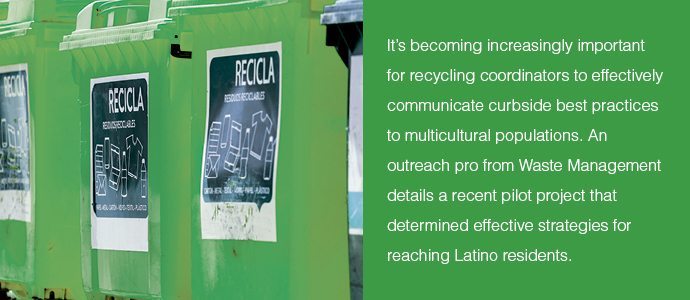 This article originally appeared in the April 2018 issue of Resource Recycling magazine. Subscribe today for access to all print content.
By 2020, more than 50 percent of all U.S. residents will be classified as multicultural. How will this impact the future of recycling and the growth of a zero-waste culture? This is one of several questions that has inspired Waste Management (WM) of the Pacific Northwest to engineer new recycling initiatives aimed at engaging the ever-growing multicultural segment of the population.
The waste and recycling company is confronting the challenge by rethinking language and structure as WM creates programs that are relevant, inclusive and culturally competent within diverse communities. And in one Pacific Northwest jurisdiction, the company has taken an innovative approach to connecting with the Latino community, the second-largest ethnic group in the U.S.
In the pilot project, which took place in Snohomish County in the state of Washington, WM was able to garner valuable insight into what outreach efforts drive behavior change. The goal was to learn about the recycling habits within the Latino community, and the attitudes that motivate those habits.
The lessons learned will inform future campaigns as the company strives to better serve and engage multicultural residents across the country.
Meeting Latino residents where they are
In 2017, WM conducted a research project tailored to Latino residents living in single-family homes in Snohomish County, which is located just northeast of Seattle and is Washington's third-most-populous county, with roughly 790,000 residents.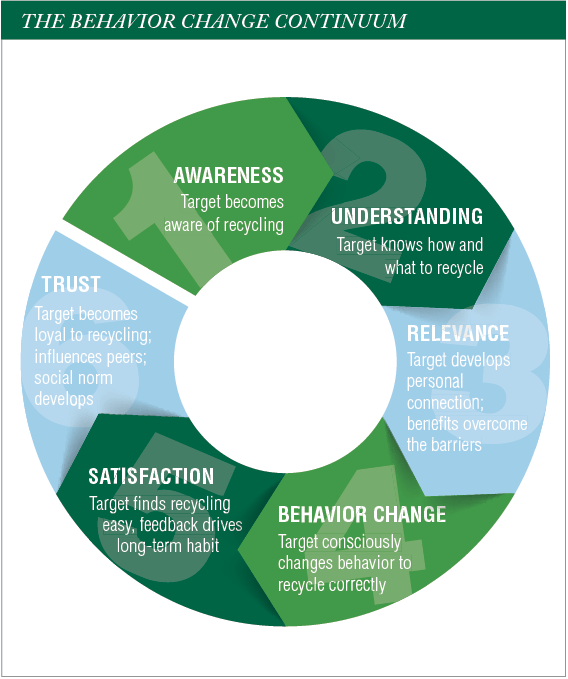 The project aimed to gain trust and educate families about recycling while researching the effectiveness of different recycling education outreach methods among Spanish-speaking single-family residents.
With these goals defined, the team decided to approach the study through a behavior change perspective, an approach that can help measure the impact of different marketing strategies. This method looks at behavior change as a journey with six different stages: awareness, understanding, relevance, behavior change, satisfaction and trust.
The Snohomish pilot initiative aimed to identify where (if at all) outreach initiatives can have an effect in this continuum.
WM has 90,000 customers in Snohomish County, and to start, WM needed to pinpoint which of these customers speak Spanish. WM worked with a third-party software provider that uses names and ZIP codes to determine what language an individual is likely to speak. The software showed 2,300 WM customers in Snohomish County who were likely to speak Spanish at home. WM was able to focus solely on these individuals during the pilot program, which was broken into three phases: a pre-outreach survey, an outreach segment and a post-outreach survey.
The first survey was conducted through direct mail, and its objective was to paint a portrait of current recycling behaviors, placing each respondent on the behavior change continuum.
Putting strategies into action
After gathering baseline knowledge about participants, each respondent was assigned to one of four outreach pilot test groups: advertising (TV, desktop and mobile), direct mail tools, text messaging or door-to-door. The approaches and campaigns in each catefory were designed specifically for the Spanish-speaking community.
For advertising, WM revived its popular "Recicla" jingle, which first ran on the Univision TV network in 2012 in the form of a catchy music video that explained which materials to recycle. In the recent pilot campaign, WM created digital ads based on the concept, and the team utilized two different calls to action. One prompted viewers to click on a button to learn more, and the other prompted viewers to click on a button to request a free recycling tote bag. This advertising push focused on bottles and paper, testing visuals of the two material types.

Meanwhile, participants who were sorted into the direct mail group received a package with recycling tools in the mail. The package contained a WM-branded recycling tote bag and a recycling guideline pamphlet with instructions in both Spanish and English. The WM tote bag included visual representations of which materials to recycle, along with captions in English, Spanish, Russian and Vietnamese.
For the texting campaign, the team crafted four text messages that were sent once per week during the month-long pilot (study participants were initially contacted via mail, and individuals could opt in to the text message group by providing their phone numbers). The messages focused on "Recycle all bottles" (week 1), "Recycle all cans" (week 2), "Recycle all paper" (week 3) and "Keep plastic bags out of recycling" (week 4). The messages included four components, including a subject line ("Recicla con WM"), messaging covering the material of focus for the week, a still image displaying the material of focus for the week, and a link to a WM landing page with a GIF about the material of focus for the week.
Finally, the residents selected for door-to-door outreach were visited at home by a Spanish-speaking representative who answered recycling questions and distributed WM-branded recycling tote bags as well as recycling guidelines in Spanish and English.
Recycling behavior shifts
After a month of engaging the community with these educational tactics, WM sent a second survey to measure whether customers had shifted their recycling behaviors.
The follow-up survey results, based on 150 respondents, revealed that 32 percent of participants had shifted their recycling behaviors positively. For example, a large swath of respondents reported changing their behavior when it comes to placing recyclables in the garbage bin. In the pre-campaign survey, around 33 percent of participants reported throwing cardboard, glass bottles, metal and plastic bottles in the garbage. In the post-campaign survey, that number decreased to around 25 percent.
To delve deeper into the outreach effects, WM conducted 12 at-home interviews with Spanish-speaking customers to observe their recycling behaviors. Through these interviews, WM had the opportunity to directly observe the materials customers disposed of in their garbage and recycling containers at home. WM found that non-recyclable plastic was the most common improperly sorted item in the recycling bins at those homes. The plastic types that regularly made it into recycling at those homes (but should have gone to trash) included plastic bags, clamshells and straws.
As a result of the study, WM gained a few key insights about the Latino audience that will guide future outreach efforts.
Overall, 66 percent of pilot participants recalled at least one of the outreach methods tested during the pilot. The audience proved to be very responsive to direct mail – the pre-outreach survey, for instance, had a 12 percent response rate, three times higher than the 4.4 percent industry average.
Text messages also emerged as a useful outreach method, with 41 percent of respondents opting in to receive text messages about recycling.
Alternatively, while residents appreciated WM's visits to distribute recycling tote bags and guidelines, customers who recalled door-to-door outreach did not change their behavior on a significant scale.
Direct mail and TV advertising, on the other hand, were the most effective outreach methods for changing behavior. Of the customers who recalled receiving a tote bag and guideline in the mail, 40 percent changed their behavior, and of the customers who recalled TV advertising, 30 percent changed their behavior. When it comes to direct outreach, the community responded best to mail in response rate, recall and self-reported preference. Mail can be used both as a tool to gather input from the community and as a means to provide recycling education.
Participants also listed reusing materials, reducing waste and preserving the planet for their children as common motivators to recycle.
Basis for another Latino campaign
These findings helped WM dive deeper into the recycling barriers and motivators of the Snohomish County Latino audience. Based on these insights, WM is developing a new campaign in collaboration with local Latino artists and writers. The campaign, which rolled out in Snohomish County earlier this year, includes mail and TV components and focuses on materials, such as paper and plastic, that are often disposed of improperly.
WM also plans to conduct further research and outreach guided by findings from the study that show direct mail and TV advertising are the most effective strategies to positively shift behavior towards recycling correctly.
As the nationwide Latino population increases, it is more crucial than ever for companies to match their communication tactics to Latino audiences' values, lifestyle and behavior. Companies need to move past the spheres of translating the same campaign for a different audience, and instead create original content for new campaigns that are tailored to the needs, values, priorities and available resources of multicultural communities.
Michelle Metzler is the recycling education and outreach manager for Waste Management's Pacific Northwest region. She can be contacted at [email protected].