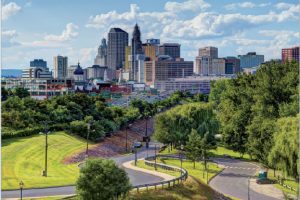 Municipal programs are often short on funds, and it's easy for recycling outreach to fall on the back burner amid budget constraints. One municipality in New England recently took action on the issue by collaborating with a plastics industry initiative.
According to a program leader in East Hartford, Conn., the Wrap Recycling Action Program (WRAP) can substantially boost film diversion and help shift that material from curbside carts, where it's a contaminant, into the retail collections stream.
Marilynn Cruz-Aponte, assistant director of East Hartford's Public Works department, described the city's experience on a U.S. EPA Sustainable Materials Management webinar in late January. East Hartford was motivated by a rising contamination rate, specifically due to improperly recycled plastic bags.
"Our recycling plant operation has been impacted by plastic film that comes through our blue bins," Cruz-Aponte said. "We have a two-hour, daily shutdown to deal with the impact. Our concern is that quality matters, and if we don't nip this in the bud, that's going to cost us in the future."
A program of the American Chemistry Council's Flexible Film Recycling Group, WRAP appealed to East Hartford officials, in part because it was so easy to implement, Cruz-Aponte said. It's an established national program that employs a business-government partnership model, which has been popular in East Hartford.
"All we had to do was tap in and tweak," she said.
Contamination on the rise
East Hartford has a population of about 50,000 residents, with some 16,500 households receiving curbside refuse and recycling services.
"We're really a small, urban middle-working class community that is located across the river from the state capitol," Cruz-Aponte said. Its Public Works department's Waste Services division has a $2.5 million annual budget.
For six years, the community has had relatively stagnant refuse and recycling levels, Cruz-Aponte said. It collects around 3,300 tons of recyclables per year through a curbside recycling program.
Connecticut's Department of Energy and Environmental Protection reports figures on diversion for each municipality in the state. In 2014, East Hartford notched a combined residential and non-residential diversion rate of about 36 percent, with all materials included. The city collected roughly 135 pounds of recyclables per person via its residential program in 2014.
Meanwhile, contamination has been on the rise. Plastic film "wish-cycling" has been rampant, Cruz-Aponte said. And nearly half the municipality's population was unaware that film recycling was available at retail stores, a survey showed.
"We're very concerned about the fact that tip fees are going to be going up in the future," Cruz-Aponte said. That concern led the city to put in place some waste and recycling goals.
The city has a goal to reduce its MSW generation by 10 percent during the coming year, which would be a reduction of around 1,400 tons. At the same time, it aims to increase its recycling rate by 12 percent.
Implementing the strategy
On the plastic film front, the city already had a partnership with supermarket chain ShopRite, which was collecting film for recycling. That made it easier to launch the WRAP program.
Cruz-Aponte met with the local business owner, explaining the WRAP initiative, the city's interest and the expected impact. The Public Works department formed a close relationship with the business, an arrangement that Cruz-Aponte said was crucial to the program's success.
"I was able to have confidence in working with the owner, and got approval from her to have a direct working relationship with the store facilities director for data tracking, for customer education, and for hauler collection information," Cruz-Aponte said.
Support from the city's mayor was also critical, particularly in coordinating outreach.
In the end, WRAP allowed the city to push forward diversion of an important recycling stream at no cost to taxpayers.
"While it didn't necessarily reduce tonnage significantly, it did allow the town to promote the elimination of plastic bag use in blue bins, it supported the recycling plant goals, and then it added a new initiative that refreshes the curbside recycling message in general," Cruz-Aponte said.
ShopRite doubled its film collections as a result of the WRAP outreach drive. Last fall, consulting and research firm More Recycling conducted an audit of the East Hartford program after it had begun. The audit found the film stream was made up mostly of plastic grocery bags. There was some contaminated film, accounting for about 16 percent of the total, but the city looked at the volume increase without a major rise in contamination as a big success.
"The fact that we just doubled material meant that this launch really did change behavior, and now it's really a matter of providing deeper education about the diversity of the types of plastic that can be received at retail," she said.
ShopRite continues to report sustained higher collection volumes since the WRAP launch, she said.
This article originally appeared in the April 2018 issue of Resource Recycling. Subscribe today for access to all print content.
Think your local program should be featured in this space? Send a note to [email protected].