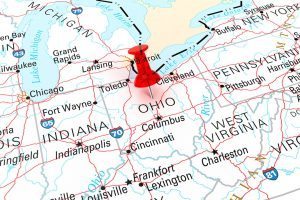 Industry stakeholders have formed a state recycling organization in Ohio. The group aims to serve as a one-stop shop for business development and support services.
The Ohio Recycling Coalition (ORC) has been in development for about a year, and recently officially announced its launch with a March 25 press release. The group will "provide business resource assistance for new startup and established recycling, reuse, re-manufacturing and waste minimization focused businesses," according to the release.
In an interview with Resource Recycling, the group's executive director, Arley Owens, elaborated on the impetus behind ORC's formation and how it will fit into the Ohio recycling landscape.
"We felt that in order to increase the awareness of the trials and tribulations and the needs of Ohio's recycling industry, more needed to be done," Owens said.
The group's co-founders are Bob Gedert of Resource Recycling Systems (RRS) and Renee Navarre of EnviroSource Waste Solutions. Gedert is also president of the National Recycling Coalition.
ORC has its office headquarters in Dublin, Ohio at the Dublin Entrepreneurial Center, a business development center that specializes in providing assistance to commercial ventures.
Experience spurs expansion
ORC formed out of what Owens describes as a case study in supporting a recycling business.
An Ohio tire recycling company was struggling to secure funding for a new piece of equipment. Gedert, Navarre and Owens worked to assist the company by connecting it with grant opportunities, including putting it in touch with a consultant to help with the paperwork and other legwork.
After the company successfully received a state grant through the Ohio EPA, the future coalition founders had "an 'aha moment,'" Owens explained. They decided to expand that type of effort into an organization focused solely on supporting the recycling industry.
ORC has a core list of services it plans to offer startups, entrepreneurs considering launching a recycling company and established businesses in need of assistance. That could include legal and accounting assistance, grant writing, help with developing a business plan, and other consulting services.
Beyond business support, the group has goals such as facilitating internships to introduce young people to the industry and creating an online database of Ohio businesses selling recycled-content products.
Owens said the new organization is not in competition with the Association of Ohio Recyclers, and that the groups serve different purposes. For example, the coalition is set up as a 501(c)(3) nonprofit organization, whereas AOR is a 501(c)(6). This opens up different funding and grant opportunities for the groups. The two groups can complement each other, said Owens, who is a former director of AOR.
ORC will be funded through membership dues, donations and grant money.
Industry hurdles
The two groups can help fill a void left when a state office was shut down in 2005. The state Division of Recycling and Litter Prevention previously performed many recycling support functions, including conducting awareness campaigns, offering grants and more. It worked with haulers and groups including the National Recycling Coalition and Keep America Beautiful.
But in 2005, the office lost a substantial amount of funding and was restructured, closing the door on many of its recycling-support activities.
"Since that organization went away, there's a need," Owens said. "There has not been a comprehensive statewide effort to bring together all these different recycling businesses under one umbrella, like it was under the Division of Recycling and Litter Prevention."
The first step for ORC will be summarizing its service offerings and beginning an outreach effort to businesses statewide.
Owens identified several key recycling challenges facing Ohio, some of which are familiar to states nationwide. For example, the state needs more outreach and education efforts, Owens said. Multi-family recycling is also a struggle across Ohio, including in its largest cities. Office buildings are not required to provide recycling service.
And the lack of commercial recycling will only become more significant as the state's major metropolitan areas experience booming growth. There are apartments and commercial buildings going up all over Columbus, for example, and "none of them will have recycling," Owens said.
Photo credit: klenger/Shutterstock
More stories about industry groups