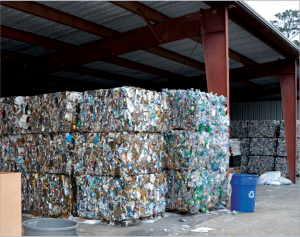 One might assume materials recycling takes a backseat to other priorities on a military installation, but for well over a decade a Georgia military jurisdiction has proven otherwise.
Fort Stewart/Hunter Army Airfield (FS/HAAF), a U.S. Army Installation located near Savannah, Ga., serves as home to the 3rd Infantry Division and has a total population of over 54,000, including active and reserve soldiers, family members, civilian employees and contractors.
The installation, which is also used as a training site for the Navy, Air Force, Marines and Coast Guard, launched a recycling initiative in 2002. And it operates its own materials recovery facility, helping to save space in the landfill that is also run by the military entity.
Further, shortly after the recycling program launched, the community organized Keep FS/HAAF Beautiful, making it the first Department of Defense installation with a Keep America Beautiful affiliate.
Those efforts, mixed with some bold diversion targets set into statute, have led to impressive results and distinction among military installations nationwide.
Keeping it beautiful
FS/HAAF's diversion work is backed by policy extending all the way to the Oval Office. President Barack Obama in 2015 signed an executive order titled "Planning for Federal Sustainability in the Next Decade," which requires all federal agencies to divert at least 50 percent of municipal solid waste and 50 percent of C&D debris.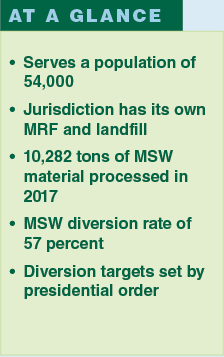 Army Installation Management Command, the administrative body that supports each installation, enacted a policy taking that one step further: It requires each installation to achieve an annual 1 percentage point increase over the previous year's rate.
"In order to achieve and maintain these goals, FS/HAAF employs a community involvement and education framework that emphasizes continual improvement," said Johnny Davis, qualified recycling program manager for the FS/HAAF Directorate of Public Works.
Each November, the installation centers a recycling campaign around America Recycles Day, which is held Nov. 15. The program makes extensive efforts to increase consumer awareness about purchasing recycled products and to recycle on the installation, Davis said. Weekly articles featuring recycling tips run in the local newspaper and community newsletters. Tips are also published on social media, and events are held at local schools. Tours of the recycling facility and the landfill are also offered throughout the year.
"FS/HAAF believes an informed community yields a supportive community," Davis said. "The aim is to educate, enlighten and encourage everyone to support and join the movement of recycling in order to move toward creating a better environment."
Training for diversion results
The installation has outperformed its regulatory requirements, currently holding a 57 percent diversion rate for MSW and a 78 percent C&D rate.
Davis points to training classes, recycling assessments, and community education and outreach efforts as factors in the installation's strong performance.
The recycling program is a single-stream operation and brings in material from several sources. Commingled recyclables are collected from 8-yard dumpsters near barracks, motor pools, administrative offices and business operations.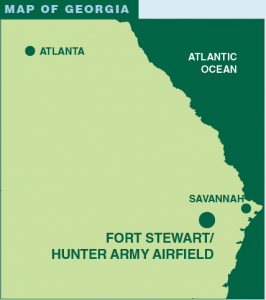 The program accepts mixed paper, newspaper, magazines, telephone books, and steel and aluminum cans, as well as clear, brown and green glass, and plastics Nos. 1–7.
Cardboard is collected in 40-yard roll-off containers used by military organizations, installation activities and foodservice establishments. FS/HAAF also provides 24-hour drop-off centers for cardboard and commingled materials, facilities that are open to everyone on the installation.
On-site infrastructure
Once collected, recyclables are transported to the on-installation MRF, which is staffed with a dozen full-time civilian employees.
The facility is configured with two sorting lines, one for commingled containers and one strictly for paper. The MRF operates an eight-hour shift, five days per week. It employs a Level-2 industrial paper shredder manufactured by Security Engineered Machinery, as well as one conveyor, two sorting lines and four balers manufactured by International Baler Corp.
Last year, the facility processed 10,282 tons of MSW material.
In addition to a MRF, the installation has a landfill. Since the recycling program launched, FS/HAAF has been able to extend the useful life of its landfill by 19 years because of the continued success of the program.
This article originally appeared in the February 2018 issue of Resource Recycling. Subscribe today for access to all print content.
Think your local program should be featured in this space? Send a note to [email protected].