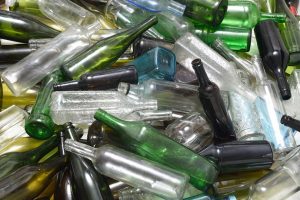 Tennessee's fourth-largest city has removed glass from its single-stream curbside program.
The Times Free Press newspaper reports Chattanooga, Tenn. has stopped taking glass in single-stream carts but still accepts the material at five drop-off locations. The city is surveying residents asking them whether they'd participate in a service collecting glass in a separate receptacle and how much extra they'd be willing to pay for it, if anything.
The city cited sorting and contamination challenges in its decision.
Population 175,000, Chattanooga collected 5,215 tons of material overall in its single-stream collection program and 1,567 tons at its drop-off recycling centers in 2016, according to city documents. Of the drop-off weight, about 18 percent, or 289 tons, was glass.
Chattanooga is at least the second U.S. city to announce this year that it's dropping glass, according to a Resource Recycling database. Hagerstown, Md., population 40,000, recently decided to remove the material from its program, citing a lack of end markets, glass' contamination of other commodities, equipment wear and tear, and transportation costs.
More stories about glass