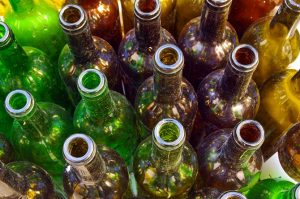 The state of California is helping to finance a facility that will process glass fines into a product used in high-strength concrete. Meanwhile, state regulators recently approved new reporting and inspection rules for glass sorting and cleanup facilities.

CalRecycle recently announced it awarded a $3 million grant to Sioneer Stockton, LLC, a company working to build a glass processing facility in Stockton, Calif. Sioneer's parent company is Glass Processing Solutions (GPS).
Sioneer also applied to the California Pollution Control Financing Authority to have the state issue up to $9.8 million in tax-exempt revenue bonds on its behalf. The authority gave its initial thumbs up in July. According to agency documents, the proceeds would be loaned to Sioneer, which would be responsible for repaying the loan.
Sioneer would use the grant and loan funds to build a facility capable of processing about 6,000 tons per month of post-consumer glass. The finished product will be a speciality sand and a material type called pozzolans, which are required for high-strength concrete used in infrastructure projects.
Sioneer's feedstock would consist of glass generated at MRFs, including glass fines, which otherwise have limited end-market potential.
Regulatory change
In other glass recycling news out of the Golden State, the California Office of Administrative Law on Nov. 28 approved regulations requiring glass processing facilities to send notifications to the state and submit to periodic inspections.
Glass beneficiation facilities take in premix from MRFs and recovered glass from a variety of other sources. They remove contamination and sort glass by color and size before selling it into various markets. The largest glass beneficiation company in the U.S. is Strategic Materials, which operates several California facilities.
Recycling centers are not subject to certain state regulations as long as they meet a three-part test: they receive material that's been separated for reuse, have less than 10 percent residual and less than 1 percent putrescible waste. Last year, Department of Resources Recycling and Recovery (CalRecycle) staff discovered glass processing facilities with residue exceeding those thresholds, a common situation for facilities receiving glass collected via single-stream systems.
Under state regulations, CalRecycle was then required to shut them down until the operations could get a full solid waste facility permit. Instead of doing that, department staff passed emergency temporary regulations allowing facilities to avoid needing a full solid waste facility permit as long as they submit notifications to CalRecycle and undergo periodic inspections.
A modified version of those emergency regulations is what was recently made permanent.
More stories about glass