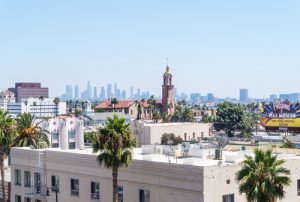 A movie studio that paid $1,500 to purchase a chair will often want it gone as soon as the shoot is finished. The L.A. Shares program in America's second-largest city works to ensure the chair is donated instead of sent into the waste stream.
"A lot of these items are Porsche quality because we work a lot with the studios, and they're just constantly giving away stuff," said La Shan Branham, executive director of L.A. Shares.
L.A. Shares was the topic of one materials-reuse focused session at this year's WasteCon, held late last month in Baltimore. Branham discussed the web-based item donation program and how it could be easily adopted by other communities.
"We would love to have this all over the country," Branham told the audience. "The whole point is to have this everywhere. We don't want to keep it just in L.A."
Started in 1991 as a pilot project of the city's Cultural Affairs Department (it began working strictly with movie sets), L.A. Shares is today a separate nonprofit organization with a staff. It provides a web-based software in which businesses register goods they have to donate, often office furniture and equipment. Schools and nonprofit organizations register their wish lists. The website works to connect the parties, who are responsible for arranging their own collection and transportation of donated goods. All recipients are required to send a "thank you" letter indicating which needs the donated items helped fill.
The program facilitates the diversion of more than 1 million pounds per year from the waste stream, and data from the group is sent on a monthly basis to L.A. Sanitation for tracking purposes. Through L.A. Shares, goods worth an estimated $180 million have been donated from 3,000 companies to more than 4,000 schools and nonprofit groups, Branham said.
L.A. Shares focuses on items from businesses, rather than individuals. Items from the general public tend to be more worn and can present more liability issues.
When asked by an attendee whether the organization has received pushback from nonprofit groups that accept donations for resale, Branham said Goodwill and Salvation Army are their top referrers "because we are very specific on what we take, and so are they. They don't take office furniture."
Almost all of L.A. Shares' budget is provided by the city via a contract, although it also receives grants. For example, Disney recently provided money for the organization's hiring of a part-time staff person, who will work to develop a larger donation-recipient base. One of the group's biggest challenges is finding enough recipients of goods available for donation, Branham said.
Branham's organization is also looking to tackle an issue that's seen greater attention in California, across the U.S. and internationally: food waste. L.A. Shares is working on a pilot project to divert uneaten food from awards events, including the Grammy Awards, Academy Awards and BET Awards, and send them to people in need. Sometimes the events end with thousands of uneaten meals that are thrown out, she said.
More stories about local programs