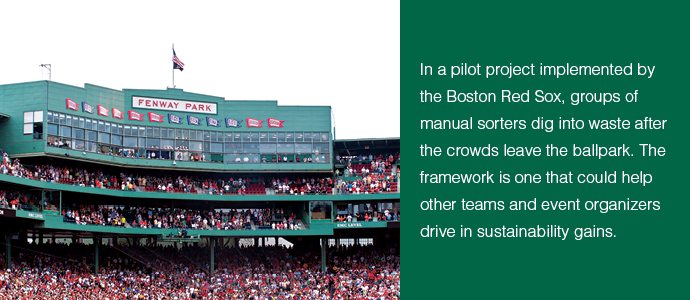 This article originally appeared in the September 2017 issue of Resource Recycling. Subscribe today for access to all print content.
Each day, the United State generates a little under 1 million tons of waste, according to a report last year from the Environmental Research and Education Foundation (EREF). Based on 2013 waste data, EREF estimated the U.S. recycles 21 percent of its discards, composts 6 percent and sends 9 percent to energy recovery, meaning the country incinerates or buries around 222 million tons of material annually.
Clearly, Americans need fresh pathways to keep materials out of the waste stream. And despite lacking sexy, high-tech appeal, there is one solution that can hit a grand slam when it comes to recovering a high percentage of recyclables: manual sortation at the hundreds of major sporting and entertainment events that take place around the U.S. daily.
Just ask facilities managers at Fenway Park, the historic home of Major League Baseball's Boston Red Sox. The team has been pushing into exciting territory on the waste issue since the summer of 2016 with its concessions partner Aramark Corporation as well as with Waste Management, the exclusive hauler for the Boston Red Sox, and G Force Waste Sorters. Together, these entities have worked to establish a system that employs sorting staff to separate recoverable materials from trash during stadium cleanup after select games and concerts held at Fenway.
Through the nine sorts that have occurred so far, the collaborators have sorted 31,057 pounds of trash and recovered 17,402 pounds for recycling and composting to yield a 56 percent overall landfill waste diversion rate for the sorted stream. The procedure has become increasingly efficient over time, and the approach can serve as a template for other venues around the country.
Eclipsing 75 percent diversion
To push forward the waste diversion program at Fenway Park, select games and concerts have been chosen over the last year to serve as pilot efforts. These pilot project sorts have allowed stakeholders to learn how to deal with logistical challenges, such as limited sorting space, complicated loading docking access, weather-related issues and coordinating needs when multiple events occur at the park simultaneously.
Not surprisingly, improvements have been implemented along the way, and one recent sort achieved a 76 percent landfill diversion rate for materials generated by event attendees. Jonathan Lister, senior director of Fenway Park Facilities Management and board member for G Force Waste Sorters, encapsulates the enthusiasm of all partners involved: "This is an All-Star team and post-game waste sorting is the MVP."
How exactly does the operation unfold on days when the waste-sort team is deployed?
After the mass exodus from Fenway of roughly 40,000 fans, a massive cleanup project ensues. Aramark heads the army of permanent and temporary staff who work through the night to restore the venue to a clean condition. On the waste front, loads of collected trash are weighed and then dumped in a designated sorting area managed by G Force Waste Sorters.
Four to six sorters are assigned to six-foot-long tables and have multiple carts behind them for separating materials. Once carts are filled, sorters log the weight and material type of each cart and then proceed to the loading dock to empty the cart into the correct compactor. Around 20 sorters repeat this procedure throughout the evening, filling hundreds of carts until all trash is sorted. Clearly, it's a tedious effort, but it has helped highlight just how much work it takes to ensure proper diversion of materials within a large event setting. And the process has the potential for big payoffs.
Venues like Fenway can easily accumulate 10 tons of trash alone in just a few hours. A rough calculation by G Force Waste Sorters has determined that if all 30 Major League Baseball stadiums across the country were able to divert 76 percent of their fan-generated waste for all their games, more than 18,000 tons of recyclable and organic material would be recovered annually.
Answer to infrastructure issues
It's easy to understand why that type of stadium diversion does not happen currently. In general, large venues vary on the infrastructure they have to collect recoverable materials – some have bin setups that are less than adequate; others have outstanding waste and recycling stations. But in virtually all cases, facility managers see a high volume of traffic at the concourse level. Fans are rushing to get back to their seats, or may be caught in a crowd and not able to easily make their way to the right collection receptacle. This leads to the capture of low percentages of compostable and recyclable material even in venues with the most robust systems of collection.
Venues have implemented a variety of strategies to keep recoverable material out of the trash, including color-coded receptacle systems, easy-to-read signage, and training and education of all waste handlers and generators. But even when those efforts are combined, they do not produce results anywhere near what's seen when trash is sorted on-site immediately following the event.
And recycling optimization opportunities in the event sphere extend far beyond just professional sports arenas. Concerts and music festivals have a monumental waste footprint as well.
G Force Waste Sorters recently participated in recovering recyclables and compostable products from trash at Frendly Gathering, a three-day music festival in Vermont that's held July 4th weekend each year.
A company called Waste-Free Earth works closely with the creators of Frendly Gathering, Jack Mitrani and Danny Davis, to guarantee all festival materials are recyclable or compostable, including those brought in by vendors. Throughout the festival, many enthusiastic volunteers manage zero-waste receptacles while interacting with festival goers about what is and is not compostable and recyclable. There is also a crew sorting waste all day every day, meticulously opening every bag to recover recyclable and compostable products from the trash, leaving no plastic bottle cap unscrewed (to empty out liquids).
The steps implemented at Frendly all add up to a phenomenal effort to recover recyclables and divert waste from landfill. This type of dedication to diversion will ideally become the standard operating procedure for every large venue and music festival.
Value in the stadium mix
Venue waste is typically made up of plastic bottles and cups, aluminum cans and organic matter. Composition analysis completed by G Force Waste Sorters shows the materials stream at a typical large event contains, by weight, 13 percent aluminum cans and up to 32 percent plastic bottles and cups. The economic upsides of moving those items into the recycling stream are clear. Recent pricing data indicated UBC materials carrying a value of nearly $1,900 per ton and plastic containers having a worth of $300 per ton.
It's true that employing a team of sorters would increase the labor expenses for a team or venue, but the value of recovered material, combined with reduced disposal and haul costs, greatly offsets the cost of waste sorting when efficient systems are put into place following events. And it may also be helpful to consider the wider economic implications of boosting recycling efforts. According to the Natural Resources Defense Council, recycling 75 percent of the nation's waste would create nearly 1.5 million jobs by 2030 while significantly reducing pollution, saving water and energy, and building economically strong and healthy communities.
Further, waste sorting can help event organizers remain in compliance with state waste ban regulations, thus avoiding costly fines imposed by local environmental agencies. It also allows them to capitalize on the positive publicity of operating a greener venue, and it gives events and teams a way to demonstrate an environmental leadership role in the community.
For example, the waste efforts at Fenway Park help the team tie into Boston's larger zero waste push. Reducing trash via recovering valuable discarded resources supports Boston's goals of sending zero waste to landfill, becoming carbon neutral by 2050, reducing trash costs and creating jobs. (See the feature "Lifting more than recycling rates" in the December 2016 issue of Resource Recycling for more details on Boston's zero waste project.)
Simple task with major impacts
In the end, the path is clear for event organizers who keep profitability and sustainability top of mind. Post-event waste sorting substantially increases recycling rates and helps venues move operations to a higher level of performance without materially changing the experience for fans. Moreover, this basic task helps stakeholders satisfy requirements toward profitability and sustainability increases recycling rates and helps venues move operations certifications such as Leadership in Energy and Environmental Design (LEED) and meet guidelines from the U.S. Zero Waste Business Council.
Ultimately, waste sorting reduces trash disposal costs and increases recycling volumes, a triple play for people, planet and profits.
Michelle Lee Guiney is a sustainability consultant with Waste Management and runs G Force Waste Sorters. She can be contacted at [email protected] or [email protected].