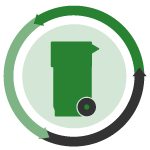 Pennsylvania's recycling stakeholders lobby to protect tens of millions of dollars in recycling money from being diverted, and a New Jersey company is fined after the death of an employee.
Food waste bills: California lawmakers have passed bills meant to reduce food waste, according to advocacy group Californians Against Waste. Assembly Bill 1219 strengthens and expands legal protections for food donors, and Assembly Bill 954 requires the use of one of two 'best by' phrases on food packaging: a peak freshness date or a safety date.
Defending the dough: Professional Recyclers of Pennsylvania is rallying to keep lawmakers from raiding a recycling fund to help balance the state budget. The group is asking stakeholders to contact the Senate to reject language in a House of Representatives bill that would transfer $70 million from the Recycling Fund.
Millennials' minds: The good news, according to a survey by The Shelton Group: A company's environmental practices strongly play whether Millennials buy that company's products. The bad news: The Millennial generation is less likely to recycle than other generations.
Safety fines: The Occupational Safety and Health Administration (OSHA) has fined a New Jersey recycling company more than $25,000, alleging violations led to the death of an employee. NJ.com reports 52-year-old Rigoberto Guerrero died after he was crushed by a forklift at Lincoln Recycling, which is contesting the violations and fines.
EPA budget cuts: The U.S. House of Representatives passed a funding bill that would cut the EPA's budget by $534 million, compared to the prior fiscal year, Federal News Radio reports. The cut brings the agency in line with 2006 spending levels, but is still not nearly as deep as cuts proposed by President Trump. The budget "supports the president's proposal to reshape the agency's workforce by providing resources requested to offer buyouts and voluntary separation agreements to employees," the website reports, quoting Congressional committee documents.
Major investments: Atlanta-based startup Rubicon Global has now hit a $1 billion valuation, after a $50 million investment from a Mexican private equity firm, Forbes reports. The article discusses the recent legal disputes between Rubicon and Waste Connections.
Explosive contamination: A recycling facility had to be evacuated after a man brought in a live artillery shell for recycling, according to ArkansasMatters.com. The bomb squad arrived to take care of the projectile, which one source said dated to 1907.
Battery recycling poll: A survey conducted in conjunction with the International Congress for Battery Recycling found general optimism about the current business outlook in the industry. As examples, 70 percent of respondents said they're happy with the current market volumes, and only 28 percent described the business situation as unfavorable.