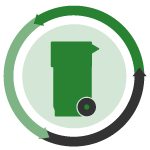 Increasing incineration capacity across the pond has some recycling advocates concerned, and an Ohio municipality looks to return glass collection to residents.
Incineration apprehension: Waste-to-energy capacity has more than doubled in the U.K. during the past decade, a figure that experts fear could harm the nation's recycling efforts. BBC News reports that the increase in incinerators has coincided with a decrease in disposal volumes. That means more incinerators will be vying for less material, which the report says is causing concern that recyclables will be burned.
Mascot history: When it comes to federal agencies that promote recycling and waste reduction, the National Security Agency is not an obvious candidate. But as New York Magazine reports, the agency took steps to develop its very own recycling mascot, named "Dunk," whose history is chronicled in an article based on documents the magazine requested from the agency.
Search for a solution: City officials in Bowling Green, Ohio are looking to resume glass recycling service, which was suspended when the city's contracted recycling center stopped accepting the material due to its associated costs. The Sentinel-Tribune newspaper writes that the Bowling Green mayor mentioned the city may have a "workable plan" underway, noting there is a large bottle manufacturer in the area. Although it was not named by city officials, Owens-Illinois is headquartered in nearby Perrysburg, Ohio.
Beach bottles: An art project was displayed on the shores of Hermosa Beach, Calif. last week, to bring awareness to ocean pollution and promote increased recycling. The Daily Breeze newspaper reports the flower-shaped art installation, organized by the Container Recycling Institute, was made up of 822 bottles, cans and cartons, representing the average number of beverage containers used by each American annually.
Taxidermic contamination: Recycling stream contaminants come in all shapes and sizes, but every now and then a new milestone is set for the strangest item to make it into the recycling stream, as was the case in Little Rock, Ark. last week. Arkansas Online writes that collection workers discovered a stuffed antelope head in a recycling bin. Dead, mounted animals, the city clarified, are not accepted for recycling.