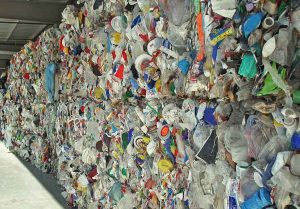 Robotics may come to play a large role in the MRF setting during the next decade, driven by their ability to provide high-quality output and raise bale values. But there are other important technology changes afoot in sortation lines, according to a processing expert.
In a presentation at last week's annual Professional Recyclers of Pennsylvania conference, Nat Egosi, CEO of RRT Design & Construction, described the shifts coming and those needed in the MRF setting.
Egosi predicts a shift away from screens in MRFs, based on common complaints of low efficiency, dust output, high downtime and expensive repairs. Equipment makers are adapting, with manufacturers reducing the horizontal angle on screens to mitigate these problems. Plus, Egosi predicts more ballistic separators instead of screens, even with their more limited throughput. Because of the throughput constraint, most ballistic units are paired with screens.
The MRF of tomorrow will see more optical sorters because they are safer, Egosi added. They work consistently and bale quality improves. For the future, optical sorting equipment will need to develop ways to handle flexible packaging.
On the artificial intelligence front, Egosi said robotics will primarily be used at the end of the line for quality control. He said he anticipates robotic systems will combine metal sensors, 3-D cameras and spectroscopy with memory programming to select and pick items off the belt using suction or grippers. A handful of robotic efforts along these lines have been implemented at U.S. facilities in recent months, and Egosi sees the use of robotics growing and changing over the next five to ten years.
Price may slow their implementation, as a robotic sortation system can run more than twice the price of an optical sorter.
"They are very capital intensive," Egosi said. "With a good commodity run, with higher prices, these systems will see wider use."
Robotic units result in higher levels of bale quality than optical sorters, Egosi said. Robotics can be best used in high-residue systems, as the robot is the last processing unit.
Egosi also shared some perspective on processing contracts. MRF recovery rates are rising, he said, but operators cannot expect revenues will be sufficient to cover costs all the time, and therefore should implement a processing fee system. More MRFs are now auditing incoming volumes, and Egosi anticipates a shift to rebalance lines to reflect the changing stream of incoming materials.
He said safety and maintenance are improving in facility operations, even if plant-to-plant comparisons see wide differences among different sites. Egosi said significant attention still needs to focus on noise and dust generation in MRF operations.
More stories about MRFs