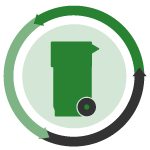 Houston will undergo another round of bidding from companies interested in sorting and selling its curbside recyclables, and the editor of a local paper gets a firsthand lesson in the problem of contamination.
More bidding: Houston Mayor Sylvester Turner has changed his mind on awarding a 20-year recycling contract to FCC Environmental Services and will instead seek another round of bidding. The Houston Chronicle reported on the decision, which came after City Council members pushed back on his selection of FCC amid concerns over the bidding process.
Soiled stream: A public editor of a local newspaper has learned dirty diapers are not accepted in his city's curbside recycling program. In an editorial, Rich Archbold of the Long Beach Press Telegram describes what he has learned about contamination in the recycling stream since becoming curious what else he was wrongly placing in his recycling cart.
Close look: Inspection teams are sifting through residential and commercial garbage cans in Cedar Falls, Iowa to see how many recyclables are being thrown out. The Waterloo-Cedar Falls Courier reports the project, one of 10 in the state, intends to provide cities information so they can improve their recycling education efforts.
Multi-family mandate: It's no secret the recycling rate at multi-family properties often runs lower than single-family households, and Vancouver, British Columbia is no exception. CBC News takes a look at the stark differences in recycling habits in the Canadian city and explores a proposal to require recycling receptacles at apartment complexes.
Glass woes: Officials in a Nebraska town are considering dropping glass from their recycling program to save $6,000 per year. The Columbus Telegram reports that glass makes up 6 percent of the material collected in the Columbus program. The local hauler is concerned residents will continue placing glass in their curbside bins even if the material is not accepted.
Solar stewardship: Washington state has enacted the nation's first extended producer responsibility law for solar panels. According to the Northwest Product Stewardship Council, Gov. Jay Inslee signed the legislation into effect this month, meaning solar manufacturers will be responsible for financing a recycling program for their products. Those that fail to do so will no longer be able to sell in the state beginning in 2021.
Improving marks: The City of Seattle notched a 58.8 percent diversion rate in 2016, but it's planning to go higher. KOMO News reports the Emerald City improved about 1 percentage point over the previous year and is shooting for 70 percent diversion in the next five years.
Deposit sanction: Costco has been fined by Hawaii's state department of health for refusing to provide required sales statistics to the state's container deposit program. According to news site Maui Now, the company paid nearly $4,800 this month for failing to provide requested information after "more than 15 emails and telephone calls" to the company.
Wrong bin: Residents of Abington, Mass. who place incorrect items in their recycling carts will receive "oops!" tags informing them of their mistake. The Boston Globe details the contamination-reduction project, which is kicking off with support from nonprofit group The Recycling Partnership.