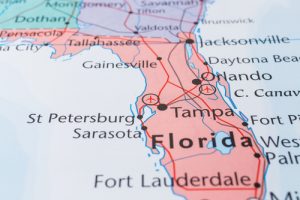 A recycling company planning a new MRF in a Florida county has been denied a property tax exemption in part because the business was judged to be not innovative enough.
Single Stream Recyclers is building a 98,000-square-foot facility in Sarasota County, Fla. The plant will hire 70 non-management and seven management employees by the end of next year, according to county documents.
Construction work began in April and the facility is anticipated to come on-line in the fall. Single Stream Recyclers declined to comment for this story.
The company applied to a Sarasota County property tax exemption program, looking for a 10-year tax break that would save the company more than $51,000 in taxes during the first year. The program aims to assist businesses that provide a certain level of positive contribution to the local economy and community. County commissioners are asked to evaluate the amount of capital investment, jobs created, wages, the degree to which the business is "innovative," and other criteria.
Single Stream Recyclers is investing more than $9.6 million in equipment at the facility, according to county records, and its total investment including real property is closer to $16 million. The employees will make an average of $30,000 per year, while management staff will be paid an average of $100,000 per year.
According to its application, the facility investment includes a $7 million single-stream recycling sorting system that uses optical sorters, in addition to a ballistic separator, single- and dual-ram balers, a compactor and more.
Sarasota County's seven previous tax exemptions have gone to manufacturers in a variety of industries, and Single Stream Recyclers would have been the first recycling company to receive a county property tax exemption.
'Is garbage innovative? No.'
However, the commissioners voted unanimously to deny the application. Several cited problems more with the tax exemption program than the application itself. For example, they were concerned the program did not have adequate measures to ensure the company would hire the stated number of employees.
But at least two commissioners were unimpressed with the business model as a whole.
"There's nothing more basic than garbage, trash and recycling," Commissioner Nancy Detert said. "There's nothing innovative about it. It's a necessity, but I would certainly not give high marks for this to be something visionary or creative or any such thing."
"Is garbage innovative? No," another commissioner chimed in.
Others were concerned that approving the recycling facility tax break would set a precedent leading to an influx of relatively small businesses looking to apply for the program. The Herald-Tribune newspaper, which first reported on the decision, wrote that the county's denial comes "amid its ongoing scrutiny of its economic development incentives programs."
Single Stream Recyclers first announced the new facility in a May news release. The company currently operates a smaller facility in Cocoa, Fla., and company co-owner John Hansen pointed to Florida's 2020 goal of a 75 percent diversion rate as a factor in the expansion.
"Sarasota County is a perfect market for expansion as there is currently a lack of single-stream processing capacity," Hansen stated in the release.
More stories about MRFs