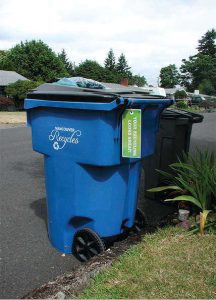 Through early implementation of recycling incentives and consistent outreach to involve the public in recycling initiatives, Vancouver, Wash. and its surrounding county have carved out a recycling rate of more than 50 percent over the past two decades.
Vancouver, which is located across the Columbia River from Portland, Ore., is the seat of Washington's Clark County (population 451,000). The city and county have developed their recycling efforts in tandem over the years, keeping their requirements consistent.
"Our overall goal is just to be as clear as possible for a large swath of our population," said Tanya Gray, solid waste supervisor for the City of Vancouver. "We're living in the same region, we have access to the same markets, and we want to be clear about what can be recycled and why."
Tonnages plateau, spurring single-stream effort
The city and county began curbside recycling in the mid-1990s on a pilot program, which later turned into an official contract. When it launched, the program was set up as a three-bin system, with one bin for containers, one for mixed paper and a third for newspaper.
"That was kind of unusual," Gray said. "[Newspaper] was so valuable at the time." But in 2009, after several years of studies and small-scale pilot initiatives, the program moved away from source separation.
"One of the major drivers for going to a commingled system was that our tonnage had become flat, and we knew if we moved to a cart-based system we would get more material," Gray said. "We also understood that there would be an increase in contamination."
To help alleviate those concerns over material quality, the program did not migrate completely to the standard single-stream layout. Through conversations with the local processor as well as local paper mills, officials determined glass should be collected on the side to preserve the recycling value of both the glass and the paper in the stream.
"Residents would really love to mix it all together, but we did some surveys, and if you explain that the glass was more likely to get recycled if you keep it separate, they were OK with that," Gray explained.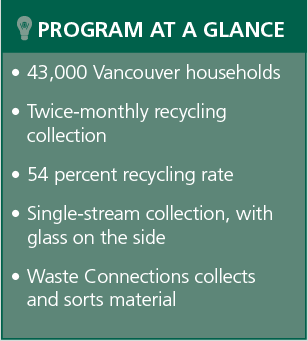 Recyclables are collected by crews from national hauling company Waste Connections and move to the county's sole materials recovery facility (MRF), the West Vancouver Materials Recovery Center, operated by a Waste Connections subsidiary.
Vancouver residents are required to sign up for garbage service, which automatically includes recycling as well. The city sets rates billed by Waste Connections on a pay-as-you-throw (PAYT) system. PAYT has been in place since the early 1990s – residents can choose garbage cart sizes ranging from 32 gallons to 96 gallons, with the price for collection increasing accordingly. Residents can also choose the frequency of garbage collection; recycling is collected every other week for all households.
Involving the public
Between all residential and commercial collection as well as drop-off sites, the program notched a county-wide recycling rate of about 54 percent in 2012, the most recent year for which comprehensive figures are available.
The county differentiates that from a diversion rate of about 65 percent, which includes waste-to-energy and other activities not defined as "recycling." Within the City of Vancouver, the single-family curbside program garnered a 47 percent diversion rate in 2016. That number takes into account both recyclables and yard debris.
Those above-average diversion numbers (according to the U.S. EPA, the national recycling rate is 34 percent) can be traced back to outreach and engagement on the part of program staff. The city works with its neighborhood associations to provide the "Recycling 101 Neighborhood Program," through which residents can attend trainings.
"Then they are required to write an article for their neighborhood newsletter, or maybe post it on their NextDoor site, and share with their neighbors information about recycling programs," Gray said. "And then they earn $120 for their neighborhood."
Seasonal special events help the cause as well. In the spring, each resident can dispose of two loads of yard debris for free, as well as up to four tires, at contracted disposal sites. During the fall, they can deliver as many loads of leaves to a leaf processor for free. And each Vancouver neighborhood association is allowed one bulky-item cleanup event each year.
Fighting contamination, looking ahead
The program has a revenue-sharing contract with Waste Connections, and the two sides work closely on allocation studies to determine the makeup of the recycling stream. This helps set payment distribution and has the added benefit of showing how much contamination is coming into the MRF. During its most recent allocation study, the program showed about 20 percent of material coming into the MRF was leaving as residue.
Curious as to what was being rejected, program leaders and Waste Connections staff analyzed the residual material, and found some of it could actually be recycled. "Now we're working with our processor to improve that," Gray said.
It's not the first time the program has taken steps to reduce contaminants. A few years back, Vancouver was looking to reduce the amount of plastic film residents were placing into recycling carts. Program officials embarked on an education campaign, creating mailers, cart tags and a video, which led to a substantial decrease in film contamination. Those efforts were combined with work being done by the plastic industry's Wrap Recycling Action Program (WRAP) to bolster collection at area Safeway grocery stores.
What's the next challenge to tackle? Gray said the program is starting to focus more on multi-family, a realm that is difficult for many local recycling programs.
"We've really been working with our regional partners to think about what is the best model for delivering garbage and recycling services in a multi-family situation," Gray said. "We're really trying to spruce that up, revisit it and say, 'Where can we get systems that work for many generations, many cultures, many ages, all in one location?'"
This article originally appeared in the June 2017 issue of Resource Recycling. Subscribe today for access to all print content.