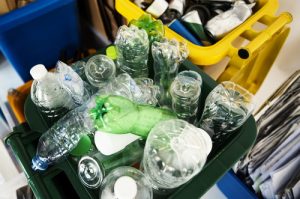 Operators of residential recycling programs report up-and-down pricing moves for recovered plastic and aluminum packaging.
With temperatures improving and can volumes rising, buyers of baled aluminum cans were able to push prices at the start of June down by more than two cents per pound. Cans are now valued at about 68 cents per pound (truckload of bales picked up in the eastern U.S.).
Prices paid for recovered plastic containers were mixed in early June. Sorting plant managers say they're getting offers for baled natural HDPE at about 30 cents per pound, representing a 10 percent drop from the previous month. Plastics reclaimers were paying about the same price in early June for colored HDPE containers as they did in May (about 20 cents per pound).
Several sellers of water and soda bottles say they were surprised to see the value of PET move up slightly in June, reaching 15 to 16 cents per pound.